Hitherto, I considered the buying of fine jewellery something for the older me: wise enough to know what to invest in and solvent enough to swallow the minor mortgage required. The magpie in me would be quelled until then. However, lying face down on the treatment bed in the Bulgari Spa, surrounded by lavish environs festooned with marble walls and silver trimmings, I had an epiphany: there was more than one way to buy into a bit of bling.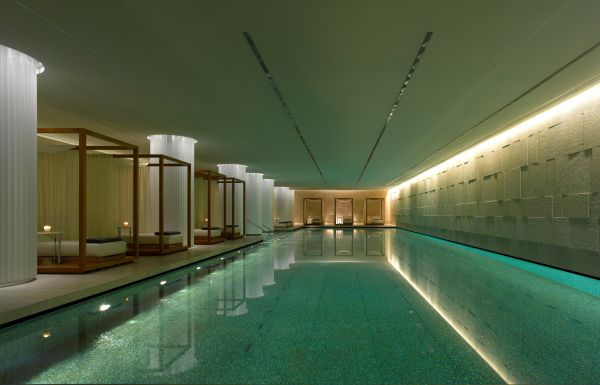 I am here to experience the Italian jeweller's newest guise as Britain's most expensive hotel, giving loyal fans a new ticket into its sparkling diamond-shaped world. Upon entering it looks as though Bulgari has uprooted its retail store, transported it to the platinum paved streets of Knightsbridge and swelled it to 85 rooms and suites – which command a minimum £500 per night room rate – a private screening room and a luxury spa.
As I head to the lower levels, signature elements of green onyx and Vicenza stone stand out, hallmarks which echo throughout the building. When I reach the two-storey basement spa, the reception sets the scene with a dramatic back-lit desk of smooth onyx; complemented by a sight of the 25m pool, which is lined with shimmering green and gold mosaic tiles, it is without doubt a masterclass in design.
It strikes me that this place is not just big it is a behemoth for an urban spa. In an area where space comes at a premium and a garage can cost the same as a three-bedroom house, the spa certainly isn't short on square footage. The changing area is roomy enough to stretch out without elbowing your neighbour while the corridors span the length of an average room.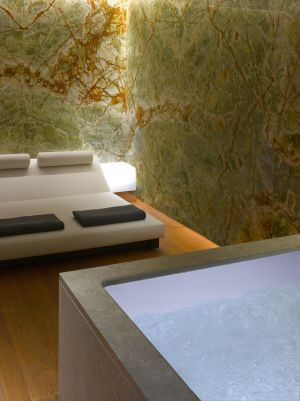 Likewise my treatment room, representative of all 12, could serve quite comfortably as a one-bed apartment in the vicinity featuring private bathroom, steam shower, private relaxation room, as well as an oversized hydro massage tub with slick onyx backdrop.
Promising to do exactly what it says on the tin, my Body Radiance treatment using ESPA nourishing formulas is 90 minutes of dreamy top-to-toe massage, with particular focus on areas in need of attention (shoulders and upper back in my case). After the therapist reels off her mandatory preparatory questions in hushed tones and bathes my feet in scented water, my glow-getting journey begins. Within minutes, the ambient lighting and classical music take their soporific effect, helped along by the barely-there hands-on pressure. Sitting on the opposite end of the scale to a Swedish massage, the touch is light and feathery and the scents wispy and delicate; it is a sweet, mellow experience that goes for the float factor. Not just surface work, though, the oozy oils do their hydrating job long after I have left the gilded doors while the tension-relieving scalp massage has eased my mind into a slower gear.
And one thought lingers: unlike Bulgari's signature snake bracelets or glittering cabochon jewels, a spa treatment doesn't last a lifetime; even so, it is an experience – however fleeting –that leaves a long, lasting and dazzling impression.