I arrive at the Guerlain Spa located in Edinburgh's Waldorf Astoria Caledonian Hotel on a grey, grizzly weekday afternoon. Even the nearby castle looks sad, beaten down by a long, harsh winter that's left most of us in the UK with a down-turned demeanor. I hope that by the time I leave at least my soul – if not the skies – will be brighter.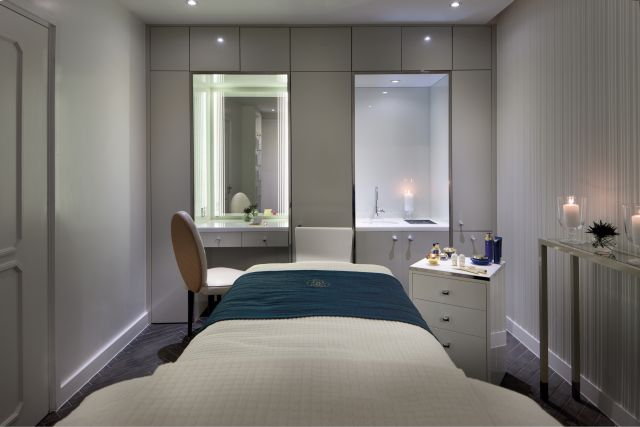 The spa – the first with the Guerlain tag in the UK – officially opened its doors in January. It came as part of a £24m renovation of the hotel, which has existed at the western end of Edinburgh's famous Princes Street for more than a century. Inside, it is an oasis from dreariness. Its shiny white waiting room with studded grey lounge chairs and rows of sparkling perfume bottles make one's brain perk up instantly. It's opulent yet streamlined; chic yet comfortable.
I am greeted by a perfectly groomed receptionist who informs me that my therapist will be here imminently. In the interim, I'm taken on a 'fragrance journey' during which she asks me if I'd like to feel energised or relaxed at the end of my treatment, and if I'd prefer a spicy, floral or sweet scent to be present during my time at the spa. I smell various cones filled with scent and opt for a relaxing, orange tinged fragrance that is enticing and exotic. Once my bathrobe and room are sprayed with the scent of my choice, my therapist leads me from the waiting area to the large treatment room. Its clean lines and modern feel make it look as if it came straight off the Paris runway. It's dimly lit but falls far from the 'holistic' leanings of many spas – there's no wicker or wood, incense or jangly tunes, just sexy and fresh styling.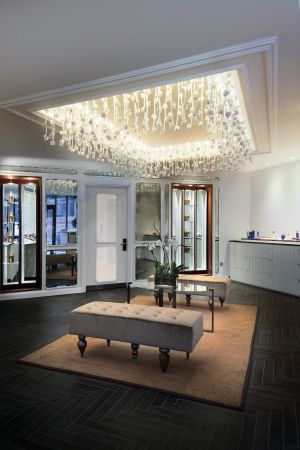 I opt for the Super Aqua Original Source Treatment. I'd read that it is perfect for any time the skin needs a hydration boost; after a long winter of hibernating and whisky imbibing to keep my blood flowing against the freezing temperatures, I have a strong feeling this is just what my body needs.
My therapist first gives me a spine-tingling foot scrub while explaining my procedure will take 90 minutes and comprise a full body massage and facial, complete with hydrating mask and head massage. It sounds blissful. I lay on the table – as one tends to do in these situations – and minutes later, I seem to fall into a state of not quite sleeping but not quite being awake. Later, I think back and am able to remember the beginning, the relaxing start of the facial and neck massage, but then I recall having a conversation in a hallway at my high school with someone. This latter part is, of course, slightly incongruous to my being in a spa in Edinburgh so I realise I must have relaxed so much as to partly drift away. The therapist's hands are magic and I later recall dozing off a few times. By the end of the 90 minutes, I simply want to stay. But a meeting beckons and I have no choice but to leave the comforting Guerlain cocoon.
With smooth, supple and fully hydrated skin, I depart feeling far more healthy and positive. And as I step outside, I notice the sun has broken through and there's a touch of warmth to the air. It is as if both I and Mother Earth have had a springtime revamp. It's just what the doctor ordered!