Nowadays, any hotel with a pool, some fluffy towels and a manicurist claims to be a spa. Now, I am as happy as the next sybarite to lie down in a warm room and be massaged with sweet-smelling oils but it does seem that we've forgotten that a spa was always supposed to be a means of restoring and improving health rather than having your eyelashes extended. So, what do you call a place that has a sauna, a pool, a hot tub under the stars, a vast array of treatments and a philosophy that embraces nutrition, health, exercise and spirituality? That must be a real spa, right? Wrong. This is Kaliyoga and this is a retreat. And that's a whole different mind set.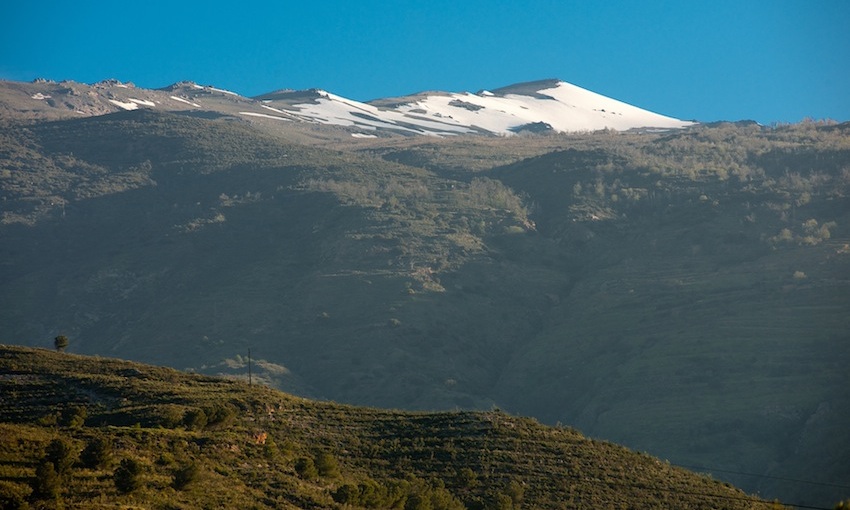 For a start, you are woken in the mornings (8.30, very civilised) by the gentle musical sound of Tibetan chimes outside your door. But don't let that make you think this is just for hippy-dippy types. Among the ten people who were there during my stay were a US diplomat, the owners of a Long Island restaurant, a hospice nurse and an NGO executive. Some had done very little yoga, others had been practising for years but that doesn't mean everyone's checking out whether your downward dog's better than theirs. Kaliyoga is the antithesis of the kind of competitive yoga class where you struggle to strike a series of perfect poses while you push through 20 sweaty rounds of Salute to the Sun.
According to our teacher, Lelly, this retreat takes you back to what yoga was always really about. So don't think of it as exercise or gymnastics or part of a fitness routine, it's about the literal meaning of yoga, "yoking together" mind, body and spirit, using the body in a form of moving meditation. This is an unusual point of view because nowadays yoga is often just another fitness class squeezed in between spinning and body pump. So to start with it's quite difficult to listen to your body, try to nourish it with movement and in turn calm the mind. Especially for anyone with a mind that tends to make lists or career off on flights of fancy of its own. But it helps that the yoga studio (or yoga shala as it's called here) is a big airy room with a breathtaking view of the mountains – a pretty amazing backdrop with its own calming properties.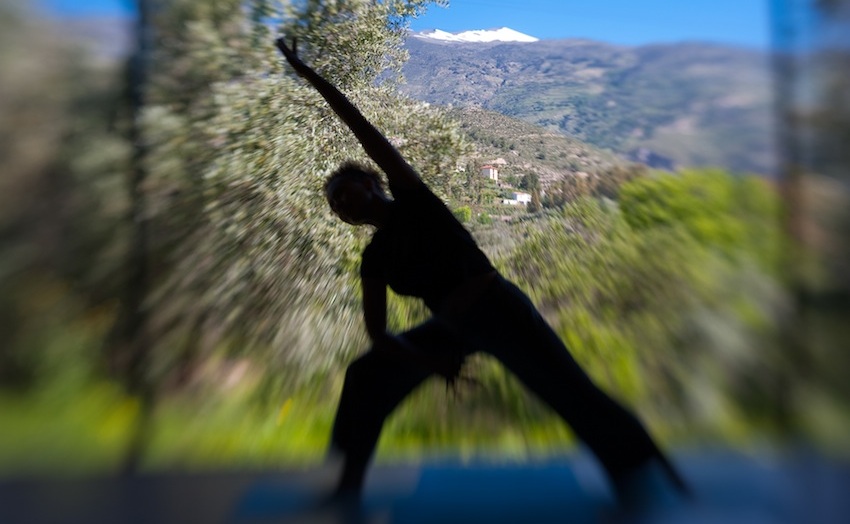 This is not to say you don't work. The morning session is dynamic yoga – not to be confused with ashtanga or power yoga. It's certainly active but it's less about pushing your body and more concerned with focus in the moment, bringing your attention to what you're doing right now. "You aim for presence," says Lelly. "Usually, we're absent. We don't think about what we're doing and our minds chase off after other thoughts. Or we can be aggressive to our selves trying to control the body and push it to extremes." Lelly talks about creating shapes rather than poses and the five yamas or fundamental attitudes of yoga: sensitivity (listen to your body), honesty, focus, openness, non-judgement. It's a subtle difference to your usual yoga class but by the end of the week you're beginning to understand that yoga is all about trying to find a place where you know yourself and feel content. Effortless effort.
The evening session is based on yin yoga – something I'd never heard of before. If dynamic yoga focuses on the muscular body, yin yoga goes deeper, working on the organs, even the bones, combining yoga with the principles of Chinese medicine and working on the meridiens or the energetic body. The theory goes that by assuming a pose for a minimum of five minutes you give a deep massage to a particular organ. The kidneys, for instance, needed three kinds of back bends (variations of the sphinx pose) followed by two forward bends and a twist. And, according to Chinese medicine, you don't just clear the kidneys on a physical basis but also on the emotion that they are linked with – in this case fear and stress. So you should end up feeling more confident and calm.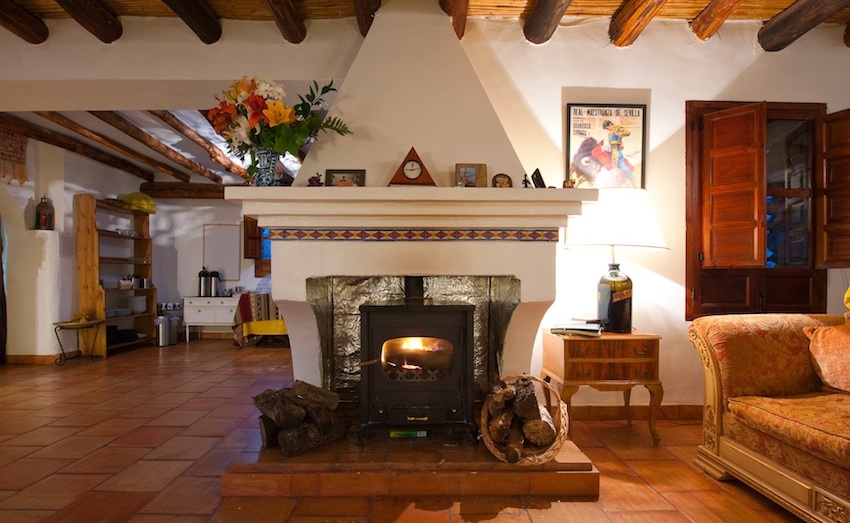 But calm comes with the territory. No doubt about it, you will chill out here – this is an unusually relaxed environment. Kaliyoga has grown organically since two English yoga teachers, Rose and Jonathon Miles created it 11 years ago, around a farmhouse with a big, comfy sitting room, a few bedrooms in the main house, "casitas" – two little wooden houses in the pretty garden – or, in the summer, tipis (when the numbers go up to max 15). There are loungers around the outdoor pool, a home-made swing, hammocks in the trees and a garden full of fruit trees and lavender. Food is vegetarian (delicious) and dinner is preceded by mocktails – it's an alcohol free week. The setting is stunning – high in the Alpujarra Mountains in the south of Spain. At night, the sky is full of stars (no light pollution here) and, when I was there, a big yellow crescent moon.
But it's not just about the yoga. The course I was on combined the yoga with hill walking (there are others that focus on juice fasting or a raw food diet). And those hills are pretty high – 1200m up in the Sierra Nevada through forest and along goat tracks and past ancient shepherds' huts. The mountains are beautiful and the snow stays all summer on the very highest points. As you walk, you look down on white frontera towns and the Med sparkling in the distance with the coast of Morocco and the Atlas Mountains beyond.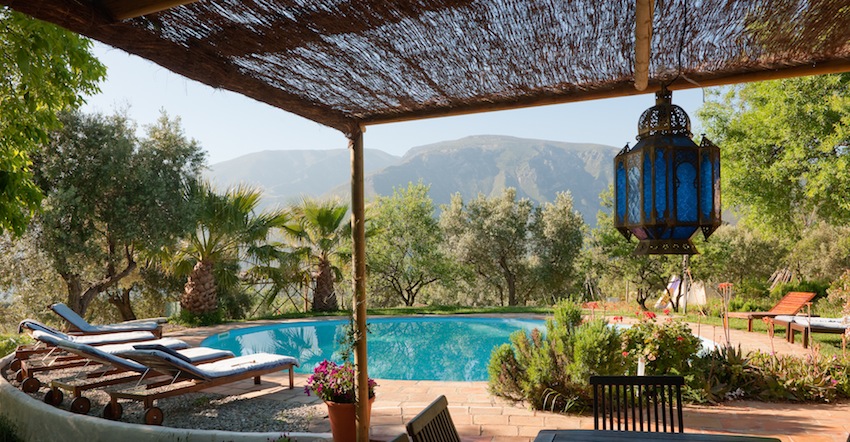 It was up in the sierra that I had my most surreal moment of the week: coming across a farmer with his dogs passing the time of day with a Buddhist monk in full saffron and maroon robes. He came (the monk, that is) from the nearby O Seling Buddhist centre where not so long ago a reincarnated Tibetan lama returned in the form of a young Spanish boy (he eventually rebelled against religion and is now living with his mum in Ibiza).
Kaliyoga has two therapy rooms and in the summer, treatments take place outside in a leafy spot in the garden. Some of the therapies were completely new to me. Ever heard of Biomagnetic Therapy? It improves the acid/alkaline balance of the body and removes everything from parasites to asthma. Then there's Maya (as in pre-Columbian American) Abdominal Therapy that focuses on digestive and reproductive health. The Quantum SCIO (developed by a NASA scientist) assesses "your organic, systemic, chakral and energetic function". Sound Therapy uses crystal bowls and singing to rebalance your very cells by Optimum Frequency Vibrations.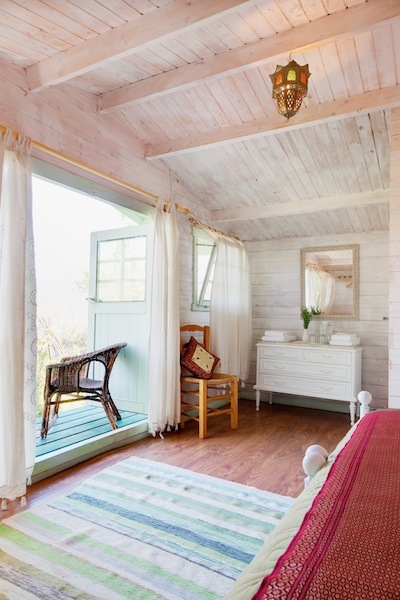 My personal favourite was the Thai Yoga massage in which therapist, Arantza, combines acupressure and stretching and does yoga to you. I was tied in knots, wrapped round her knees, then her knees (or was it her feet?) were somewhere on my back, then I'm levered upwards ("No, don't help me, be passive") – until there are little clicks, tensions disappear and spaces open up inside my body. After almost two hours, I emerge feeling lighter in body and soul.
By the end of the week, I was certainly aware of changes both to body (flattening out and releasing the base of my spine where tension was stored), breathing (much more aware and not so hard to focus) and mind – the increase in calm during the week took me by surprise. Most amazing for me, I slept deeply (and I'm an insomniac).
But I could see a change in everyone. By the end of the week we all had a glow (and OK I know we had the sun but it was more than that). And we'd moved from the stiff formality of strangers on the first night to lots of laughter by the last – spent watching Thelma and Louise, though not sure quite how Zen that is. Lying in the sun post-yoga, I put my finger on it. And, after all, it's simple – all that effortless effort just makes you feel good in your own skin.
Prices for Kaliyoga Spain start at £845 (flights to Malaga) including twice daily yoga, meditation, delicious vegetarian cuisine and comfortable accommodation for six nights. There are also bodywork and holistic healing sessions available. Courses run from March to November. There is also a retreat in France (May and June, fly to Marseille) and a new retreat in a 17th century Italian farmhouse in Puglia from April to October – stay in one of the trulli with their famous conical roofs (nearest airports Bari and Brindisi). For more information visit the Kaliyoga website.