Anyone who has read EF Benson's glorious depiction of life in Rye – imagined as Tilling in his Lucia series – will know that it is too thrilling a place to resist. Military historians know it as a latterly added Cinque Port, one of the titular five coastal towns in Sussex and Kent, first formed for trade and military purposes. But the true Rye enthusiast knows that it is Benson's account of the place that really matters. Of course, his vantage point from his home at Lamb House, which becomes his protagonist's coveted home – 'Mallards' – is vital to visit (it is worth finding out ahead of visiting the vagaries of its opening times).
As literary types will appreciate, the most famous address in Rye was also once home to Henry James, though his oeuvre did not, alas, reflect the daily comings and goings of the town with quite such gossipy melodrama. The Turn of the Screw may have given me fewer nightmares had it involved more sightings of Lucia skipping in her garden (the famed 'giardino segreto') from Rye's church tower and fewer ghost-communing children.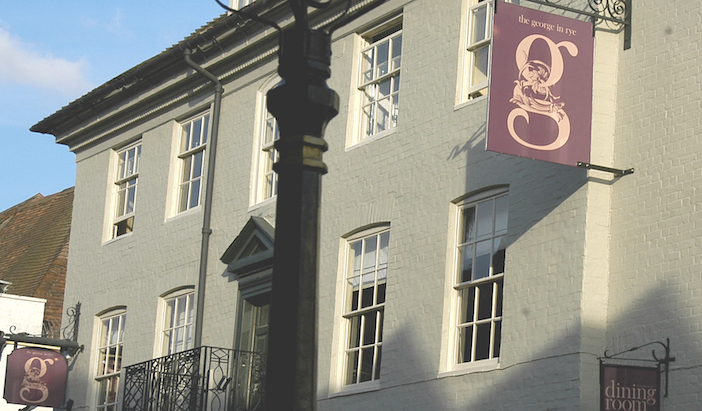 Were either EF Benson or Henry James, both of whom had immaculate taste as evidenced by their one-time home, to return to the cobbled and charming streets of Rye today, they would find both little and great change; there would be no decline in its scenic allure, but its levels of luxury would no doubt have risen a great deal, chiefly in the form of The George in Rye, to where they would certainly repair today.
After all, it is where the great and good stay as a matter of course when in town; as we're showed to our suite, we are told that Kevin Costner was a recent former occupant, while George Clooney has slumbered sweetly in the next door room before now. We cross the courtyard – a veritable suntrap in warmer months – and climb a flight of exterior steps to our suite, where it is immediately apparent why the A-list choose this as their Rye favourite.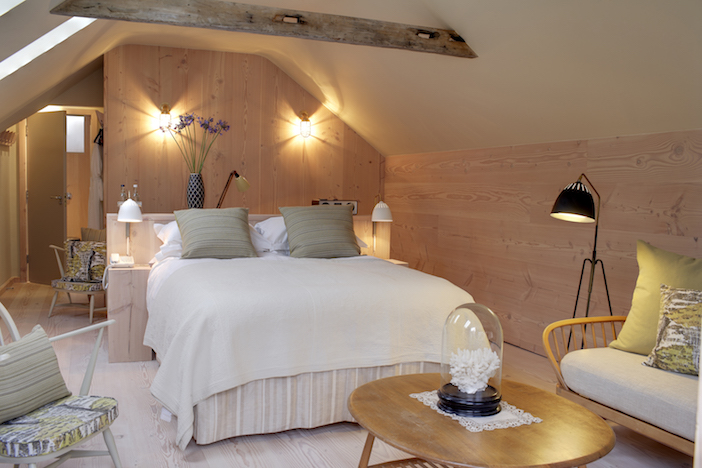 A cavernous room, it is stylishly appointed, with Scandinavian flourishes: the unpainted wooden walls, the angle-poise lamps, the design icon chairs and the free-standing bath in a sort of ante-room to the bathroom (which also houses an enormous shower for more demure types who wish to perform their ablutions behind closed doors). The bed too, is enormous, made up in crisp whites and sublimely comfortable. But the piece de resistance is, surely, the bed designated for our toddler. Ordinarily we would hardly eye up the standard fold-away cot; but here, she is not only given a double all to herself, but it is housed within a purpose-built wooden pod, complete with miniature step ladder. She is in heaven and the three of us clamber in to sample the novel joy.
A whistle-stop tour of the hotel reveals that not for the proprietors here a standard interior-designed look with the obligatory motifs running through. Their background in set design means that each room is genuinely different from the last, with cosy country cottage style rooms in the main house, Scandi-style suites in the new additions and even a room arranged over two floors, the lower half of which is entirely occupied with a lavish bathroom, while upstairs, where the round bed looks sumptuous enough to dive into, striped wallpaper speaks of the nearby seaside.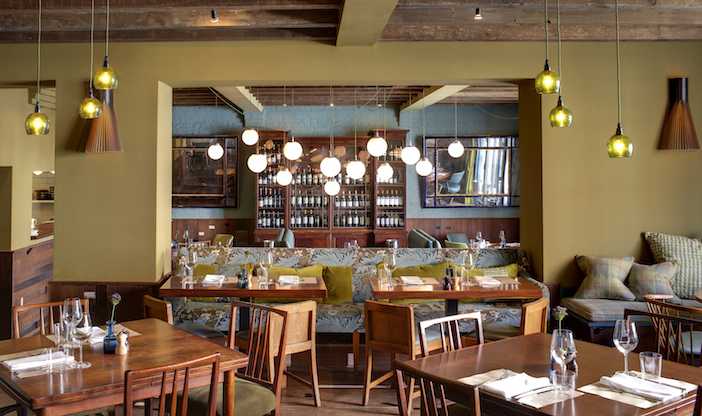 We could lounge about all day, but oysters and English sparkling wine beckon in the elegant dining room, with its reclaimed floorboards and refined green tones. As we turn left in the restaurant, we note that the bar, The George Tap, to the right, is already filling up with locals who evidently view this as a relaxed watering hole, rather than the stiff hotel bar it could have been. And that is at the core of The George in Rye; luxury without a trace of formality is the abiding refrain.
At the time of visiting, it is decked out gloriously in gold and silver by the proprietor of the hotel's playfully and literally named The Shop Next Door; Christmas done in the maximal way without ever being over the top. The bedecked front door is beckons guests in, and then the beautifully designed, gloriously idiosyncratic layout of the rooms, private and public, challenge you to never want to leave.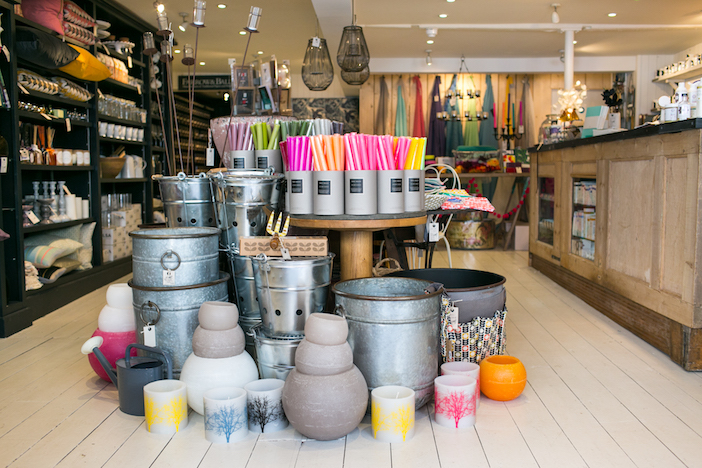 But exploring Rye is irresistible, so after sharing an appetizer of six of the exquisite Rockefeller oysters, we head out. There are many excellent places to eat and drink in the town (the burger place, Hoof, is especially good if you want a casual bite of the very highest quality), but one of the very best, the Globe Inn Marsh, is situated a short walk from the centre, and tends to appeal to those in the know.
Part of a small group known as the 'Ramblinns', it has a shabby chic atmosphere not a million miles away from The Pig group, with lots of mismatched furniture, cosy corners and an interesting food and drink menu that's heavy on local produce and unusual – often English – wine, beer and spirits. A special of pork belly in cider tempura might be the world's poshest chicken nugget, but it's delicious, as is a lamb pie that is generous in its rich, carnivorous filling.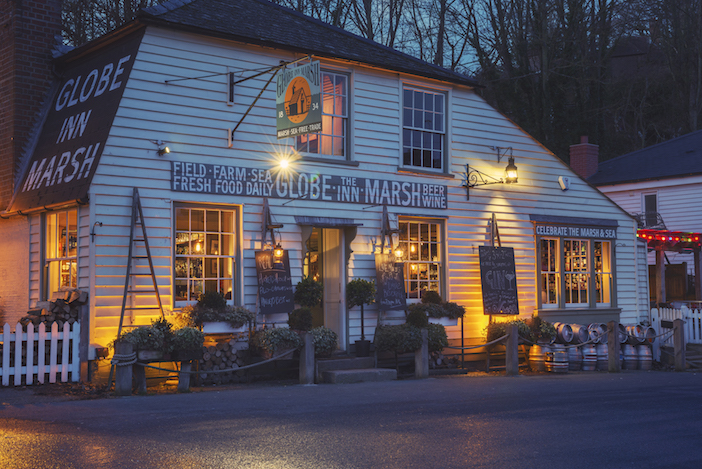 The only let-down, in fact, was another pie, this time a fish one, which was far too heavy on the mashed potato and too light on the fish. Yet this was more than made up for by the excellence of the wines and gin that we tried, all from nearby Chapel Down, and we head out into the cold, blustery night sated and happy. And who could not be, given the traveller's holy trinity: a good meal, good drink and a sublime bed for the night?
For more information on The George, including details for bookings, visit www.thegeorgeinrye.com. And for info on The Globe Inn, visit www.ramblinns.com.