After last week's turn in Dubrovnik, we go to the other end of Croatia, to Istria in the north, where Sophie McLean finds a medieval town where cutting edge design emerges from a world of tradition…
"She also came here for love," he tells me. I am dining with the GM of Hotel Lone, Croatia's only design hotel that won the prestigious 'architecture' award in the European Awards for Hotel Design at the end of 2012. We are seated at a beech-coloured table on quirky wooden chairs in the low lit, spacious 'L' restaurant, just one part of what makes up the hotel's overall sleek, signature interior and crux of its culinary offerings – equally as creative in their delivery and presentation.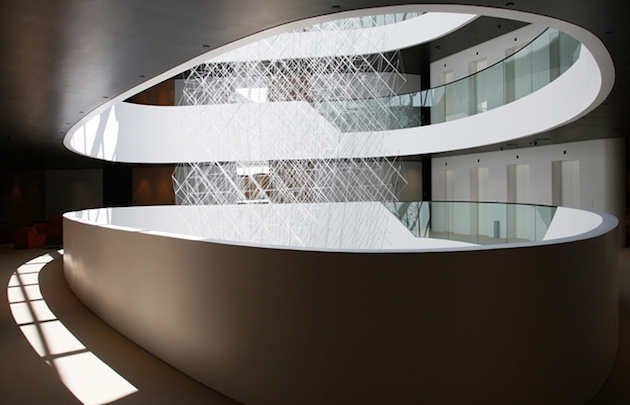 The 'she' Peter is referring to is his executive chef – Priska Thuring, a half Swiss, half Canadian bleached blonde tour de force, fully charged to bring her unique twist on experimental European cuisine to the hotel's most discerning of guests. Her husband, Tom, a local Croatian with well-matched international experience, is head chef at the neighbouring 5* hotel Monte Mulini. The couple originally met whilst working at the Dolder Grand Hotel in Zurich. A more than auspicious union, then.
Peter's own love affair with Croatia, Istria, and more specifically Rovinj, began a few years ago. For him it, too, is a place he's chosen to settle. After travelling the world with his work he now adds a wife and young baby into the equation: "the day to day business stress is the same as anywhere but once you leave the office here, it's the lifestyle that you wouldn't trade for anything". He refers to the town's enviable position on the sea; the majestic coloured houses and pretty cobbled streets that line the old centre carve out modern day life from its unrivalled, rich history.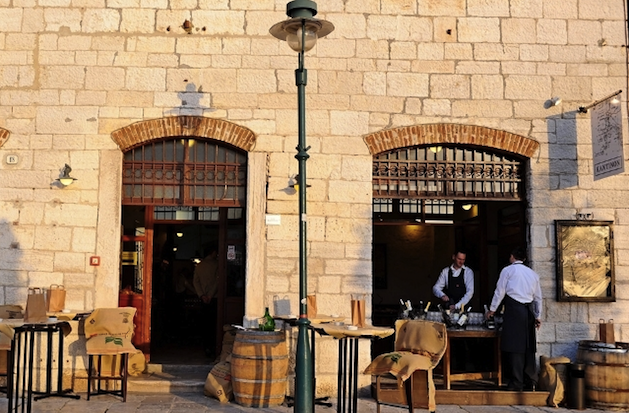 Rovinj has been part of Austria-Hungary, Italy, Yugoslavia and Croatia in its recent lifetime, evident most from the Italian splashes of language and other cultural references you'll find dotted here and there. Lunch at local restaurant Kantinon (Italian for 'large cellar') proves this in an instant, with the headline of its own Italian language newspaper referring to Istrian 'prosciutto' as "the benchmark of excellence for anyone who enjoys true gastronomic delights". As we tuck into monkfish, gnocchi and orzo dipped in squid ink, the staff proudly tell us more about the produce, the cheeses and the olive oil, too – another part of the Croatian and Istrian's raison d'être; hand-harvested where possible. They are clearly proud of this heritage.
The Italian population in Rovinj still totals around 3,000 despite a large proportion leaving to return to Italy after the Second World War. We meet Sandro, a tall, longhaired descendent of this line, the next day. Sandro is a journalist for La Voce Del Popolo – a local Italian language newspaper, and an authority on 'batanas', the flat-bottomed rowing boats that have since become symbolic of the area. In Rovinj's main square where local fisherman sit mending their nets and a handful of classic cars and their aficionado drivers wind their way around the town's central fountain, we wait to take a trip in one of these traditional boats ourselves.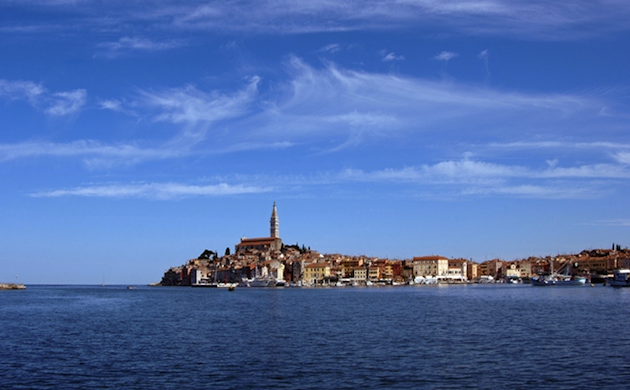 We navigate around the old city walls, dodging majestic floating jellyfish in the azure coloured water beneath us, and arrive a short while later at a suitably hidden landing point amidst the rocks. The man who has been rowing our boat points out an ochre-coloured building, telling Sandro in italo-infused local dialect that that is where he was born. In turn, Sandro nods proudly to a building almost next-door, "this is where I got married last year". His wife, as we discover, is half Croatian, half American. We visit her artist's studio and gallery later that day – just one of many brightly paint-flecked places that line the shiny streets of Grisia. Under the pine trees on the top of the hill we visit the church of St Euphemia where her namesake's legend is depicted on cool white walls in frescoes, and the dome, based on the one at St Mark's in Venice, offers enviable views across the bay.
Away from Rovinj, passing Norwegian-like fjords en-route, we are introduced to another love affair. One connected to the earth and the vines. The wine industry here, like tourism, is growing from something of an adolescent crush to a blossoming romance with foreign visitors. Under the late afternoon sunshine we sit down at the Matosevic winery joined by Ivica Matosevic himself whose wines have recently found themselves on to the menu at Heston Blumenthal's Fat Duck at home in Berkshire's Bray.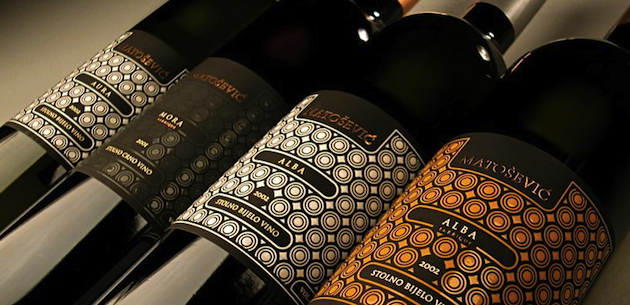 "Oz Clarke and Steven Spurrier were here just last week," he tells us, indicating a growing, palpable excitement for Istrian wine across the rest of Europe's waters. Malvasia is Istria's predominant regional superstar, but you'll also find indigenous (red) Teran, and Refosco from nearby Trieste as mainstays on local wine lists as well as European grapes Cabernet Franc and Pinot Noir. Harvest here is in full swing; sweet musty aromas surround us as we try his acacia-laden bottles labelled Grimalda. Ivica, PHD graduate and one-time landscape architect, is clearly a focused man. Today when we meet him he is wearing a 'Run Lanzarote' tshirt, and tells us of other marathon adventures that include challenging environments as far away as the North Pole.
Local wine served in large carafes feature at our choice of dinner venue later on this evening – a local konobo (taverna), appropriately named 'La Batana'. Chef Davide Skoko's dedicated father goes out every morning to catch the evening's offerings. Like a grown-up supper club, this place needs no marketing, it is brim full of people even early on a Monday evening, and as the sun dips lower in the sky over the distant sea we dig in to congo fish, shark, octopus, red snapper and more. It makes a rustic change to our more formal experience the night before at the Monte Mulini's impressive Wine Vault restaurant where delicious classic French dishes are more de rigeur – on par with an excellently stocked cellar.
I look forward to working off such sumptuous cuisine back at Hotel Lone's enormous spa the next day and exploring treatments that draw on some of the local herbs and spices also used in the kitchen. Hotel Lone encapsulates the more modern side to this pretty part of Istria – flirting with design and architecture in a way that is as yet not widely explored elsewhere. 'Jazz' rooms offer balconies etched with infinity pools, bathrooms exude a well-thought out finesse and there is an ambience pointed towards showing its guests something altogether different, yet still very much Croatian. Staff uniforms that wander beneath the vast foyer's sculpture entitled 'running ghosts' here are designed by I-GLE from Zagreb and the hotel's boutique on the ground floor offers additional items of Croatian design: brown paper boxes on sale here state: 'inside is a story about an object wanting to become something more than a simple lamp'.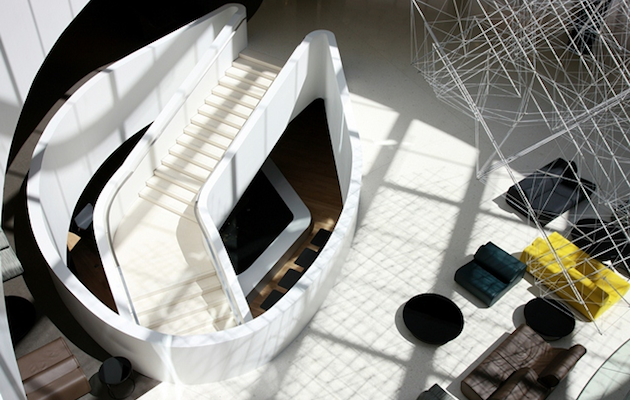 Whether it's for the beautifully wholesome traditions or the more quirky, modern draws, you'll no doubt find something on this peninsula here to suit just about everyone. It's not heart shaped without reason.
View Hotel Info, Rates & Availability
Just announced: For the first time in its history, the Red Bull Air Race World Championship will bring an adrenaline-fuelled spectacle to Rovinj, from 12th to 13th April 2014. 
Hotel Lone are offering  a two-night package, including front-row Race Club VIP tickets to enjoy the event in style. Race Club guests will be treated to unrivalled views of the competition and luxury hospitality in an exclusive setting, as the world's best race pilots, including British World Champion Paul Bonhomme, fly between 15 and 25 metres above the sea, at speeds of up to 370kph. 
Hotel Lone package:
A two-night package for two adults sharing a double room at Hotel Lone, Croatia's only member of Design Hotels™, includes breakfast, unlimited use of the spa, access to the Race Club VIP zone, and transport to the event area. Prices start at €1200 (per couple) and the package is available from 11-14 April 2014.