The first person you see when you enter Astoria7 hotel in San Sebastian is Alfred Hitchcock. There he is, larger than life, sitting on a seat in the foyer reading a script, usually with someone sitting next to him scrutinising his face or having their picture taken. He's a model, but you wouldn't know at first, and he's lifelike enough to make everyone who meets him jump. Which is appropriate, considering. He's here because he stayed in this picturesque seaside town in the Fifties during the annual San Sebastian Film Festival. Indeed, every September since it began in 1953, the festival has attracted directors, film-makers, actors and enthusiasts from all over the world.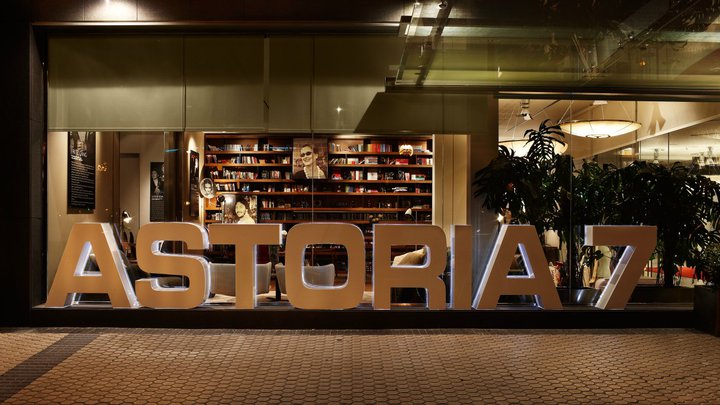 Astoria7, opened in 2009 and housed in what was the Astoria Cinema, celebrates the town's filmic fame. Above Mr Hitchcock is a constant silent screening of his films, every moment a moving work of art, while each room is based on a different director or actor who has visited the festival. You might get Pedro Almodóvar, Ingmar Bergman, Liv Ullmann or Jessica Lange. Or Jaqueline Bisset, Glenn Close, Angelica Houston or Elizabeth Taylor. Or you might, like me, get Jeremy Irons. Yes, folks, here was my opportunity to get up close and personal with Jeremy, whose enlarged face graced my room's walls and filled its picture frames, some with Sinéad Cusack and one of their sons, now grown up but here looking about 11. As well as its own theme, rooms have large, comfy beds, free WiFi and all mod cons. The food in the restaurant here is good, too, and there's a bar filled with local people drinking coffees, beers and Rioja morning, noon and night.
The hotel is an excellent base from which to explore San Sebastian and discover why it's so firmly on not only the film- but also the food-lover's map. Take the scenic 10-minute walk into the centre of town, or ask at reception for a place on the Pintxos Galore Tour to be guided around the local bars – or try the Gastronomic Society Cooks Pass Tour, which also includes a visit to La Brexta market and lunch.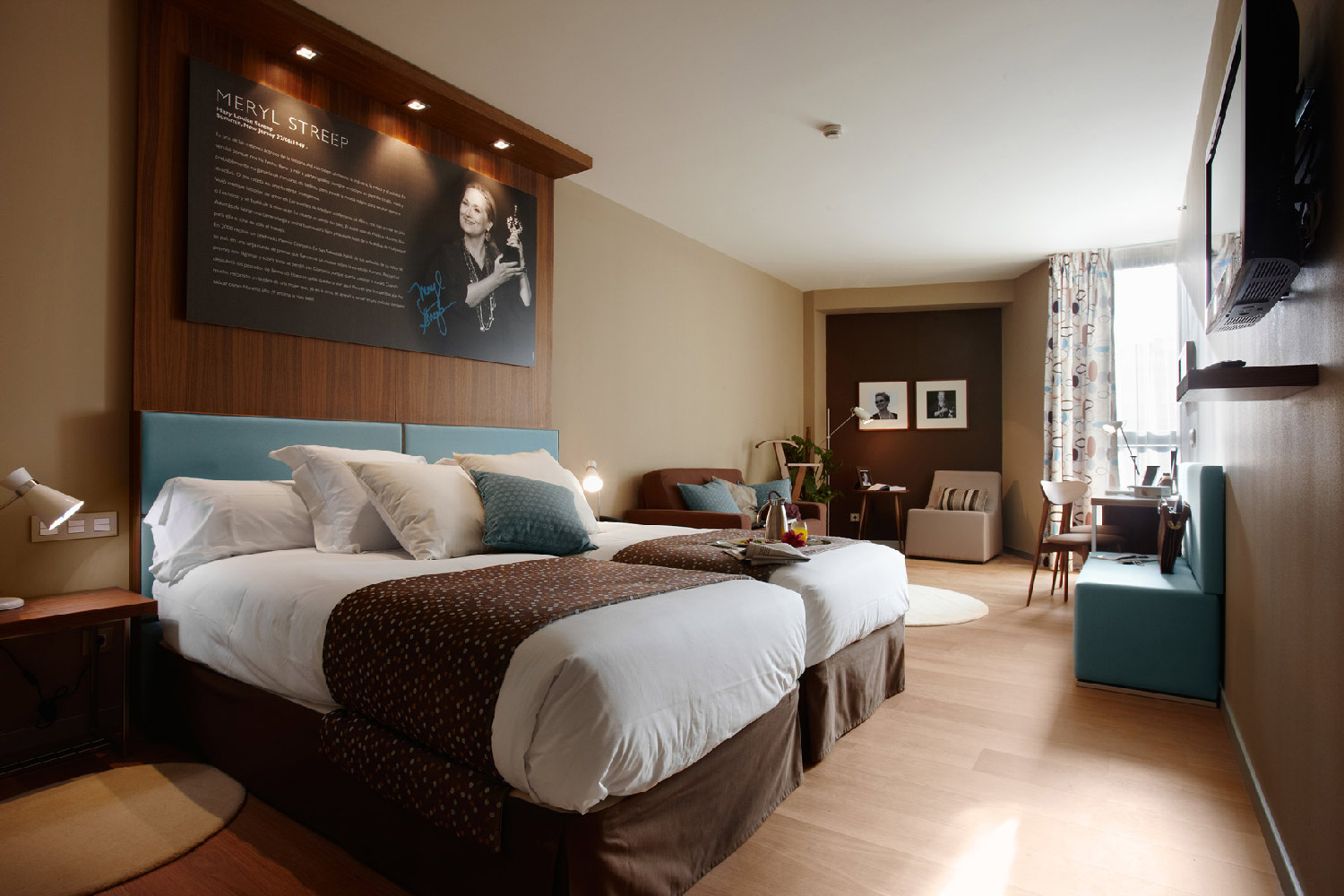 Pintxos are the Basque version of tapas, cheaply available in the 200 or so bars lining what appear to be every street in the old quarter. But before you taste a single pintxo, get a feel of quite how foodie a town this really is with a visit to La Brexta subterranean market. As well as being filled with all the foodie delights you might expect – rows upon rows of shiny, blood-red peppers, white asparagus (we visited in May), tear peas (a local speciality), fresh meat, a large area selling super-fresh fish and seafood, plus cheeses, hams and vibrantly coloured cut flowers, you'll also see the grislier side of foodie paradise, where the parts of the animal that do not go to waste are sold. Arguably, if you're going to kill an animal you should respect it by using every piece, and Basques certainly do: the pigs' ears, trotters, heads and tails on display in glass cabinets are used to impart a glutinous quality to pintxos. You'll also see lambs' heads with fearful, staring eyes, skinned rabbits, and morros – cows' noses, soft, wet and which I'd only ever seen before on the end of a cow's face. 'Yum,' said our guide. Another speciality here is milk-fed lamb, their tiny legs the length of a school ruler. It's certainly food for thought.
Back on ground level and next to the market is Gorriti bar, which has served traders for more than 90 years. There are hundreds of pintxos on offer, at €2 or €3 apiece, together with a glass of local cidre (yes, even in the morning) before or after visiting the market, to set you up for a day's tasting. Also worth a try is a glass of txakoli, but drink only one because its high sulphur levels otherwise guarantee a headache, people warned us.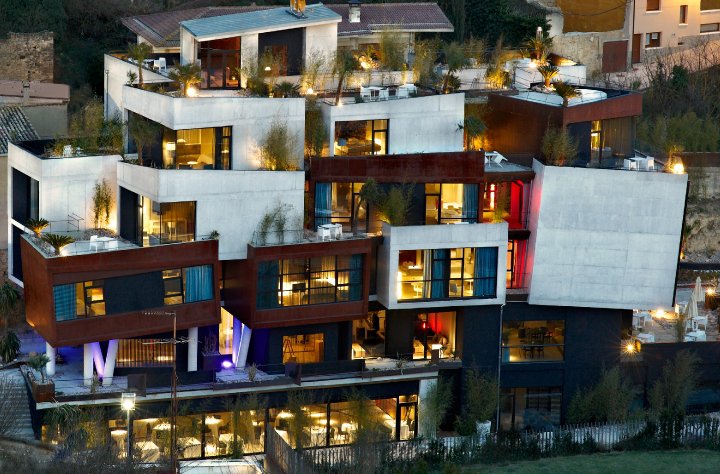 You can pretty much walk into any pintxos bar and enjoy great bar food and local wines, but among the ones we visited and loved are La Cuchara de San Telmo, next to the museum; the carrilleras con vino tinto (ox cheeks in red wine), slow cooked in the tiny kitchen are a snip at €3.5. 'That's as good as you'll get in any Michelin-starred restaurant in London – and a whole lot cheaper,' said one of our party, the food editor of a well-known magazine. The slightly glutinous quality of the melt-in-the-mouth ox cheeks comes from the aforementioned pigs' ears.
Another great little bar is Bordaberri for the ravioli de mollejas, lamb sweetbreads in wonton with leeks, slow-cooked lemongrass, chimichurri and apple sauce; a mouthwatering delight.
Funky, noisy, popular Zeruko is well worth a visit for numerous superb and creative pintxos dishes, including the oddly named bob limon dessert, which looks like a poached egg with a passion fruit yolk that 'explodes' in the mouth, the egg white a lemon mousse, the accompanying 'bread' a citrus sponge, and a sauce tasting of vibrant summer fruits. It's the sort of molecular gastronomy that could give Heston a run for his money.
After all those pintxos, there's lunch if you have room (The Gastronomic Society Cooks Pass Tour includes lunch) or go for an afternoon stroll around the town and along the elegant curved bay that has changed little since Hemingway's days here.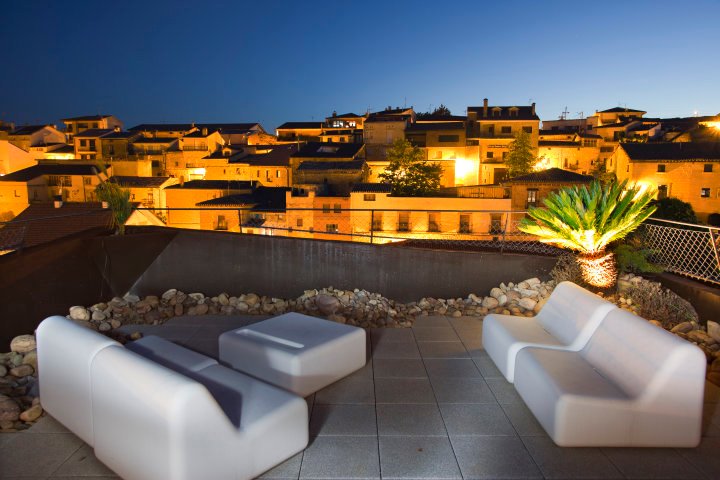 In contrast to all the casual eating and drinking at pintxos bars, Arzak is dining at its finest. San Sebastian has eight restaurants with 16 Michelin stars between them, and Arzak alone has held three stars consecutively since 1989. It was recently voted Restaurant magazine's eighth best restaurant in the world for the second consecutive year, so our expectations were high as we arrived here by cab after a short drive to the edge of town.
We were invited to eat in the kitchen by Juan Mari Arzak and his daughter Elena, who run the restaurant together like clockwork and describe their cooking as 'research-based, cutting-edge, evolving, Basque signature cuisine'. Indeed, as well as a vast wine cellar, there is a separate room where experiments take place and recipes are created. Among the many dishes we tried on a seemingly endless tasting menu were red codfish; hemp, mustard and lobster; seabass with potatoes; a spectacular 'monkfish green witch' (monkfish inside a huge green balloon that looked like an arty table lamp, made from seaweed); and lamb with fried grapes. One course was served on an iPad screen with the sound of the sea. Sweet dishes included roots, fruits and seeds; melon with tomatoes, sumac and lime; a plate of tool-shaped chocolates to finish and much, much more. All with matching wines.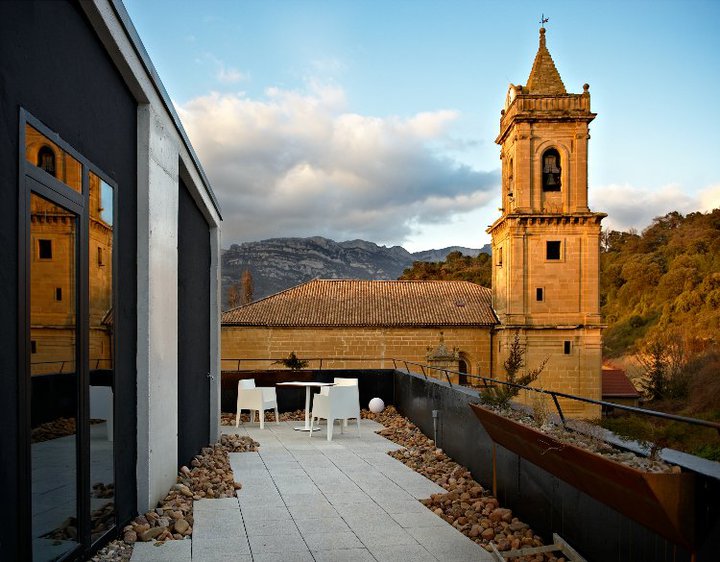 The next morning we drove just under 100 miles further into Basque country, where wine, specifically Rioja, was on everyone's lips. Of the 500 wineries in Rioja, 42 are in the village of Villabuena de Alava, and almost all of its 300 residents seem to be wine-makers. It's certainly the place to go if you want to learn, for instance, that the best recent years for Rioja are 2001, 2004, 2005 and 2010, according to the producer we spoke to at Bodegas Valseranno, a fifth-generation winery close to our hotel.
Indeed, four-star boutique Viura hotel is named after a local grape, but the stunning thing about it is the views both of it and from it. This exquisite hotel makes an ideal bolthole, perfect for those who like to pore over design books and dream about good looks and supreme comfort.
First impressions are of cubes randomly stacked against the rocks behind it, each with a mirrored window to reflect the surrounding landscape. Walk inside this spacious and relaxed hotel and you'll see that the reception and library are backed by the same rock, while the bar, much-loved by local people, has a huge, sparkling vintage chandelier and wine boxes hanging from its ceiling.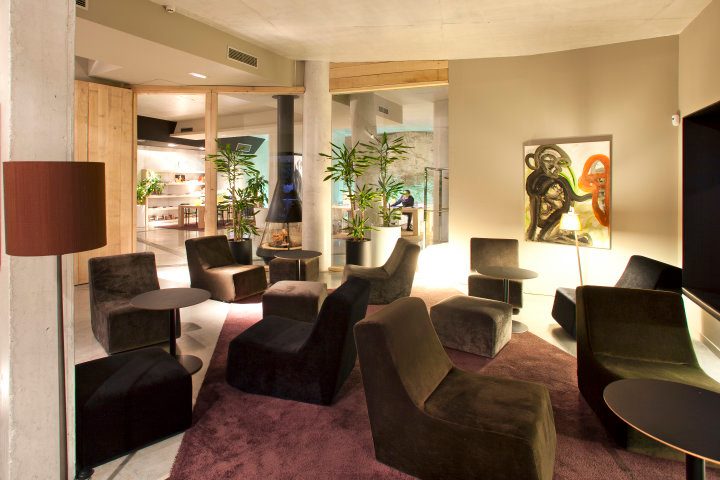 Concrete is a major factor of the hotel's design, lending a clean, graphic edge to the stairs and 33 rooms and suites, which are softened with details including vast, comfy beds, and – in my room – a sunlit magenta pink Perspex screen separating the sleeping and bathing areas to give a funky pink-red glow to the water as you shower. Hitchcock would have approved.
If you are lucky enough to stay here, be sure to visit the roof garden, where stylish white loungers invite you to lie down and sunbathe or simply sit and dream as you gaze over the countryside and village.
The hotel's restaurant served, when we visited, seasonal dishes including asparagus with poached egg, crab ravioli, line-caught hake in green sauce with baby potatoes and peas purée, plus brioche with vanilla cream and ice cream. There is also a cellar with 200 wines. Would you expect anything less from such a smart hotel in the middle of wine country?
Rooms at Astoria7 start at €90 per night, and €145 per night at Viura. There is also a four-night Gastro-tour package with two nights at Astoria7 and two at Viura from €837 for two people, depending on whether you choose the Pintos Galore Tour or the Gastronomic Society Cooks Pass Tour. For more information, contact Marugal. Transfers are not included.
The Pintxos Galore Tour is €90; the Gastronomic Society Cooks Pass Tour, which includes a visit to La Brexta market, lunch and a cooking class, is €120.
The tasting menu at Arzak costs from €189. For more information visit the website.
Flights from London Heathrow to Bilbao with Vueling start from €79.99 each way. For more information, visit their website.