Pescara is not the prettiest Italian town. Nor is it the cleanest. Nor the most culturally vibrant, gastronomically diverse, or historically significant (unless you count being virtually bombed flat in the Second World War). It is a seaside town boasting 20km of beaches but these are, at best, drab and sullen. Its old town, the one part of the city with any redeeming features, comprises one rather lachrymose-looking street often daubed with graffiti or veiled by scaffolding and tarpaulin. The best hotel on offer was limited in its scope, the room was pokey and the evening meal was an insult to Italian cuisine.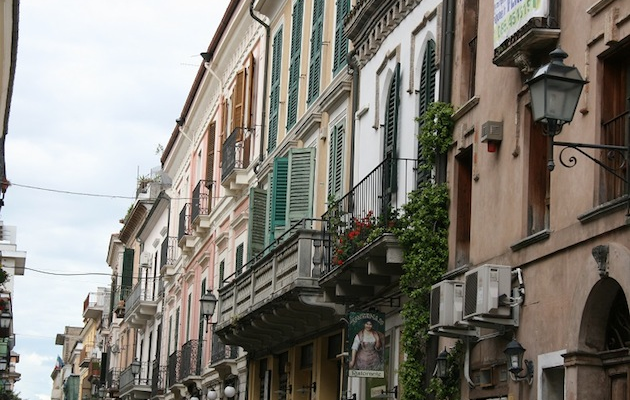 But to me, Pescara is a corner of Italy overlooked, a city of remarkable history and cultural significance.  As I walked its streets, toured its churches and its famous son's – the poet Gabrielle D'Annunzio; a bigoted, militarist dandy – house (the city's signature tourist attraction), I had aroused in me a sense of intrigue and wonder. And there's one reason for this endearing impression; my tour guide. Kharen was informed, enthusiastic, a little stern, but passionate about her subject and everything I could ask and everything I was told piqued my curiosity and fuelled my interest. A worn stone column in the road? That was a significant artefact of the city's Roman heritage as a major trade port. The curious grid layout of its streets? The palm trees? The promenade? It's Italy's Miami, and modelled on it, in fact, in the wake of devastating Allied bombardment in World War II. And what of the famous poet, Gabrielle D'Annunzio? A visionary who celebrated his native Abruzzo's pastoral heritage, harnessed family values and was a close personal friend of Mussolini often influencing the dictator's softer side. And a man with terrific dress sense.
More importantly, Pescara was the touchstone for the discovery of the little-known region of Abruzzo, a region of mountains and pastures, of fortified hilltop towns and gorgeous, verdant countryside. Within ten minutes of passing through Pescara's soot-choked industrial suburbs, we were coursing through spectacular valley scenery of rolling farmlands and beech woods to rival anything the likes of Umbria might offer. I was discovering a different side to Italy, the path distinctly less travelled. The tour of this region, and its neighbour Le Marche, was part of an initiative of regional tourist boards and local businesses to open up these undiscovered parts, and a discovery it certainly was. And at every step, a tour guide to talk us through it. And, in some cases, entertain us.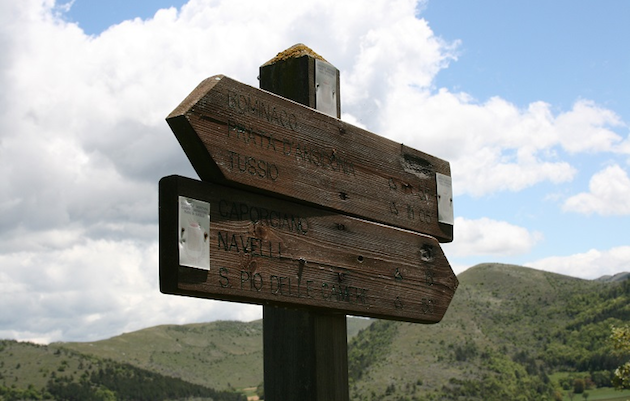 Kharen furnished us with the region's history and culture and all those marvellous anecdotes and bon mots that make people and places come alive; but, particularly, we had the benefit of visiting places that the tourist trails pass by.
Striking out across the valley pastures, our destination was visible on the top of a hillside ahead, Rocca Calascio. Among Abruzzo's rugged hilltop fortifications, it's one of the region's better-known but, with Kharen's insight, we made a pit stop en route at one of the area's understated, undiscovered gems. In the quiet, modest village of Bominaco sits the San Pellegrino oratory; a tiny medieval chapel whose interior is blanketed with stunning frescoes. The interior was painted by monks in the 13th century as the region settled following barbarian raids and the paintings show many Biblical stories in extraordinarily vivid detail, with facial expressions far ahead of their time in ecclesiastical and, later, Renaissance art. Its amateurish charm, too, is evident with a disproportionate rendition of St Francis as the artist clearly misjudged the wall's height. It's amazing to think that so seldom visited is it that it was opened for us on request by the local farmer.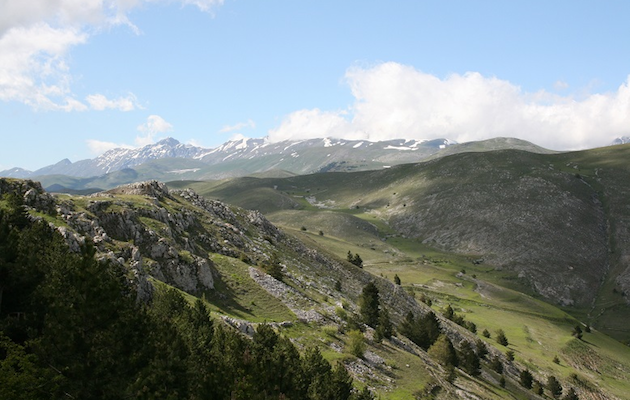 This particular region, part of Abruzzo's Gran Sasso national park, has been dubbed 'Little Tibet', formerly carpeted in woodland, now largely stripped revealing sparse, rocky mountain and striped farmland, is dominated by the Rocca Calascio, a 13th century citadel. Following a delightful al fresco lunch at Rifugio della Rocca, a tiny, empty stone-built village nearby, we changed guides, to a mountain man, clearly unnerved by all the attention but equally as informative as Kharen. The Rocca, however, was not the surprise – much of the area was fortified in the Middle Ages – it is the octagonal chapel that stands almost in contrast to its surrounds that made this spot worth the visit.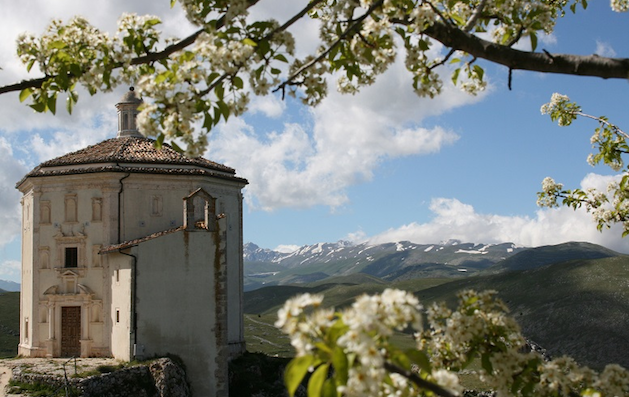 Our final stop in Abruzzo was Santo Stefano di Sessanio. A village owned by one man, Daniel Kihlgren. And, as much as he was a guide, Daniel is also the innovator behind what is, arguably, the epitome of the region's restoration. Since the 1950s the 500-year old wool trade has come to a close, the saffron merchants that passed through here have since moved on, and many of Abruzzo's most beautiful villages have been abandoned, falling into disrepair. But this charismatic charmer, a man more talkative than a Channel 5 talk show host, has taken matters into his own hands, buying an entire village and creating a sort of 'living museum', much of which is turned over to Sextantio, an auberge with a difference where guests stay in the houses and buildings throughout the village.
For all its authenticity they may have been taking rustic charm a tad far. Some of the walls, while perfectly clean, had the appearance of chronic mildew and the mattresses were like bedding down on rubble. And this often in sharp contrast to flashes of modernity to attract comfort-seeking clientele. It felt like a sort of pimped impoverishment; in the ante room to my lodging a low table, prayer stool and small, battered Bible featured in sharp contrast to the high end bathroom suite. But its interior design calamities aside, Daniel's work is admirable. The village is saved. And the good news is Daniel has others on his radar.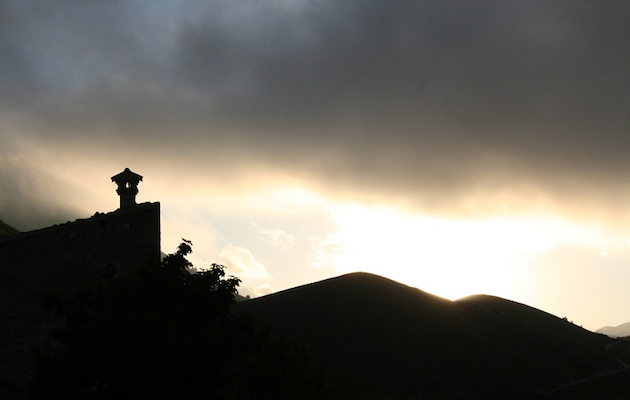 Abruzzo is one of the most under-rated, under-represented, unseen regions of Italy and the irony is that it is one of the most beautiful; raw and rugged in its beauty, not gilded in the way Tuscany is nor overstated in its pastoral charm like its mountainous neighbour, Umbria. It says something of the region that its motto is 'forte i gentile'; strong and kind. Hard in what its nature throws at you but, equally, generous in its bounty.