Continuing our coverage of Brazil – is something going on there this year? – Richelle settles in to the bohemian hilltop enclave of Santa Teresa and an impeccably stylish guesthouse…
Two hours. That's how long it takes us to get out of Galeão, Rio de Janeiro's international airport. Not to get to the city centre, but an excruciating wait of 116 minutes just to clear immigration and customs. By the time we jump into a taxi after disembarking our American Airlines flight (to the strains of a piano instrumental of Robin Thicke hit "Blurred Lines"), we're exhausted and a little cranky. But we're yet to learn that any notion of time is of little importance now that our feet have touched Brazilian soil.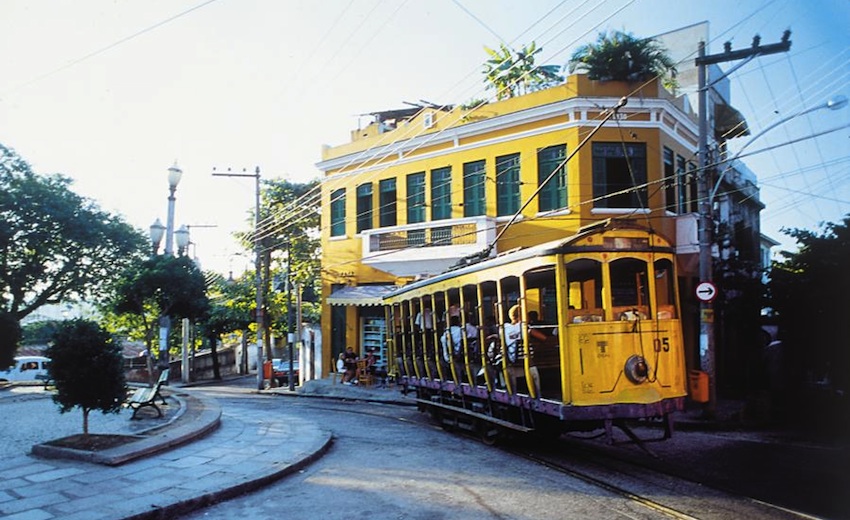 Our driver, sensing Rio first-timers, begins reeling off the city's iconic beaches; a playground for the bronzed, bikini/speedo-clad beautiful people, and where most tourists tend to end up. "Copacabana? Ipanema?"  he asks. "Não," we reply, "Santa Teresa, por favor." And within 20 minutes we're climbing the winding, cobblestoned streets of this bohemian hilltop enclave, a truly authentic corner of Rio where the 19th century colonial architecture of its charming houses, bar a crumbling facade or two, is largely in tact.
Nicknamed "the Montmartre of Rio," the streets of Santa Teresa are a hotbed of street art, galleries and artist ateliers. Add to that its lofty position overlooking one of the most beautiful cities in the world and it's easy to see why the two neighbourhoods are compared. Indeed, Santa Teresa represents another side to Rio that not every visitor is fortunate enough to experience – a world away from sunbathing on Copacabana, or selfie-snapping atop Corcovado with Christ the Redeemer.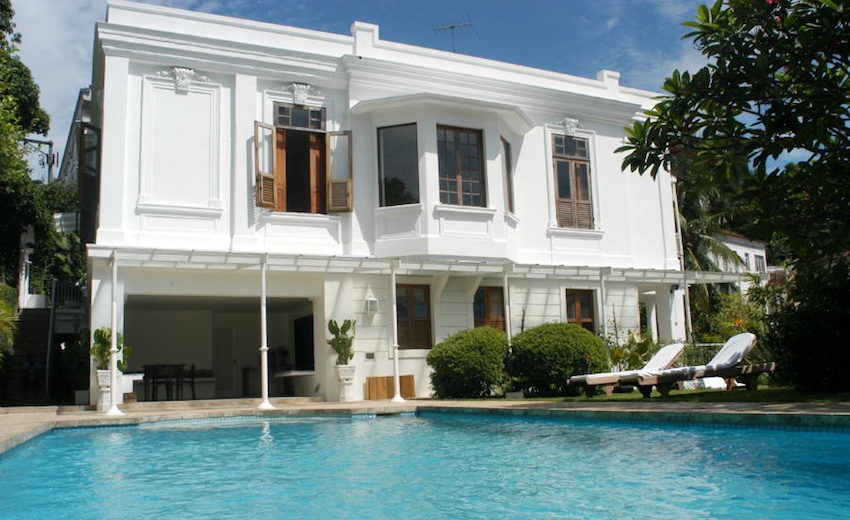 The taxi sets us down in front of Mama Ruisa, a small but impeccably stylish guesthouse in the heart of Santa Teresa. There's an eclectic-chic vibe throughout; bookshelves bursting with Jean Cocteau tomes and vintage magazines, walls adorned with framed portraits of Maria Callas and rooms filled with exquisite objets d'art. An enormous salon overlooks the pool and lush garden awash in palms, orchids and fragrant frangipani, while the views of Guanabara Bay from the balcony are sublime…On a clear day you can see as far as the majestic Pão de Açúcar (Sugarloaf Mountain).
Each of the seven elegant rooms are tastefully and individually decorated, with names such as "Colette" or "Josephine Baker" to reflect the Gallic roots of Mama Ruisa's French owner, Jean-Michel. Our light and airy junior suite, otherwise known as the "Jean Cocteau," boasts high ceilings and wooden floors. Not to mention the jacuzzi and walk-in-wardrobe found in the luxurious marble bathroom almost as spacious as our Parisian apartment. Breakfast is a basic affair and far from being the best we tasted in Brazil during our three-week sojourn, but the redeeming feature is that it's served on the cosy balcony, where hummingbirds or beija-flor (literally "kiss flower") regularly drop by.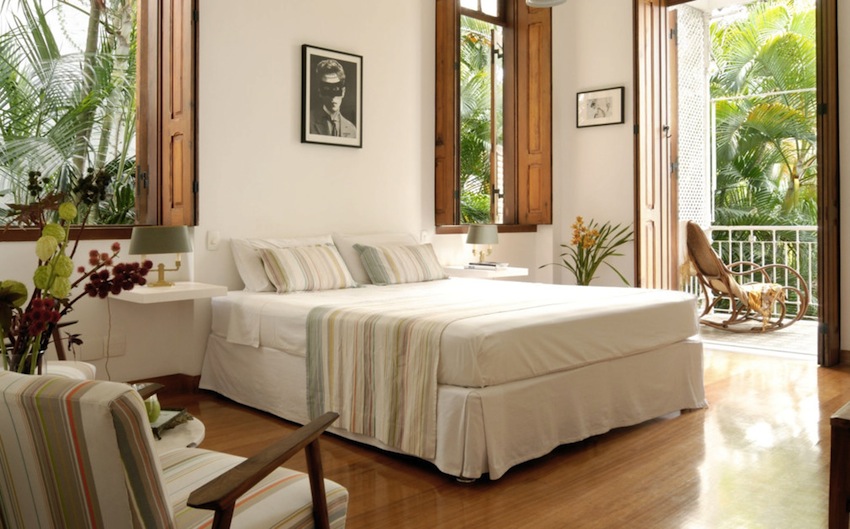 As the sun disappears behind the mountains, a refreshing shower and ice-cold passionfruit caipirinha are all that's required to shake off the jetlag. Looking out across the city, the azure blue hue of the sky slowly morphs into a hazy orange-pink, and the jagged outlines of rundown buildings in the distance fade into the night. We kick off the evening exploring the buzzing bars and restaurants that line Santa Teresa's main drag before heading to nearby Lapa, a gritty but vibrant neighbourhood at the heart of Rio's pulsating nightlife, where Cariocas (the name for natives of Rio de Janeiro) gather after dark.
By midnight the atmosphere in Lapa is electric, the streets heaving with a mix of locals, expats and wide-eyed tourists in search of an authentic Brazilian festa. Steps from the Arcos da Lapa (Lapa Arches, or Carioca Aqueduct), row after row of street food stalls and alfresco make-your-own-cocktail bars keep the masses fed and watered, as batucada (Brazilian percussion) ensembles invade the street corners. Thirsty for a caipirinha or three, our first stop is legendary Lapa music hall Carioca da Gema for some frenetic samba dancing till dawn. The uncomfortable flight, the lengthy wait to get out of the airport, the jetlag – they're all behind us now as we round off a marvellous first day in the Cidade Maravilhosa – "the marvellous city".
Mama Ruisa, Rua Santa Cristina, 132 – Santa Teresa, Rio de Janeiro, Brazil. For more information, visit the website.