As Gabrielle headed west to Fifteen in Watergate Bay, Larry ventures further along the coast, to St Ives, for a weekend in what he thinks is a classic Cornish cottage…
I can't comment on the predilection of the men of St Ives towards polygamy but as I imagine the riddle as we turn off the A30 onto the road leading into the town it occurs to me that this must be the road one might meet such a fellow. I find myself looking at every passing chap wondering where his seven sacks, cats, kits et al must be and trying to work out quite how many people are going to St Ives. In this case, however; two. Mrs L and myself are going further than we've been into Cornwall – an annual destination for several years now – and to a place that is perhaps the county's archetype.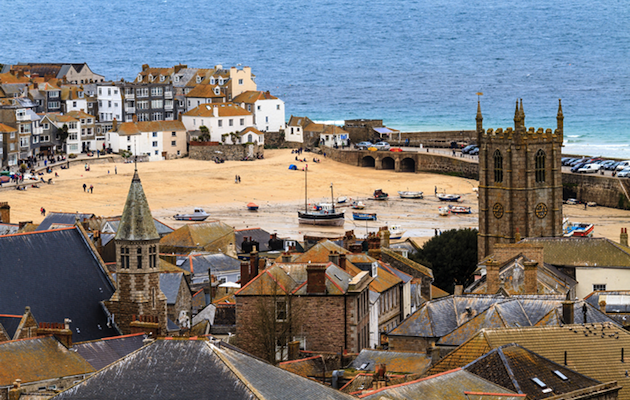 I'm snapped out of my drifting whims as we get our first glimpse of the town. The road rounds a hill past Carbis Bay and St Ives stretches out before us, with its distinctive promontory straddled with beaches, its harbour tucked, as it is, below the rooftops currently in view. It is the definition of the Cornish seaside town and it looks beautiful and inviting in the warm afternoon sun.
The idyll soon lapses as the next most characteristic aspect of Cornish fishing ports befalls us. They are un-navigable; narrow streets, one-way systems, sheer gradients, blind corners and hundreds of tourists all confront us as we weave, duck and snake our way down towards the harbour. I'm certain we're not where we're supposed to be – I feel like we're the only car, inching our way through the returning seasiders across the water front – but, according to Mrs L, we're following the directions given to us and the pedestrians seem unphased we're in their path.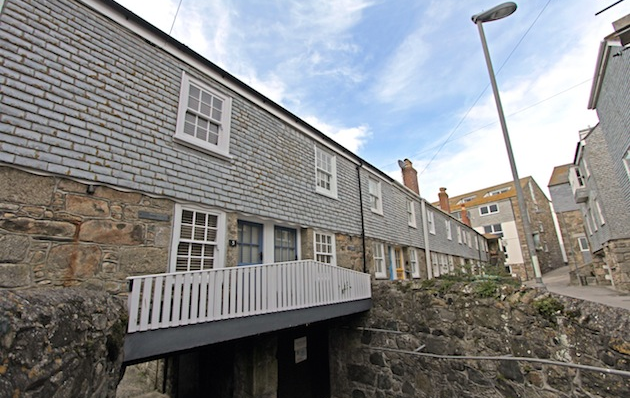 We turn off, round a pub called The Sloop – I shall be in there later, I muse – ducking into a back street, down a narrow lane and…a van appears in front of me and gridlock ensues. Two vehicles, Cornish port. We're at a standstill. Welcome to Cornish rush hour. I back up, he passes and we continue, and we're here: a short row of terraced slate fishermen's cottages. All so quaint, all so Cornish. But here the image ends, we step over the threshold and cross from an image of stereotype into a world of fantasy.
Inside, there's not a stroke of duck egg blue to be seen, nothing is whitewashed, there are no cute carvings of a fishing boat or a lighthouse saying 'Welcome', there are no Beryl Cook prints of beachside beached whales. Instead, what meets us is a mix of the raw and the refined, the oceanic and the industrial. It is stridently contemporary and vibrant and visually gratifying; slate tiles run floor to ceiling on the walls, raw timber floorboards astride beams on the low ceiling, pebbles are inset in moulding as a mirror surround and make up the floor in the shower, and are even set atop the stair bannister, itself made of industrial piping. In the detail there is the devil; cupboards are made of beaten metal, their handles chain links, sculpted clay corals and oceanic detritus adorn walls and driftwood shelves, and a mis-shapen stone basin with contemporary fixtures continues the theme in the open bathroom. And in the art; ethereal murals of the sea, giving the ambience a calming feel, and a misplaced Picasso. His blue period, naturally. This is not a rental cottage in Cornwall, this is an adventure in interior design. This is daring, dynamic and decadent. We had arrived at Moon Shadow.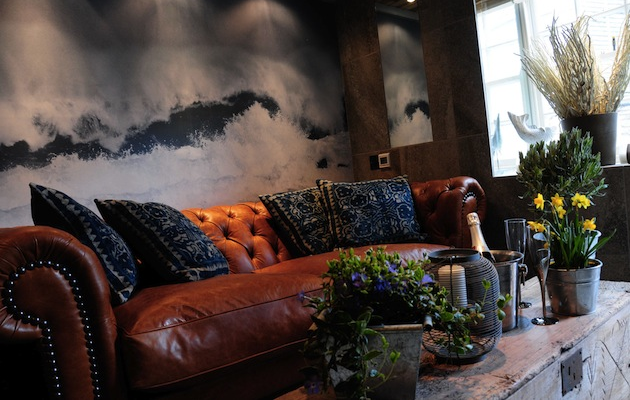 And it works. It may be seaside gone space age but it's cosy, not cold, and the only thing befitting a fisherman's cottage is its size; it's tiny. But therein lies its appeal. While we can't swing the St Ives man's cat – let alone seven of them – we swiftly realise that this is perfect for the pair of us. Downstairs, as soon as you enter, you're met with the living room, with just enough room for a tan Chesterfield sofa and a beaten toy box for a coffee table, the room is barely the size of a porch and immediately framed by the kitchen counter. A cloakroom at the back is reminiscent of the head in a small yacht and the rest of the kitchen runs under the stairs. Above, in the bedroom, an exposed A-frame ceiling is the only expanse of space in this otherwise diminutive abode. And the centrepiece is a substantial, waist-high and supremely comfortable bed. One up, one down it may be – it's the sort of place an estate agent would love to describe as 'cosy', 'compact' and 'bijou' – only on this occasion, you'd agree, and make an offer on the spot.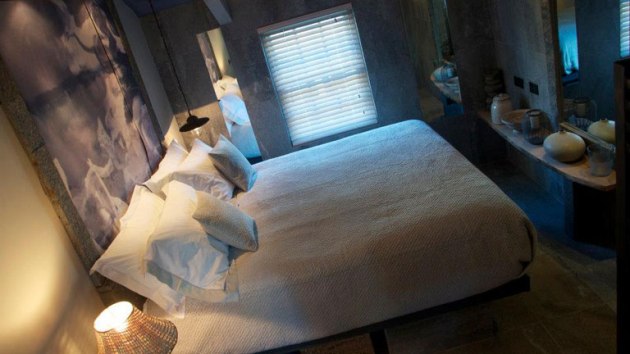 The best bit? It's a stone's throw from the beautiful Porthmeor beach. Venturing outside to soak up the long shadows and residue warmth from what had been a blistering day in England's heat wave of the mid-summer of '13, we struck out across The Island, marvelling at the view either side, before The Sloop drew me in with its promise of frothy ale and hopeful of gnarled nautical types propping up the bar. There is nothing like an evening al fresco at a Cornish pub to give one an appetite for more. We considered our options for dinner. Easy. We had to embrace our new abode so it was fish and chips from The Balancing Eel, to the bottle of chilled Chilean Sauvignon Blanc that greeted us in the fridge at Moon Shadow.
We'd be more adventurous the next day – spoilt for choice from the cottage's recommendations – following high culture with Barbara Hepworth at the Tate nearby and a fortifying walk up the coastal path with its spectacular views of the town, but always gratified by the knowledge of our return to our cosy, compact and bijou place by the sea.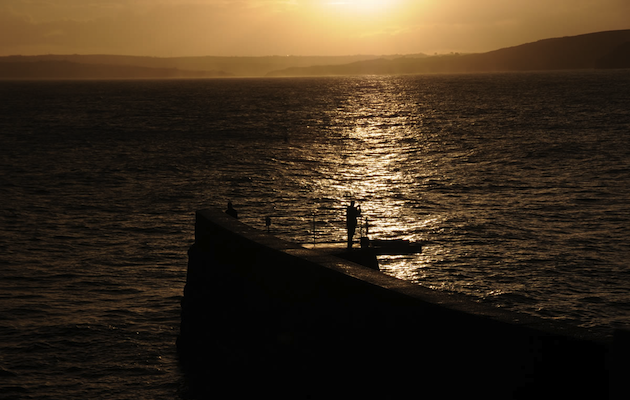 And as I wake the next morning to the sound of seagulls squawking overhead, I ponder on the name. Cat Stevens sang of this place, being followed by his Moon Shadow. And then it occurs to me. He could have been the man walking to St Ives. After all, he had the name for it.
Moon Shadow is the latest property from Beachspoke, specialists in rental accommodation in St Ives, alongside their other, equally adventurous, Black Moon and Blue Moon. For more information, images and rates – although, be warned, they're almost booked up until Christmas – visit the website.