Following on from Noah's trip to the Big A, and in the first of our Independence Day features, Alex Larman gallivants around New York, locating some choice hotels to rest his weary Manhattan-dazed head…
There are many images that come to mind when one thinks about the Big Apple, whether it's the glacial, timeless cool of the Gordon Willis cinematography of Woody Allen's Manhattan, the lush helicopter images of Sex and the City or the grittier take beloved by Martin Scorsese. It was the latter which the Cap'n and I might have had in mind when we were fleeing from the Brooklyn projects, hotly pursued by what I can only describe as 'gangbangers', whose shouted threats of imminent violence were anathema to our sensitive ears.
But I am getting ahead of myself. We were heading to New York after a five year absence, to see what was going on in the world's greatest city and to ingratiate ourselves with the leading lights of society once more. Flying Virgin Atlantic proved the perfect start to the trip – the premium economy cabin offers levels of comfort and service that rival many other airlines' business class, and by the time we arrived at the Hotel Iroquois in Midtown, we felt relaxed and refreshed, and ready for our adventure. The Cap'n, a stern man at the best of times, was especially pleased to be located close to Times Square, so he could look at the Disneyfication of what was once the city's most notorious area, and make approving noises about 'what Giuliani did so well'. Speaking for myself, I might have preferred a touch more grit and a touch less clamour – instead, I was reminded of what the actor Ernest Thesiger was said to have remarked about the Battle of the Somme. 'Oh, my dears, it was awful! The noise! The people!'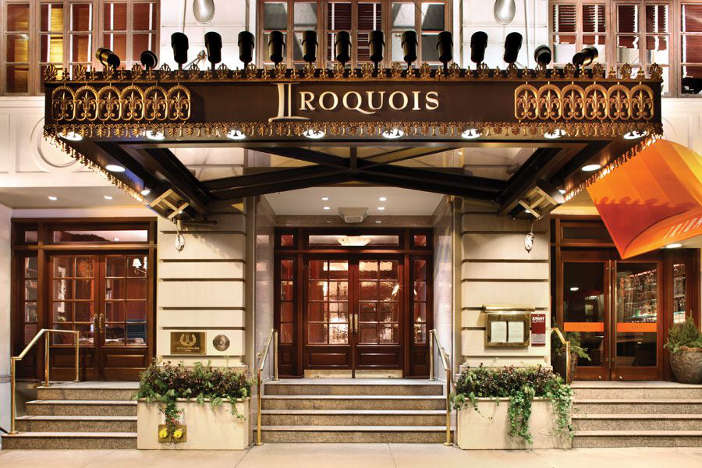 Nonetheless, the Iroquois proved something of a bolthole, offering good levels of comfort and class, and its enviable location on W 44th street meant that it was only a short walk to Central Park, where a leisurely promenade took us to the galleries and museums of the Upper East Side. Here, we spent a couple of happy days convincing ourselves that we lived in a bygone age of style and comfort, whether it was wondering at the recreations of 19th century Americana at the Frick and the Met, or enjoying the brilliant Italian Futurism exhibition at the Guggenheim. A sombre touch was added when we headed to the Neue Galerie to look at the exhibition of Decadent Art; far from being a representation of my usual stock-in-trade, it was an incisive and shocking contrast between the 'approved' art of the Nazi regime – all blonde maidens and Wagnerian soldiers – and the more interesting but 'decadent' works of Beckmann, Grosz and Klee. Chilling and blackly humorous, it was one of the best things I've seen all year.
We took refuge from all the walking and culture in the luxurious surroundings of the Mark Hotel on E 77th Street for a night, which proved the home from home of our dreams. An exercise in Manhattan opulence, the absurdly comfortable room offered a king bed that one could as happily sleep in widthways as lengthways (the Cap'n, sticking to his adage that two heterosexual men should only share a bed in times of dire need or war, was content with a put-up in the corner), and the sort of mod cons that seemingly come as standard at this level of luxury – enormous marble tubs that allow excessively long baths, beautifully soft and all-enveloping Italian fabrics, and everything gleamingly spotless. The hotel's other facilities were far from shabby too – a fitness centre boasted state-of-the-art ways to work off a fine lunch at the Jean-Georges Vongeritchen restaurant, which eschewed the multi-course haute cuisine that 'JG' is best known for in favour of top-class takes on traditional American favourites, so we welcomed such dishes as a burger with black truffles and brie and delectable Maine mussels. Our very English accents somewhat disconcerted the (largely Hispanic) staff, but a mixture of pointing and nodding, so familiar from other trips away, saw us through in the end.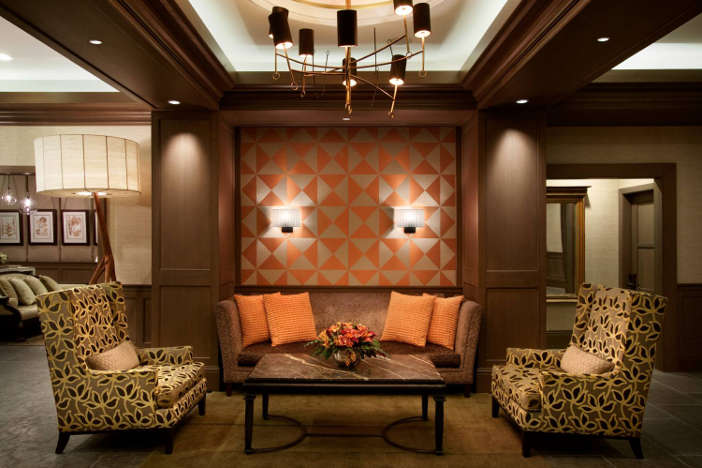 The other place that we rested our weary heads at was another exercise in high-end innkeeping, albeit with a twist. The Hotel Chandler – which, like its stablemate the Iroquois, is a member of the prestigious Small Luxury Hotels of the World organisation, and richly deserves to be – lurks in the shadow of the Empire State Building, but there's nothing overbearing or portentous about the warmth of the welcome that you'll receive, nor the quality of the staff, all of whom refer to guests by their first name almost from the get-go. Whether you're an A-list celebrity or Mr Joe Bloggs, you'll be made to feel like a million dollars at every point of your stay, which is all but guaranteed to be a memorably comfortable one.
And, belying its unostentatious nature, the Chandler also houses one of the city's most exciting new restaurants, Juni. Run by the Australian chef Shaun Hergatt, late of the two Michelin-starred SHO Shaun Hergatt, it offers the very finest of fine dining in an intimate and unpretentious setting. Dishes blur the lines between sweet and savoury with aplomb, including some especially memorable delights of frog's legs with fava bean and scallops with garden radish and coriander, and the charismatic and likeable Hergatt pops around tables to prepare dishes with suitable theatrical aplomb and to chat to the grateful patrons. Only a fool would bet against Hergatt regaining one or both of his stars in the near future – and then who knows what awaits?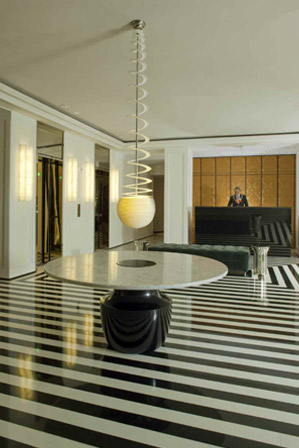 There were many other treats had, the culinary ones of which will be discussed in a future instalment. However, the alcoholic delights of the city were many and varied – I don't think that there can be many experiences more pleasurable than heading up to the Mandarin Oriental on Columbus Circle for delicious cocktails and city-wide panoramas, especially the views over Central Park, or trying one of the many excellent concoctions in the offshoot of London's Langham Hotel, the Langham Place. And there are more excellent pubs than you could shake a stick at, the best one being the JP Donleavy-tinged The Ginger Man, where I was delighted to be asked for ID, the first time since…well, my last Stateside visit.
In fact, the only ill-fated part of our trip was when we decided to venture to Brooklyn in search of hipsterville, where we had possibly the best pizza I can remember having, at a joint called Roberta's with hideously uncomfortable benches and fiercely potent Bloody Marys, but unfortunately a couple of moments of poor direction saw us slap bang in the middle of the projects, where large men cruised the streets with suspicious bulges under their arms, and the spectacle of two smartly clad English visitors aroused distaste and anger in equal measure. Even our beards – our nod towards hipsterdom – were not enough to protect us. It was not long until the first growls of dissent were heard, and even less time before we found ourselves fleeing headlong in search of a taxi, which thankfully was found before very long. When we finally arrived back in Manhattan, our driver seemed faintly surprised at the size of the tip he was given. 'Don't you want some change?'
It wasn't hard to respond to our unwitting saviour. 'Oh no, you've earned it.'
The Arbuturian travelled with Heathrow Express, Saver Express Return from £34. Virgin Atlantic flies five times daily between London and New York. For more information about visiting New York, go to the tourist board website.