With the weather now beginning to bloom for British seaside jaunts, Kerry May sets forth for Suffolk and rounds up the delights that might arouse one's curiosity…
Living in London and with parents in the West Country, I'd just never had much call to visit Suffolk before. So it was with some excitement that I ventured out of Liverpool Street by train to plunge into the proverbial rabbit hole towards the faintly exotic territory of East Anglia. Just an hour away from London was my first destination; Ipswich and The Salthouse Harbour Hotel, owned and run by the Gough family.
Standing on the harbour side, the Salthouse Harbour Hotel boasts views over an impressive array of yachts and out beyond the marina towards the Orwell Bridge. Monaco it is not, but the environs are very pleasant nonetheless. An early 19th Century warehouse building converted in 2003 and extended in 2009, the hotel has 70 rooms, including 2 penthouse suites, and The Eaterie.
One of the most obvious facets of this charming establishment is the owner's love of art and curios. Indeed, around every corner there lies a new visual treat, from a golden scorpion to a mounted unicorn's head, with a fortune telling machine and a suit of armour wearing pearl necklaces along the way. My room had a luxurious chaise longue, a statement wall and a vintage silver telephone, along with a red mosaic bust on the mirrored table. These furnishing were brought into focus even more by the unfussy white bedding, towels and bathroom.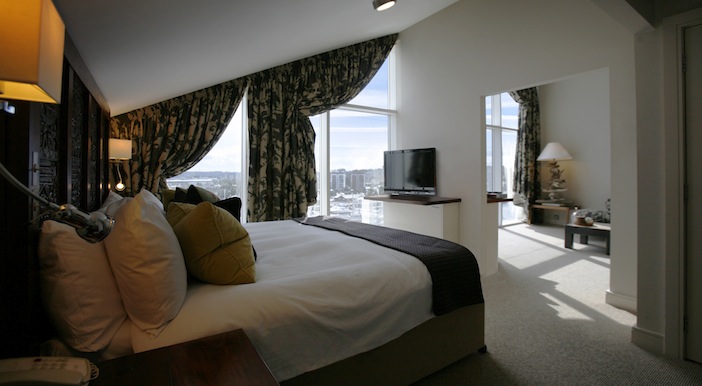 There was another delight in that room though, with a button which said "Press Me" as tantalisingly as any "Drink Me" sign would be. Press the button I did, and found the window between bedroom and bathroom turned from opaque to transparent. Electrochromic glass, I love you. The fragrant Temple Spa products were also very well received, as was the pleasingly efficient water pressure which filled my large bath tub in a matter of minutes. One of the suites housed a beautiful, large telescope and both had amazing panoramic views and rather fabulous glitter-tiled bathroom floors.
Chatting to Diogo Abreu, the General Manager, in the lounge, with its stunning marina views and bold furniture and lighting, I learned more about the Salthouse's commitment to both art and local talent, through a competition run with the University Campus Suffolk whereby the winning piece is displayed in the passageway adjacent to the main reception. And so to dinner and The Eaterie, the hotel's restaurant; offering seasonal and locally-sourced delights I gorged myself on grilled asparagus, risotto and sticky toffee pudding and couldn't resist a tweet to Stirling to gloat about my victory. All I needed at that point was the White Rabbit's fan to shrink myself.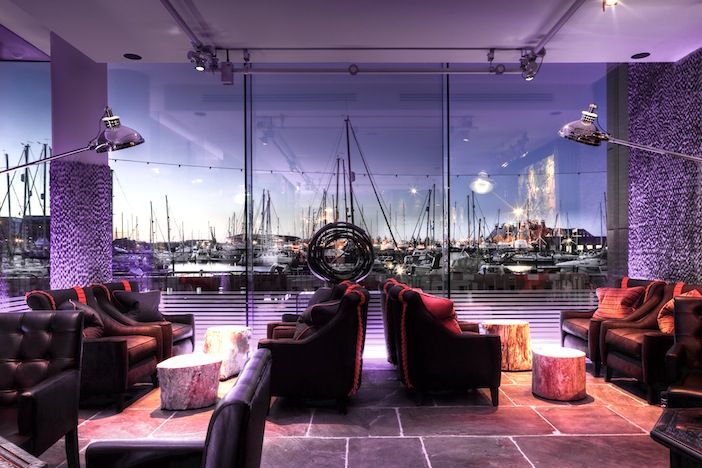 The sense of pride in the locality was obvious from both talking to staff and in the small details which I noticed throughout my stay (the ketchup and vinegar were by Stokes and Aspalls – both Suffolk based). There are a few words which anyone who has stayed at this hotel will doubtlessly recite – 'quirky' and 'eclectic' must surely top the list – and they'd be right, but that's not to write it off as gimmicky. Far from it; this is, quite rightly, a four star, contemporary hotel. A destination, no less.
Onwards I went to Southwold Pier, the Gough family's latest acquisition. Not the most natural progression you might think, until you learn that the pier already has planning permission for a 30-room hotel. I'd be keen to go back when that opens but in the meantime there's already a fine array of attractions to lure people in. Traditional arcade including the classic horse racing game? Check. Shop selling all the beach paraphernalia for forgetful seasiders? Check. Ice cream, clotted cream and fudge? Check, check and check. But venture out a little further and things get more and more interesting. Or curiouser and curiouser, if I haven't stretched the Alice metaphors too far already. There are four food outlets, for all your seaside needs; ice cream and fudge at the Treat Shop, fish and chips is taken care of at the Beach Cafe, there's the Clockhouse which smells deliciously of fresh coffee and cake, and the more upmarket Boardwalk where I sampled pan-roasted stone bass with the most delectable little ham croquette I've ever encountered. And then there are the shops. Southwold Pier itself has three, with everything from the paper flags for sandcastles to fair trade hand knits from Nepal.These are neatly divided between Buckets of Fun (beach goods), The Treasure Chest (memorabilia, gifts and pocket money toys) and Seaweed And Salt (homewares, clothing and gifts).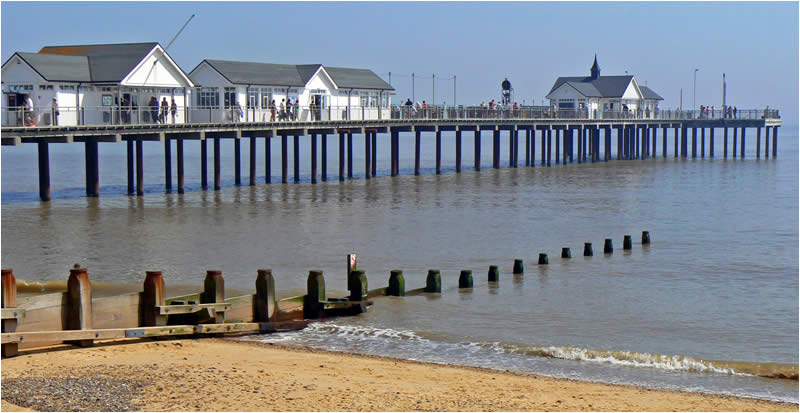 The gem in the crown here though is the Under The Pier show, a showroom of brilliantly bonkers machines made by Tim Hunkins exclusively for the Pier. Here you can spend your twenty pence pieces to determine whether a cute lamb should be a pet or dinner, take a dog for a walk on a treadmill, get frisked by a pair of rubber gloves or go in the expressive photobooth. It's sublimely absurd and I loved it.
The external signage has recently been redesigned and is perfectly up to date with pink and blue candy stripes and an excellent font choice. I also adored the beautiful ironwork signs throughout, the Pier Waterclock and the sandcastle-styled picnic benches and tables. Coupled with the colourful beach huts further along and the picturesque lighthouse, the pier is right at home in this chic seaside hotspot. It helps too, that Southwold is especially pretty and also houses the Adnams Brewery, where you can get an excellent tour by knowledgeable guides and even make your own gin. Next up for the Pier is an installation by street artist Pure Evil, in July, bringing even more edginess and art to the Gough collection.
Completing the hat trick of my Suffolk weekend was a night at the Angel Hotel in Bury St Edmonds. This stunning coaching inn stands on an open square opposite the Benedictine Abbey and is moments away from both the beautiful Abbey Gardens and the town's shops. Inside is another haven of comfort and curios. The lounge has an excellent fireplace and cosy sofas. There are 78 rooms and suites, spread through both the original building and a new wing at the rear. The same bright and modern style of the Salthouse can be found here with more statement wallpaper and interesting furniture and decor in the 20 Original rooms. I loved the two hands poking out of my wall as coat hooks. Other rooms boast freestanding copper baths and enormous wet rooms, views of the abbey and super kingsize beds. Free wi-fi, ipod docking stations and flat screen TVs come as standard.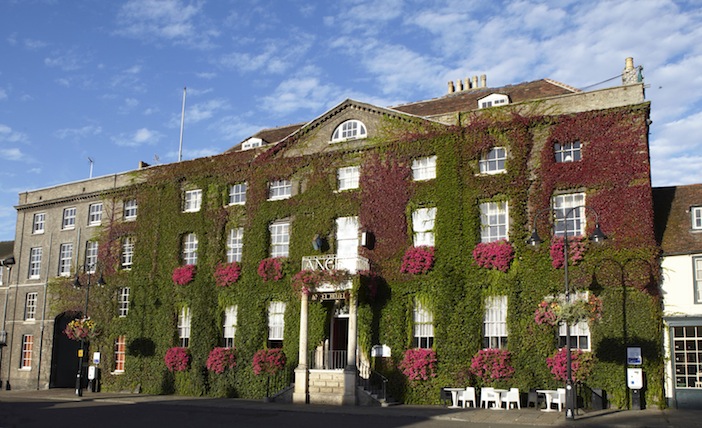 Drinks in the underground Wingspan Bar were very pleasing, as were the bird portrait trays on the wall, the intimate alcoves and the bar created from a plane engine. All this, and set in 12th century monastic vaults, with stories of underground tunnels all over Bury St Edmonds. This is the sort of bar I'd love to have nearby as a regular hangout. The cocktails certainly went down well. From here we moved on to The Eaterie where I swiftly undid months of jogging with another delectable three course meal. The cheese board was particularly good. I didn't sample it but I hear there is afternoon tea available in the lounge and pizza delivered to your room. And while I round up the prandial offerings, I must mention that both hotels served excellent "full Suffolk" breakfasts via room service with scrambled eggs still moist and hot, a definite plus point.
Go. Arouse your curiosity and delight in the wonderful world of Gough. I certainly feel better for it.
For more information about the Gough Collection, visit the website.
Abellio Greater Anglia offers advance purchase single tickets from London Liverpool Street to Ipswich, and London Liverpool Street to Bury St Edmunds, from £8 one way. For more information please see their website.