When it comes to city breaks, Yolanda Zappaterra knows her onions. A features writer for Time Out and regular contributor to their travel guides, here she offers an overview of what to do in the Dutch capital over the summer…
On the flight from London to Amsterdam with KLM, where the cabin crew are easily the nicest I've ever encountered, I am playing with my water glass. It is embossed with three clichés – a tulip, a clog, and a bicycle. I muse on the less savoury Dutch clichés the national carrier wouldn't have countenanced – a reefer, maybe, a glass of beer, or even a hooker-high stiletto. Arriving at the super slick, cool and airy Schipol airport, I wonder whether it would be possible to spend a week here and encounter none of the clichés, savoury or otherwise, and am soon brought down to earth… almost literally by, of course, a bike.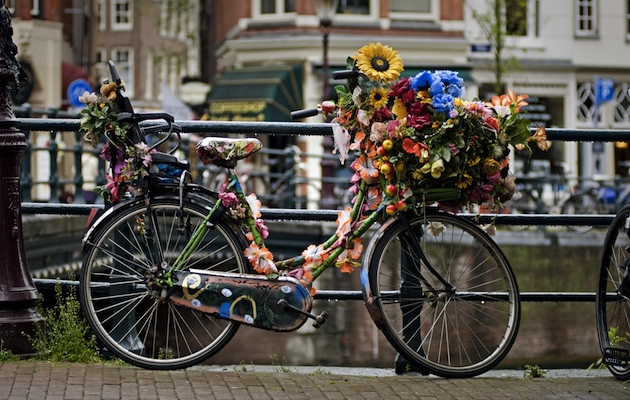 It happens to be on the first stop of a whistlestop tour of Amsterdam's cultural summer highlights, the Rijksmuseum, where a decades-old cycle path through Cuypers' neo-gothic building has been reopened as part of the museum's own April 2013 reopening, following years of renovation work that has revealed a world-class collection of art. Both are extemely popular, the queue for the museum snaking around the courtyard, the cyclists weaving through them to whizz by my first destination, the museum's refurbished sculpture garden.
For its first summer exhibition, the gorgeous Rijksmuseum garden has been filled with twelve stunning Henry Moore sculptures, reclining on grassy lawns that float up like nature's version of plinths, framed by waving blue agapanthus and pompom alium and compact little box hedges and bedding plants. Moore's fascination with form, texture, hollow spaces and landscape framing work beautifully in this peaceful urban green space, and warrant a contemplative hour or so. So I treat myself to a strong coffee and pretty drum of stroopwafels from the elegant café, and park myself on a seat.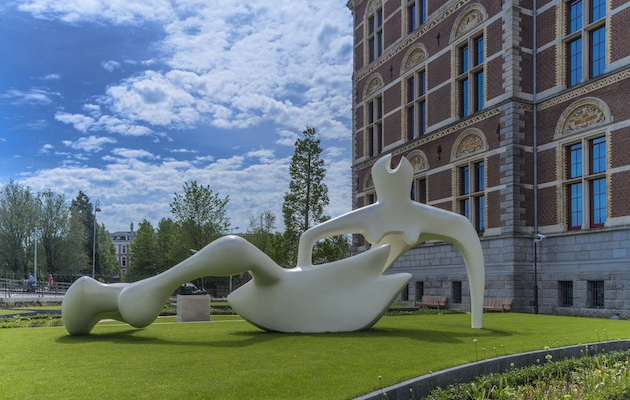 From here, looking at the work and watching the kids run in and out of the permanent Jeppe Hein water sculpture, I'm aware that their delighted squeals have been joined by the sound of music coming from nearby Museumplein. I wander over, and find a few thousand people parked in front of a big screen, armed with beer, wine, picnic fare and groundsheets, all of them here to watch the city's Royal Concertgebouw Orchestra in a live broadcast from Sao Paolo, where the reknowned symphony orchestra is playing as part of a world tour. Here in Amsterdam, they're playing as part of a series of Concerts in the Park that ends in mid-August with A Summer Night at the Opera, and the hour-long performance is pitched just right, with a few boomy oomp-pah-pah movements to delight the little ones and well-chosen, accessible tunes to engage the broad audience. I wander off humming an unfamiliar but catchy number, in just the right frame of mind to brave the crowds at the big one, the Van Gogh Museum.
Over four floors, Gerrit Rietveld's airy, light-filled space, founded in 1973, reopened in May after a seven-month closure for renovation with a stunning new anniversary show, 'Van Gogh at Work'. Using 145 paintings and sketches, plus a wide range of audio-visual, interactive elements and supplementary material such as paint samples examined through a microscope and X-ray photos, the exhibition is not only a comprehensive, cohesive overview of the master's ouevre, but one that contextualises his work, practice and development as an artist over just ten years accessibly and in absorbing depth. Here are the artist's paints, brushes and a palette – along with more surprising tools such as perspective aids; letters about the works and how they should be displayed; copies and studies of Japanese prints and work by Seurat and Signac, explored by Van Gogh to practice techniques and style; sketchbooks that show his struggles with aspects of his craft and the progression from a raw idea to a complete painting; and everywhere, those glorious, heart-stoppingly beautiful paintings, drawn from the museum's own collection but also hung alongside unique loans. For example, the Sunflowers from London's National Gallery and The Bedroom from the Art Institute of Chicago hang next the museum's versions. It makes for what must be one of the most informative and exhuberant Van Gogh exhibitions ever.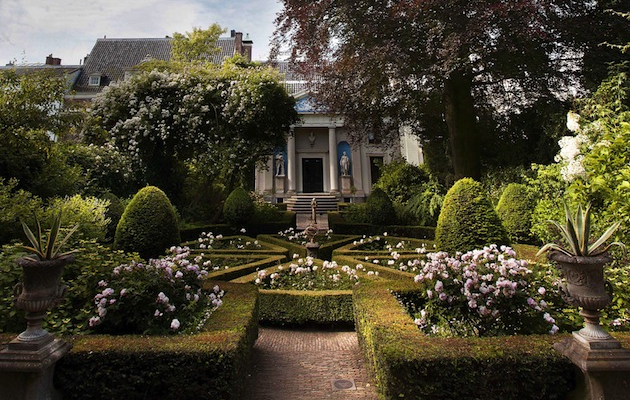 My head filled with Van Gogh's 'Almond Blossom' – a personal favourite – and inspired to find my own little hiatus of crowd-free communing with nature, I head off to a very different type of museum, one that boasts a terrific example of a 17th century canal house garden behind its elegant 400-year-old doors. The Museum Van Loon, the one-time family home of the Dutch East India Company founder Willem van Loon, shows the furnishings, style and décor of a typical canal house during the regent period, but this is no fusty collection of old paintings and impossibly uncomfortable-looking beds. For its curator, Tonko Grever, has worked long and hard to ensure that the house and its contents remain relevant to contemporary art and craft practice. He recently invited the art organisation Salon to curate SALON/LACE, a series of modern interventions that draw on or reference historical lacemaking skills to form unexpected and delightful relationships and connections with the space and work surrounding them. Here is a cardboard lace doiley by Suzanne van Rest, in another room are large-scale photos by Scheltens Abbenes, who work with Hermes; and in the bedroom is a horse by fashion designer Mattijs van Bergen, all of them offering new ways of looking at old spaces, for despite its history, this is a city that's resolutely looking forward.
I don't have time to visit nearly enough of them, but alongside its plethora of historical and ancient cultural sights, Amsterdam offers visitors an equally impressive range of contemporary spaces and cultural activities this summer, among them 'Pixar: 25 Years of Animation' at Amsterdam Expo; and the citywide sculpture trail Artzuid  (until 22 September), wherein 52 large-scale works by artists from 25 countries are set amid the wide, leafy boulevards laid out by HP Berlage in the Plan-Zuid district. Film fans will probably love 'Fellini: The Exhibition', showing until 22 September in the new gallery space at the Eye Filmmuseum, and if they don't they'll surely appreciate the filmic qualities of the distinctive building, which skims across the northern bank of the River IJ like the futuristic, blinding-white aquatic lair of a James Bond baddie.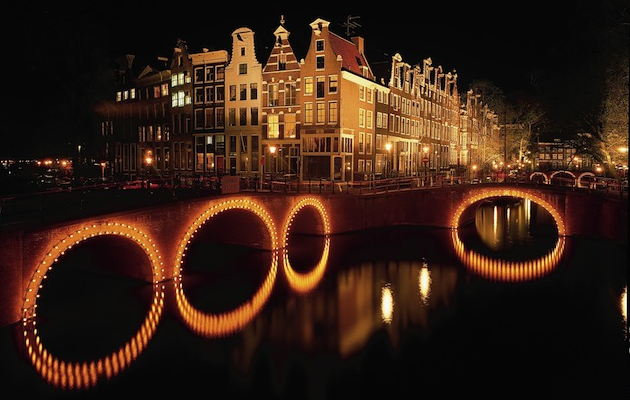 Another must-see is the newly reopened observatory of the Felix Meritis European centre for arts, culture and science, opened to the public for the first time in 200 years as part of the centre's 225th anniversary and showing, high above the city, the art installation 'Amsterdam of Above – Amsterdam of Below' by Joseph Semah, which connects the stars with the canals and prominent buildings of the city. The country's oldest remaining Observatory is a fantastic spot from which to see the layout of those canals, recently listed as a UNESCO world heritage site, and offers a a fitting cinemascope close to my whistlestop culture tour.
On my flight back, with the flight attendants just as lovely as their outbound counterparts were, I look again at the embossed water glass. I decide my water glass design for KLM would keep the  bicycle, for obvious reasons,  and the tulip  – as a symbol of Amsterdam's easy charm and beauty – but that clog would have to go. In its place, who knows? The city has so much to offer fans of all kinds of culture, and this summer, I'm definitely coming back to experience more of it, and research what my very own cultural Amsterdam cliché will be.
The Rijksmuseum's summer exhibition runs until 29th September 2013.
Details of the Royal Concertgebouw Orchestra's tour, concluding with A Summer Night at the Opera on 14th August, are available on their website.
The Van Gogh Museum's anniversary show, Van Gogh at Work, is running until 12 January 2014. For more information, visit the website.
Salon/Lace runs at the Museum Van Loon until 18th August. For more information visit the website.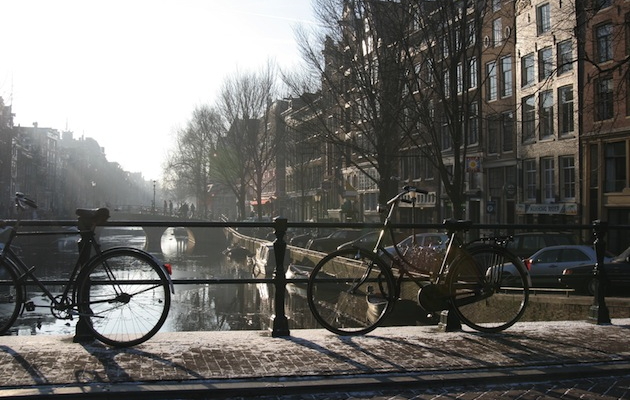 Where to eat and drink…
The gorgeous deluxe canalside hotel, The Dylan, has just introduced a 'high wine' menu in place of afternoon tea. Lauded head chef Dennis Kuipers pairs gorgeous nibbles with complimentary wines.
Set in a greenhouse in the city's former municipal nursery, De Kaas restaurant offers delicious and thoughtful food from Michelin-starred chef Gert Jan Hageman, served in a space beautifully modelled by Piet Boon. You can dine in the herb garden outside too.
On a floating platform above Amsterdam's harbour in the former HQ of pirate TV station Noordzee, REMeiland serves excellent fresh, contemporary Dutch/French food.
For amazingly good seafood served in a lovely waterside setting, head to the Restaurant Zouthaven, sited on the ground floor of the stunning contemporary concert venue Muziekgebouw.
We wouldn't generally recommend eating in a newspaper's canteen, but when the food is as good as it is at NRC restaurant, the setting as congenial, and the fellow diners as fascinating, you'd be mad not to give the new restaurant at Dutch daily paper NRC a go.
Hop across the IJ on a ferry to the trendy Noord district to sample the excellent table d'hote set menu (five courses for 40euros) at Café Modern – an airy, pretty restaurant, located in a former bank.
See the sights of Amsterdam, and a fair bit beyond, from the 23rd floor bar at the Okura Hotel, or while supping a cocktail on the wraparound 11th floor Skylounge bar at the DoubleTree by Hilton.
My final tip…
Buy an I Amsterdam city card – this handy tourist card is excellent value for money, offering free admission to more than 40 major attractions and museums, discounts on many others, and free public transport.
Yolanda flew from Heathrow to Amsterdam with KLM (www.klm.com), and stayed at the  Renaissance Amsterdam Hotel in the heart of the city. For more information and rates, visit the website.
For more information about the city and further ideas for what to do during your visit, browse and explore www.iamamsterdam.com and www.holland.com.