The Saatchis – well, specifically Charles, but it's more grandiose to refer to them in the plural – are something of an enigma in the art world. Their collection is as eclectic as it is often bizarre, but this mercurial and almost indefinable approach to their buying ensures one thing: it creates desirability. Being bought by the Saatchis can be the making of an artist and it makes the rest of us bristle with excitement. People pay attention. And that, it would appear, is their intent. Their motive is innovation, to move art forward, and to carry us along with it, taking it to as wide an audience as possible.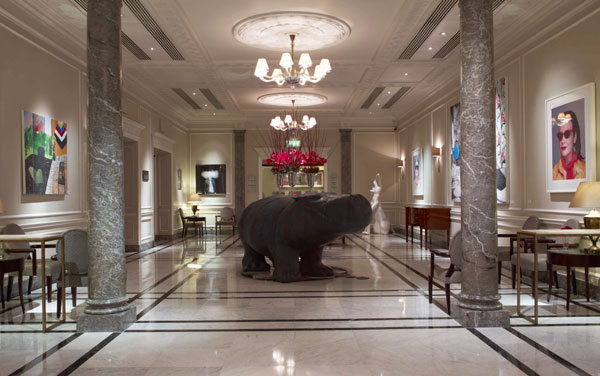 One such way is to draw people into the ultra-modern, white space minimalism of their gallery in London's Sloane Square, but if you can't bring people to the art…one can always bring the art to the people. To a hotel lobby, for example. And that's exactly what they've done.
Teaming up with the Hyatt Regency Churchill, the Saatchi Gallery has created One Giant Leap, the first of a series of three exhibitions for 2012, featuring works from their collection, all of which have been placed throughout the ground floor of the hotel – and in one suite – from the Churchill bar to the concierge desk. It's a natural fit; after all, the Hyatt has been one of the chief sponsors of the Frieze Art Fair since 2008 – only this time the art has come to the hotel. "This initiative was something never done by either us or the gallery," says Alvaro Valeriani, the Hyatt's Director of Sales & Marketing, at the exhibition's launch, "and given the size of the collaboration, it was a giant step for both of us. For us, it represents a unique new positioning. And for the gallery, it was their first venture with a hotel, allowing them to expand the horizons of the gallery outside its walls."
There's more in the name, however. Central to the exhibition is The Giants, Martin Honert's 9-foot homage to childhood. "They are a sort of representation of the giant step we were all taking with this partnership," says Alvaro, "so we thought it would make sense to reflect this in the name of the exhibition."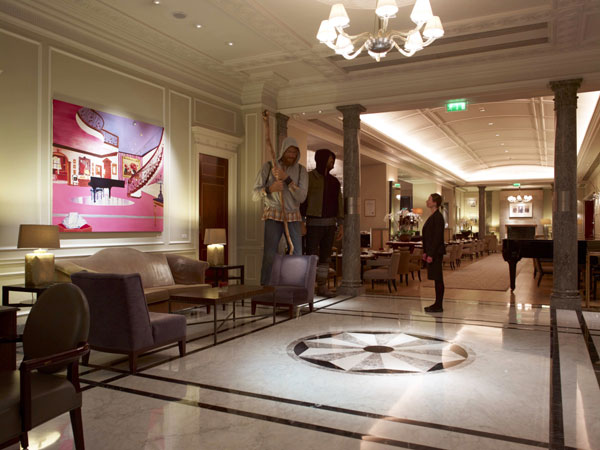 That giant step is evident as I walked through with Henny Frazer, from the hotel's marketing team. From the jarring revenge-work, Green Lady, by Liz Neal, behind the reception desk to the garishly pink hideousness of Dexter Dalwood's The Liberace Museum in the main hall, the hotel is finding these have become a talking point. "People are having their photo taken with them," says Henny, a self-confessed art lover, "particularly Honert's giants and Christine Mackie's hippo." This piece, Figure 1, is a life-size jesmonite resin hippo that practically greets you as you enter. "Children run up to it, not realising it's an installation," Henny says, "but if they looked closer, they'd realise this smiley, almost cuddly creature, is melting. Figuratively, of course."
And that's what is intriguing about the Saatchi collection. There's always something beyond the superficial. Similarly, this seems to apply to their place in the hotel. Of course some, such as those mentioned, you can't miss, but as we tour the exhibition with the gallery's director, Rebecca Wilson, it's surprising how many of these pieces seem to fit seamlessly within the fixtures and decor of the hotel. I nearly missed Jodie Carey's Daily Mail, taking it for a display of dried flowers. It is, but these are made out of coffee and blood-stained cut-outs from, well, The Daily Mail. Similarly, as you enter the bar from the Churchill entrance, Claire Pestaille's subversive takes on grand masters, such as Pearl Earring, and the meticulously rendered paintings of David Orling, for example, sit seamlessly among the wood-panelling such that they appear to have been hanging there for decades.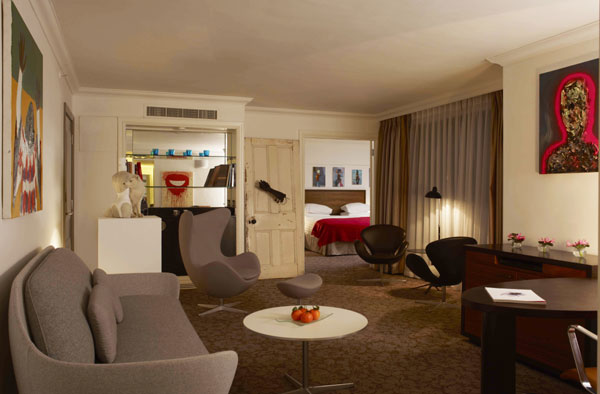 The connection is there, too, with the Churchill; "There's this homage," Rebecca tells me, "it's a work by Johnny Spencer, called Winston Churchill as a Painter, and shows thumbnails of Churchill's paintings to illustrate an interview he gave to the president of the Royal Academy at the time, Sir Gerald Kelly. If you take a moment to read it, it's rather entertaining, almost as though it's been made up, but it is genuine." There is much that's allegorical about this exhibition, then. Nothing appears what it seems. Nothing more so than Michael Lisle-Taylor's Bedlam; at first glance it's a Grenadier Guard's tunic. Look closer, and it's been modified and sewn into a straight-jacket.
By exhibiting in this series at the Hyatt, the Saatchi Gallery is also able to display works no longer on show. Twenty-five years of collecting, you can imagine, amasses quite a volume of work, particularly of the sort the Saatchis collect – crushed cars, big rocks, and those 9-foot giants, of course – and staying current and cutting-edge means many past exhibits are archived. Here, they've come out to play again. Similarly, there are a number of works that are recent acquisitions but have not been seen before, particularly in the other part of this show and which are, in fact, tucked away, in the 'Saatchi Suite'.
This must be a first; a 'limited edition' hotel suite. It has to be, really, since the art that's on show there is, obviously, on loan. Nothing, however, marks its location out particularly, save that it's on the eighth floor among the hotel's most desirable rooms. It is suite 806, past premier check-in and down a hallway.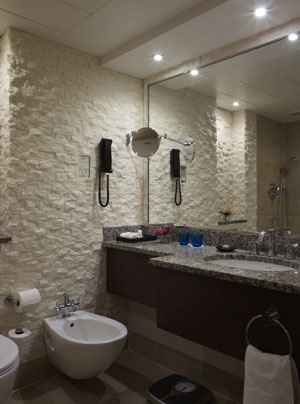 Once you enter, however, the fantasy begins. The room is a world of make-believe. Iconic Fritz Hansen furniture, such as 'egg' and 'swan' chairs, make up the living area, and modern art leaps out at you wherever you look. Beside a Christian Dell lamp a sculpture of a taxidermy fox cradling an out-sized Gautier perfume bottle stands on a table top. Carla Busuttil's paintings of dictators stare down at you. It's even propped up where space can be found. Ronin Cho's interactive 'knocking door', which I first saw at The Future Can Wait (co-sponsored by the Saatchi gallery) to the delight of many, features a suspended hand that literally raps onto its door when it detects someone walking past. If all this feels a bit random, even jarring, it is in fact carefully choreographed, and evidently with a wry smile. Cho's door, for example, is strategically placed just next to the bedroom. Jill Mason's portrait-angled landscapes practically tip you onto the bed in order to see them properly, and Steven Lowery's text statements I am the King and It's not easy being a dolphin greet you with inspiration as you wake up in the morning. Most strikingly of all, however, is the bathroom installation. The bathroom is an installation. Celine Fitoussi has painstakingly lined virtually every inch of tile-able wall space – in soap.
This exhibition is a rare treat. It's an insight into the collecting of a curator that has defined contemporary art, and shown it not simply in the sterility and formality of a picture gallery but one which you can virtually live with, to experience in the intimacy of a familiar environment. A glimpse away from a newspaper in the lounge, the backdrop to a drink in the bar, waiting for a loved one in the lobby; there is something inviting, dramatic and exciting to look at.
This is a giant leap indeed.
'One Giant Leap', the Saatchi Gallery at the Hyatt Regency Churchill, 30 Portman Square, London, runs until May 2012. The Saatchi Suite is available from £700 per night plus VAT until 30 April, subject to availability. For more information, visit the website.