As interest gathers pace in the Royal Academy's current Australia show one observation seems to be surfacing through many of the opinions, critiques and commentaries, that it confirms our preconceptions that Australian art is, beyond Aboriginal work, all about conveying that vast, rust-coloured arid tract of land that is the continent. As Estella Shardlow points out, in this very publication, a better title would have been 'Australia: Landscapes'. Much of the art shown is derivative, from European influence, or conveys the cliches we might associate with the country, if occasionally subverted.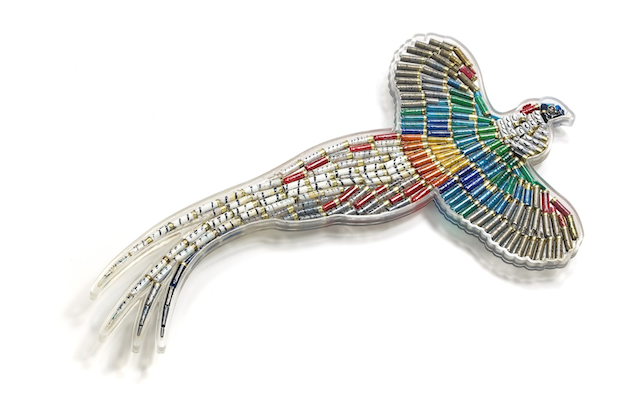 Those in the know, however, can offer a very different take on contemporary Australian art. And, in fact, we can give you an insight right now. From Monday 21st October, if you walk about 100 paces south of the Royal Academy, down Duke Street St James, to a small gallery tucked just off Pall Mall, you will find probably the most profoundly alternative statement on contemporary art to have left Australia's shores. And one, curiously, rather British in theme. Which is possibly why it's here.
Sydney-born pop artist, Linton Meagher (pronounced 'Marr'), was first introduced to the UK in June 2011 as part of a group exhibition of emerging talents discovered by art curators, COMODAA; a compression of 'Contemporary and Modern Australian Art', the company's modus operandi to introduce, well, exactly that beyond the country's shores.
Meagher's works drew a huge amount of attention during that exhibition – unsurprisingly, perhaps, considering he'd created a portrait of Kate Moss out of scalpel blades and a four foot uzi out of bullet casings – prompting his first solo show last year. Among other inventive and tongue-in-cheek takes on popular culture it principally featured game birds created from spent shotgun cartridges and it was these, again, which got tongues wagging.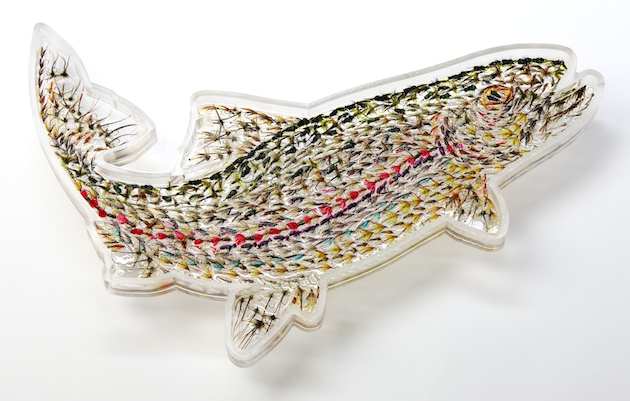 'Pursuits: The MacNab Challenge' is a continuation of this theme, exploring British cultural traditions and iconography. Taking its inspiration from John Buchan's (he of The 39 Steps fame) book, John MacNab, in which the protagonist is tasked in a day with catching a salmon on the fly, bagging a brace of grouse and tracking a stag, Meagher has captured the spirit of the game season in wonderfully evocative and animated detail.
Salmon and trout, created from fishing flies cast in resin, twist and shimmer almost in motion as if arcing from a roaring stream, a jay takes flight, and pheasants dance and skip in a duel, their colourful plumage almost suspended in the air as the perspex frames catch the light.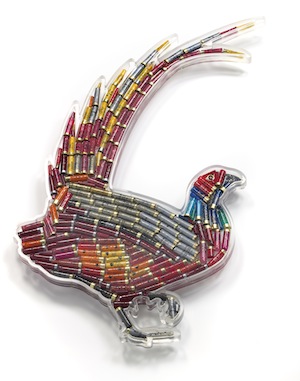 These grouse and pheasant works are in some form a modern reflection on the practice of taxidermy. "Taxidermists strive to cover up the means and act of death," Meagher explains,  "traditionally portraying the pheasant looking shiny and attractive at the height of its beauty. With the shotgun cartridge works, the beauty of the works initially seduces the viewer. Like the feathers on a stuffed trophy pheasant, the shells are shiny and glisten in the light." But then the works are even given pathos, too, as many of the cartridges, collected from shoots around the UK, are still coloured by gunpowder and dirt from the field. Purposefully not cleaned, Meagher wants the viewer to consider the circumstances under which these were used, to wonder what animal was shot with these cartridges. "The beauty of the animal is emphasized in the process of taxidermy, often leaving the viewer both in awe at the beauty of the animal, but also saddened at the death of such a creature. This, too, is what I'm hoping to achieve here."
Standing proud, a stag, denoted by its antlers, takes centre stage. But, this being Meagher, these are created from empty 0.243 bullet casings. The irony is not lost on the artist. Far from it, it's influential, "I've often been intrigued by the culture of mounting stag horns for display. Individually, these bullet casings are cold and repellent," Meagher explains, "but when hundreds are collectively arranged and cast in resin they become objects of beauty." Indeed, glimmering, gold-like, the many casings that make up the work lend it a rich Rococo feel, transforming what is a single, fearful object, into something that rather heralds the pride of the stag.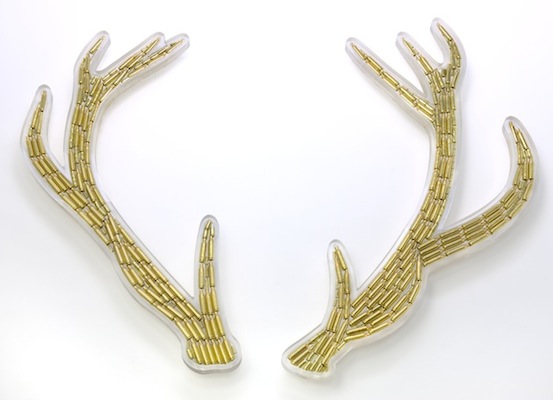 Following on the heels of the Hong Kong art fair and a solo show in Sydney, with such captivating and inventive takes on culture and tradition it's little surprise that Meagher's works are being snapped up by collectors both home and abroad, even with commissions for a number of corporate buyers, including Blackmores and the World Health Organisation. As game season gathers pace, 'Pursuits: The MacNab Challenge' manages to capture the spirit of this autumnal tradition in all its facets and finery. And doesn't it show exactly what Australian contemporary art is really capable of?
Pursuits: The MacNab Challenge opens at Gallery 8, Duke Street St James, on Monday 21st October and runs until Sunday 27th October. 
For more information about COMODAA and its work bring Australian contemporary art to the UK and beyond, visit the website.