In June 2011, in a small gallery in Notting Hill, purveyors of contemporary art, COMODAA, introduced a new talent to the discerning British public. As part of a group show, Young Guns, one artist in particular caught people's attention and was the only featured artist to sell out his works in that exhibition. One piece in particular, a metre-high dove made up of still-ticking watches cast in resin, could have sold about six times over. Inventive, playful and visually-striking – his works could be described as such, too – such was his popularity that Sydney-based Linton Meagher (pronounced Marr) is returning to the UK in a solo show this month, and this time on more prestigious ground, in London's St. James.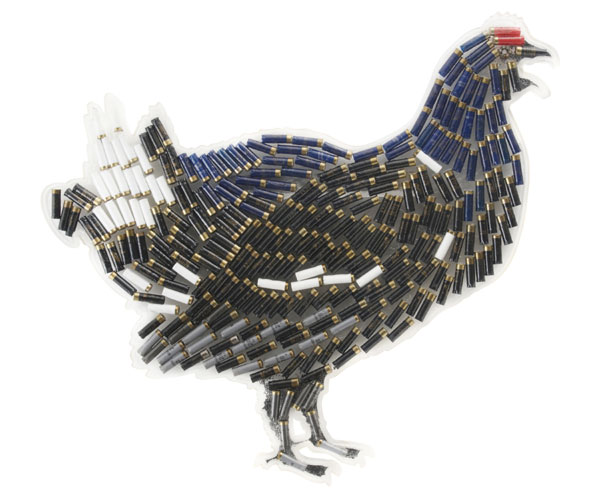 Entitled "That's Grouse", the exhibition's main focus is a homage to British cultural traditions and iconography. If you're wondering about the semantics of the show's title, it's an Australian expression referring to something great or fantastic; that's not, however, a gesture of immodesty, rather a pun on the principal subject of the works. For, among other things, Meagher has created a series of game birds – out of spent shotgun cartridges. The pieces are semi-sculptural, made up of hundreds of cartridges and pellets, again cast in resin and perspex – something of a signature of Meagher's – their sheen and texture looking not unlike feathers. They're beautiful, and intentionally so, but provocative. "The viewer is initially seduced by the beauty of the works," says Meagher, "however it's hard to look past the act of death implied by all the empty cartridges."
It's a continuation of something of a theme of his, exploring the impermanence of beauty. And nowhere is this manifest more lyrically than in his works of classical nudes that even hark back to his training as a doctor. Taking inspiration from his medical pursuits as building blocks for his art, Meagher has similarly created sculpted works of portraiture, like mosaics, but this time out of scalpel blades. "I was intrigued by the cold and clinical forms of the scalpels and pills that I saw everyday at the hospital and I wondered how they would look when shown in a completely different context," Meagher explains, "they're quite repellent individually but, collectively, they can be transformed into objects of beauty". As with his game birds, the repetition of these objects allows for the creation of images that are often at odds with the purpose of the original object. "I like the fact that the viewer is attracted to the shimmering beauty of the steel," says Meagher, "but then, on closer inspection, is disconcerted once they realise that the works are actually made from surgical scalpels." The irony is evident, too; it's a statement on plastic surgery, "Plastic surgery is easily glamorised and separated from the reality of pain and bloody operations – the scalpels confront the viewer with that reality".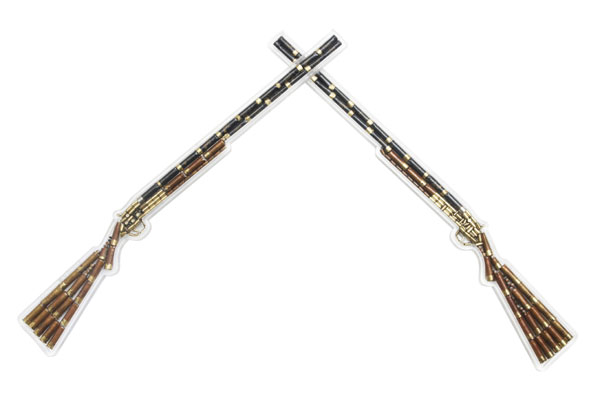 A painful and bloody experience shared by the artist, too, evidently, in creating the works, tantamount to experiencing the very act which he's attempting to parody. Past works have required up to 20,000 scalpel blades to be arranged and set in resin. "I had to figure out a way of using the scalpels that meant that I wouldn't be turning up to the Emergency Department each week with cut fingers!" Taking months to complete, with the tenacity of a surgeon, Meagher was literally suffering for his art. But it pays off. The images are dynamic indeed, and it's their flowing, mercurial sheen that contrasts with the painstaking nature of their creation that makes them so intriguing.
It's a rare and gifted combination, medical training and a degree in Fine Art. The influence of each has allowed Meagher's work to evolve from traditional oil on canvas into these semi-sculptural, cross-media works. To see them hung, the clear Perspex that encases them allowing for a delicate play of light and shadow on the wall behind, it gives the impression they are floating as if, to coin a phrase, in suspended animation. The result is arresting, evocative…and unique. A rare combination, indeed.
That's Grouse: The British Show by Australian pop artist Linton Meagher runs from 22nd – 29th May at Gallery 8, Duke Street St James, London W1. For more information about the artist, visit www.lintonmeagher.com. For more information about COMODAA and their work to introduce Australian contemporary art around the globe, visit www.comodaa.com.