This week, author Anne Coates reviews two titles, each with two interwoven timelines, where the protagonists are men at the end of a very frayed tether. Well, January is supposed to be challenging, isn't it…
The Lost by Simon Beckett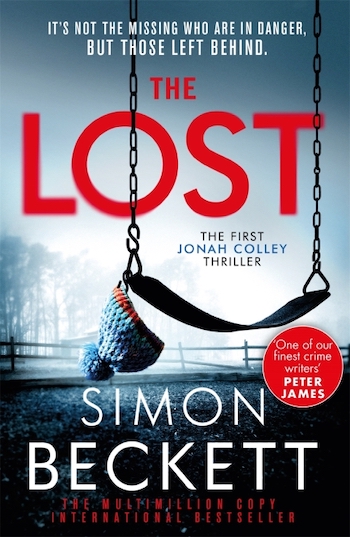 To my own bewilderment, I had never read a novel by internationally bestselling author Simon Beckett before. However The Lost is a perfect place to start as it is the first in a new series featuring Jonah Coley, a SCO19 officer – the Met's elite firearms unit. The book opens with a gruesome scene in a desolate quayside warehouse. Jonah had answered a plea from an old colleague and friend, Gavin, now dead along with three other bodies. As he tried to rescue a woman who was still breathing he is attacked and loses consciousness…
The Lost is a thriller with two perfectly interwoven timelines. Jonah is wounded both literally and metaphorically having nearly been destroyed by the disappearance of his four-year-old son ten years beforehand. Jonah's marriage didn't survive nor his friendship with Gavin. By responding to Gavin's call, Jonah was left under suspicion. As he recovers from his injuries, he tries to unravel the nightmare he finds himself at the centre of – a snarling web of deception and secrets which takes him back time and again to his son's disappearance.
This is an utterly compelling narrative that works on so many levels, dealing with loss, love, parenting, loneliness, friendship and betrayal. At times it is chillingly frightening and the reader questions why Jonah would expose himself to so much danger but the author gives you just enough clues to explain his protagonist's actions and keeps you guessing right up to the dénouement.
Beckett's writing is sublime, his descriptive powers superlative and his plotting is perfection.
Simon Beckett is the author of the International bestselling David Hunter series and five standalone novels of which Where There's Smoke was adapted into a major ITV two-part drama. He won the Raymond Chandler Society's "Marlowe" Award and has been shortlisted for two Crime Writers Association awards. The Lost is out now, published by Orion Trapeze in hardback and ebook, priced £14.99. For more information, visit www.orionbooks.co.uk.
Fall by West Camel
The summer when twins Aaron and Clive turned eighteen marked a turning point neither would have predicted. The tower block in Deptford, designed and overseen by their architect mother, Zoe, and where they lived became a hotbed of prejudice when black twins Annette and Christine, a couple of years older than the boys, move into the flat which has access to the roof – the perfect venue for a party. But what happens at the party changes all their lives culminating in the estrangement of Aaron and Clive for forty years.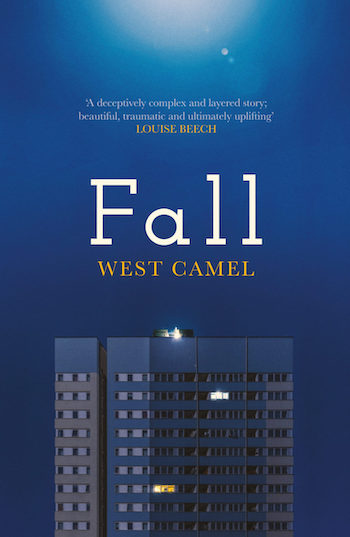 In the interim Clive has become a successful property developer while Aaron has continued living in the almost derelict tower block, which Clive wants to demolish and replace with luxury apartments. The realisation that Annette and Christine are back living there in the apartment they inherited gives both brothers pause for reflection.
The narrative has two timelines perfectly intertwined: the hot summer of 1976 and forty years on. West Camel's handling of his materiel is assured and his prose is a joy to read. His characters are complex and only gradually reveal the immensity of what they have all experienced. The tower block is so intricately bound to the male twins' mother, Zoe, that it becomes a metaphor for her life – hidden corridors, secret staircases and locked doors. The joy of that 70s summer is suddenly torn asunder by tragedy, casual racism, class consciousness and death and at the heart is a mystery which take decades to unravel all portrayed in an elegant style and language that is a pleasure to read.
Born and bred in south London – and not the Somerset village with which he shares a name – West Camel combines his work as editor at Orenda with writing and editing a wide range of material for various arts organisations, including editing The Riveter magazine for the European Literature Network. He has also written several short scripts, which have been produced in London's fringe theatres, and was longlisted for the Old Vic's 12 playwrights project. Attend, his first novel was shortlisted for the Polari prize. Fall is out now, priced £8.99.
Anne Coates is a journalist and author of the Hannah Weybridge crime series currently being republished by Red Dog Press. Her new book, Stage Call, will be published in ebook on 18th January 2022 and in hardback and paperback on 15 February 2022.
Header photo by Aaron Owens, courtesy of Unsplash