In the second of our children's books special, author Anne Coates uncovers a selection of new titles for older readers…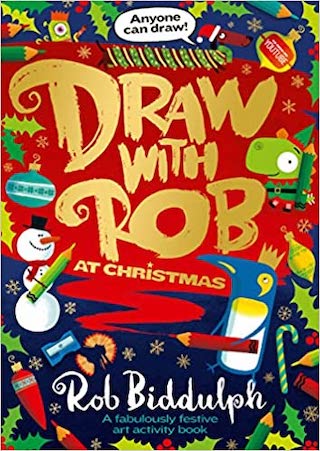 For years I have been giving books on Christmas Eve  – a sensible way to encourage children to calm down before the big day. I've since learned that this is a tradition in Iceland (for adults as well as children) so maybe I have an Icelandic forbear? Either way, Draw With Rob At Christmas by Rob Biddulph (HarperCollins) is a great gift for the lead up to the festive season. The author became an internet sensation with "Draw With Rob" during the first lockdown and now we have the Christmas title with 64 pages of activities and instructions to help children – and adults – release their inner artist. Step by step guides show you how to draw Father Christmas, a reindeer, an elf portrait, a snowman plus there are pictures to colour, spot the difference challenges and word searches to keep everyone in the party mood. Perforated pages offer easy to remove thank you cards and Christmas cracker jokes, as well as suggestions for charades. An ideal gift to engender the festive spirit during a time when celebrating is very much restricted.
Escapism and adventure are prevalent in my fiction recommendations. All are absolutely engrossing and readers will be swept away from reality and into the realms of positive joy and make-believe.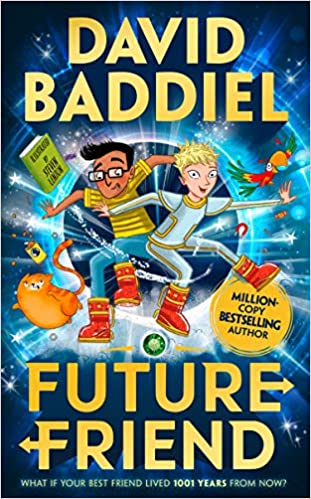 Future Friend (HarperCollins) is bestselling author David Baddiel's first foray into writing science fiction and it's a brilliant entry into the genre with fabulous illustrations by Steven Lenton. In 3020, eleven-year-old Pip (her family name is @256X#YY.3_7 as nearly all communication outside the home happens via computers) only has a talking cat and parrot to hang out with, and she can't leave her LivingSpace due to the extreme heat and floods outside. But when she explores a glowing ring in a lab, she finds herself in a warehouse, in 2019, where she meets boy-inventor Rahul – also lonely and bored. Together, they are no longer lonely but they have a whole load of new problems, including hiding talking animals from Rahul's parents, and finding a way back to the future. Plus – just maybe – saving the world… The writing is perfectly pitched for both boys and girls in middle grades. The friendship between the two characters is engaging and uplifting – just what we all need at the moment.
The Shadow Moth (HarperCollins) is the first book in the A Clock of Stars trilogy by Francesca Gibbons and illustrated Chris Riddell and middle grade readers are in for a treat. This is a fabulous fantasy involving sisters Imogen, Marie – and the moth. Imogen knows she should be nice to her little sister Marie and her mum's boyfriend. And she certainly knows she shouldn't follow a strange silver moth through a door in a tree. Followed by Marie, Imogen finds herself falling into a magical kingdom where the sisters are swept up in a thrilling race against time – helped by the spoiled prince of the kingdom, a dancing bear, a very grumpy hunter… and even the stars above them. A timeless fantasy that is beautifully written. The narrative pulls you in from the very first lines. Books offer a way to escape the current problems we are faced with and this one will make readers laugh as well as gasp at the thrilling race against time.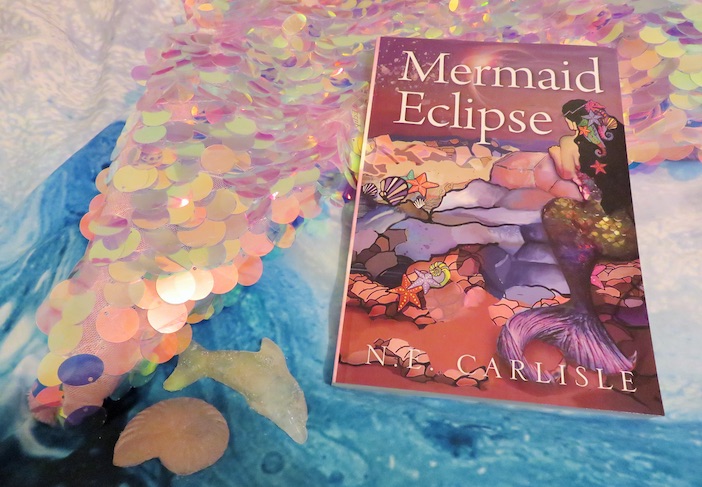 A wonderful adventure story for teens and young adults, Mermaid's Eclipse by N E Carlisle (Outskirts Press) explores a family curse, mermaids and the lore of the sea. So many themes to intrigue and capture the reader's imagination! Narrated by Muriel who has an uncanny connection with her twin brother Morgan, the book explores grief and family relationships in the aftermath of their aunt's death in mysterious circumstances in a boating accident, their mother's deteriorating health and their father's reactions. When they discover there is more to their aunt's death, they set out to uncover the truth about their family. What they learn overturns everything they believe to be reality – it is just an illusion, and they must rely on each other and their faith to keep their family together. Beautifully written and totally engaging. The tone is just right, the twists will keep any young adult interested in mythical creatures and the lore of the sea totally hooked.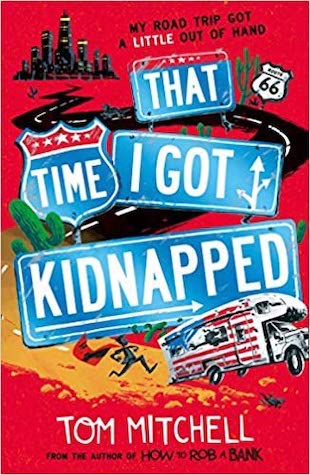 From the opening paragraphs of That Time I Got Kidnapped by Tom Mitchell (HarperCollins) the reader knows s/he is in for a treat. Written in the first person the narrative is a fast moving, witty adventure for readers aged 11+. Fourteen-year-old Jacob dream job featuring in the next Marvel movie, to be shot in Hollywood, starts turning into a nightmare when he misses his connecting flight in Chicago. Attempting to complete the journey by Greyhound bus, he meets Jennifer, an American teenager on the run with a mysterious package she's guarding with her life – and an enigmatic figure known only as 'the Cowboy' who is in pursuit… Jacob soon finds himself on the road-trip of a lifetime as Jennifer's unwitting partner in crime. Will he make it to LA in time – and in one piece? A funny, filmic, page-turning adventure about self-discovery and friendship.
Cover image: detail from A Clock of Stars