When I reviewed Louise Beech's last book, This is How We are Human, I was struck, as always, by her empathy, the way she relates to the characters she creates and how she takes the reader with her on their journey. Louise's skills and talents have been apparent in all her books but in Daffodils, a memoir, these are even more evident – her heightened compassion and humanity will at times move the listener to tears. Thankfully she and her family have managed to retain their sense of humour as well so there are lighter moments.
This is how Louise describes the inspiration and motivation to write Daffodils: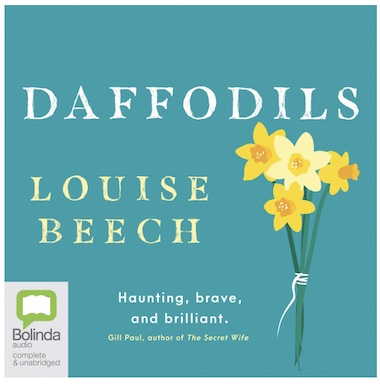 "2019. Dawn. The River Humber. A misty February walk. Surprise early daffodils. A picture taken. Then forgotten. Because five hours later my world shattered. My mother jumped off the Humber Bridge. Had those yellow flowers not delayed me, I might have been there. Could I have stopped her? In the aftermath of this violent act, I turned to my writing, to my beloved siblings, to our only uncle. I was forced to look at events that led to this suicide attempt. At relationships wrecked by alcoholism. At chronic depression. At our care records. At my childhood. At my mother. At buried trauma never fully explored before. At myself … When I much later found the picture of those surprise daffodils, I knew it was time to write about that day. I began typing the story that inspired so many of my fictional characters, that shaped the testing things they endured."
Louise reveals the harrowing and complicated story of her early life. She reflects on the bridge incident that shook her family to the core. And it wasn't the first time her mother had attempted suicide. The first time had led to social services taking the children into care.
The author doesn't flinch from describing difficult situations, nor does she gloss over disturbing and traumatic parts of her own experience as she charts the life her family led which exposed her to abuse and loss but engendered in her a protective and enduring love for her younger siblings. In the memoir she includes some of her siblings' thoughts and conversations as well as those of her mother's brother, their uncle.
If you are someone who thinks about how much an author's upbringing has affected their creative output and what they choose to write about, this narrative, beautifully read by Lesley Harcourt, will take you to the very heart of Louise Beech.
This is an incredibly brave endeavour, which does contain triggers that some people might find too distressing.
Louise Beech, whose novels have been shortlisted for several awards, lives with her husband on the outskirts of Hull. Until recently she worked as a front of house usher at Hull Truck Theatre where her first play was performed in 2012. Her other books include: The Mountain in My Shoe – sequel to How To Be Brave, Maria in the Moon, The Lion Tamer Who Lost, Call Me Star Girl and a ghost-story cum psychological thriller set in a theatre, I Am Dust. Daffodils audiobook is read by Lesley Harcourt, published by Bolinda. For more information, including articles and insights into the book, please visit Louise's website at www.louisebeech.co.uk.
Anne Coates is a journalist and author of the Hannah Weybridge crime thriller series – the latest of which, Stage Call, was recently published by Red Dog Press.
Header photo by Louise Beech