Hot on the heels of Keep Your Eyes on Me comes another stunning novel from the pen of Sam Blake. As with the former reviewed here, The Dark Room has two strong females as the protagonists only this time they are more evenly matched in terms of age and success. The two are also both exiles from Ireland where the story is largely set.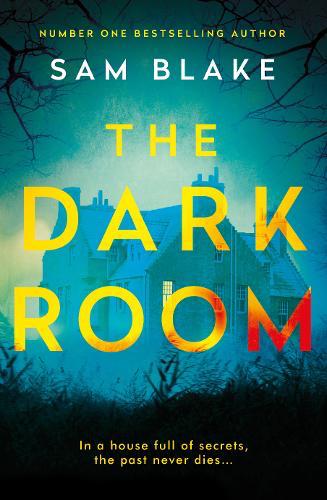 Now living in London, Rachel is a film scout who has come to Hare's Landing in West Cork with her dog Jasper in the hope of discovering more about Alfie Bow, a violin-playing homeless man who died while her partner Hunter was filming him for a documentary. When their houseboat is broken into and Hunter suffers a terrible traffic "accident", Ireland seems the perfect safe haven for her while Hunter recovers in hospital.
At the hotel she strikes up a friendship with New York-based crime reporter Caroline Kelly whose career is on hold while her future is threatened by a lawsuit; inexplicably her editor is not backing her. Originally from Dublin, Caroline has booked the Boat House for a retreat while Rachel is the only guest in the newly refurbished hotel where Mrs Travers – kept on by the owner more out of kindness than for the work she does – guards and protects the country house's history. It's a name that has a Mrs Danvers ring to it and Mrs Travers bears more than a passing resemblance to that sinister character created by Daphne du Maurier. Mrs Travers knows the secrets of the Boat House – not least the circumstances around the mysterious death of its previous owner, Honoria Smyth, whose portrait dominates the entrance hall and whose memory Mrs Travers is dedicated to protecting.
The resurrection of a local "cold case" of two missing teenagers some thirty years previously has stirred up local feelings and both Caroline and Rachel are treated with suspicion. Everyone seems to know their business and no one wants to reveal theirs. Strange occurrences in the Boat House convince Caroline that someone is trying to scare her away but that only makes her more determined to find out what is going on…
The inspiration for The Dark Room came while the author was on holiday in Cornwall in 2019 and her imagination transported the idea to January in West Cork where she created Hare's Landing, a country house hotel, situated by the sea and surrounded by woods, at the mercy of a wet and bitterly cold January. The hotel is described in such loving detail you can imagine yourself sitting in the lounge, eavesdropping on the conversations between Caroline and Rachel, perhaps hearing the violins playing or approaching reception and feeling the icy stare of Mrs Travers.
Sam Blake constructs a beautifully fluent narrative with some eerie supernatural interventions. It had me totally hooked. There are plenty of twists and turns to keep the reader guessing as to who is pulling the strings and why. As suspicion transfers from one suspect to the next, Caroline and Rachel, hindered by the lack of wifi and mobile reception, have to rely on their intuition and native intelligence to keep one step ahead. Tension mounts and the pace never lets up until the dramatic climax and revelations. A brilliant mystery to tantalise readers. The ending leaves you wanting more – always a good sign.
Sam Blake is the pseudonym of Vanessa Fox O'Loughlin who founded the award-winning website Writing.ie, The Inkwell Group publishing company and Murder One, Ireland's International Crime Writing Festival.
Anne Coates is a journalist and author. Her Hannah Weybridge crime thriller series, is published by Urbane Publications.
During the pandemic please consider buying from uk.bookshop.org which supports indie bookshops.
Header image: Sam Blake (photo by Alice Rose Jordan)