There's many a ballet with a silly plot line but you'd have to go a long way to find one sillier than Le Corsaire. Based loosely on a poem by Lord Byron at his most orientalist, this is almost certainly the most politically incorrect show in town, all about rescuing gorgeous but helpless damsels in distress from slave traders who are just a tad too dashing, with racism and cultural appropriation by the bucketload. But who cares? The dancing is sublime and the choreography is one scintillating show-off number after another.
In Anna-Marie Holmes's staging, it all looks wonderful. Bob Ringwood's sets and costumes are all sumptuous Arabian Nights, beautifully lit by Neil Austin. The two main roles of Medora and Conrad were covered on the opening night by Erina Takahashi and Francesco Gabriele Frola, taking over due to illness from Alina Cojocaru (who has made this role her own) and Isaac Hernandez. But there were no worries here.
Takahashi was a luminous Medora, completely on top of some of classical ballet's trickiest choreography with Frola strong as her pirate lover, Conrad. It is Conrad's faithful slave Ali who has the most brilliant choreography of all, though, and Jeffrey Cirio leapt and shimmered dramatically across the stage. The Act II trio was nothing short of dazzling.
The role of Ali was made famous by Nureyev (with Fonteyn as Medora) and this section of the ballet was often a favourite for gala performances but the ballet was rarely seen in its entirety. It became Tamara Rojo's first full length ballet when she became English National Ballet's Artistic Director in 2012 and it has served the company well.
It has many more significant male roles than most classical ballets – Erik Woodhouse was a fine Birbanto and Brooklyn Mack displayed a devilish charm as Lankendem the slaver. The acting is as good as the dancing throughout, and at its comic best with Michael Coleman as a well-padded Pasha.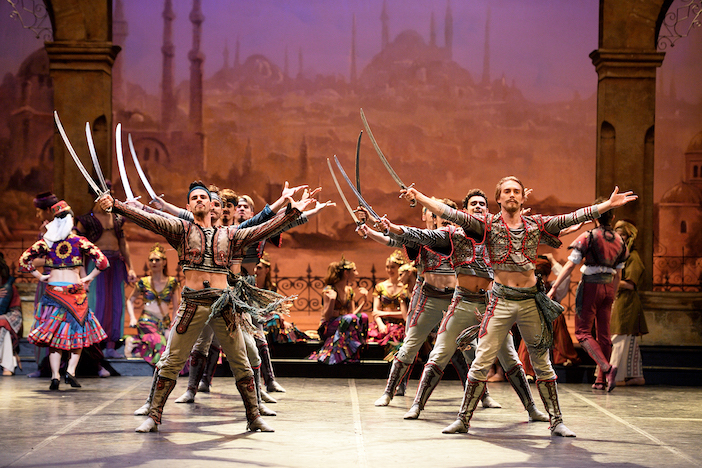 The male corps has plenty to do, too, especially as cutlass-waving pirates. And the female corps de ballet also has its moments, most notably as the flowers of the Pasha's opium-fuelled dreams. Alison McWhinney, Julia Conway and, particularly Precious Adams, were the lovely Odalisques up for sale to the Pasha. And, as Gulnare, Medora's friend, Shiori Kase displayed a fine technique.
This is a firecracker of a show and it covers all the bases from love and betrayal to poisoned roses and shipwrecks on the high seas. It's a joy and the dancing shimmers even more brightly than the Pasha's mirrored robes.
The Corsaire by the English National Ballet runs at the Coliseum until 14 January 2020. For more information and box office, visit www.londoncoliseum.org.
Photos by Laurent Liotardo