Last weekend at Sadler's Wells saw the last performances by the Richard Alston Dance Company after 25 years. It is the end of an era and, for many of us who love contemporary dance, it is hard to imagine the London stage without Richard Alston, whose work we have grown up with.
Even before Alston founded his own company, he choreographed for the London Contemporary Dance Theatre and Ballet Rambert and you might be forgiven for thinking that, at the age of 71, he'd decided to retire. In fact, funding cuts have resulted in the demise of the company. Alston himself has vowed to continue choreographing and currently has the US in his sights.
So this is not so much a review as an epitaph, a salute to a company and especially a choreographer who has lit up the stage for decades. And it's hard not to feel in celebration mood during Final Edition. Alston's choreography has a quality of lightness, a profound musicality, a dazzling fleetness of foot, a playfulness and a simple (or not so simple) sense of joy.
Saturday saw all of these Alston traits writ large across the Sadler's Wells stage, danced to perfection by this marvellous company.  The evening saw old favourites rub shoulders with premieres (three of them, in fact – two of Alston's and one by his long-time collaborator Martin Lawrance).
It's an evening that showcases Alston's range and versatility, starting with an early piece, Bari, created for graduating students at the London School of Contemporary Dance, where Alston himself had trained. Its lilting music (traditional Pizzica from Puglia in southern Italy) gives Alston and his dancers the chance to play with rhythms and have fun with the dance's origins as a way of overcoming the bites of poisonous spiders!
In Mazur, Joshua Harriette and Nicholas Shikkis do just that in a warm, lyrical duet set to Chopin mazurkas (beautifully played on stage by pianist Jason Ridgway) expressing the exiled composer's longing for his homeland. Shine On sees Ridgway back on stage teamed with soprano Katherine McIndoe performing a very early work by Benjamin Britten, On This Island, a song cycle with words by W H Auden. The piece is a real insight into Alston's ability to embody words and music without slavishly following them. This is pure dance with the company showing how to turn the mood from sunny lyricism to sudden darkness in an instant.
Martin Lawrance's offering, A Far Cry, is set to Elgar's Introduction and Allegro, a wonderfully passionate piece in which the dancers seem to soar along with the music at breakneck speed. The evening closes with Voices and Light Footsteps, having its London premiere. Set to Monteverdi, the dancers almost fly across the stage, their contrapuntal footwork bathed in golden light.
They will be missed, but talk about ending on a high note – this was an ode to joy if ever there was one.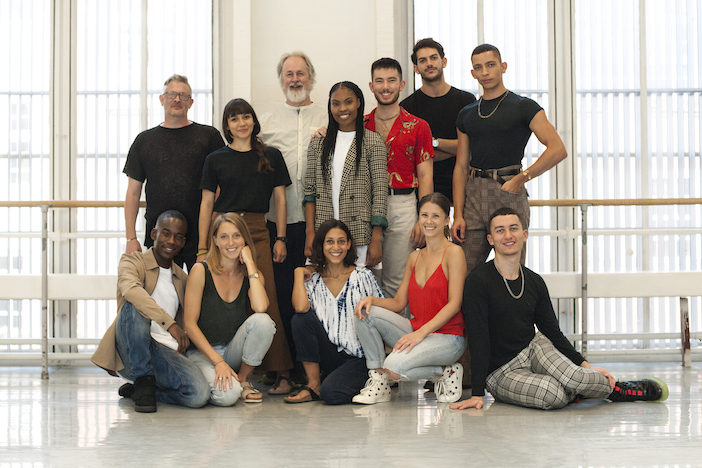 Photos by Chris Nash