To say that last night's performance of Giselle by the United Ukrainian Ballet was emotional is putting it very mildly. For the curtain call, the audience was on its feet, there was an abundance of flowers and tributes and Alina Cojocaru (Giselle) was draped in the Ukrainian flag.
All of the performances are fund raisers for both the United Ukrainian Ballet Foundation and the Disasters Emergency Committee Ukraine Appeal and all of the dancers are Ukrainian. The fact that they are dancing at the Coliseum in London is little short of a miracle in itself. The company was set up in late March with just 15 dancers based in the Hague and it is now 70 strong and capable of mounting a performance of one of the most famous classical ballets. Quite an achievement.
They have, of course, had some help. Birmingham Royal Ballet has lent them sets and costumes, while the English National Opera orchestra is in the pit. The choreographer is Alexei Ratmansky and, though very much a traditional interpretation in many ways, there are a few changes made to the versions we are mostly used to seeing in London.
He has, for instance, made Bathilde (the fiancé of Albrecht) a much more sympathetic character than usual and this works well. Other changes I'd question. This Giselle dies when her heart fails rather than by her own hand and Albrecht's sword and this makes for a rather subdued ending to the first act and, I think, diminishes Giselle's great mad scene. However, in the second act, he has given the Wilis (the spirits of girls who died as jilted brides) some ferociously dramatic choreography – though quite why any special effects were needed (flying girls or veils being torn away) is beyond me.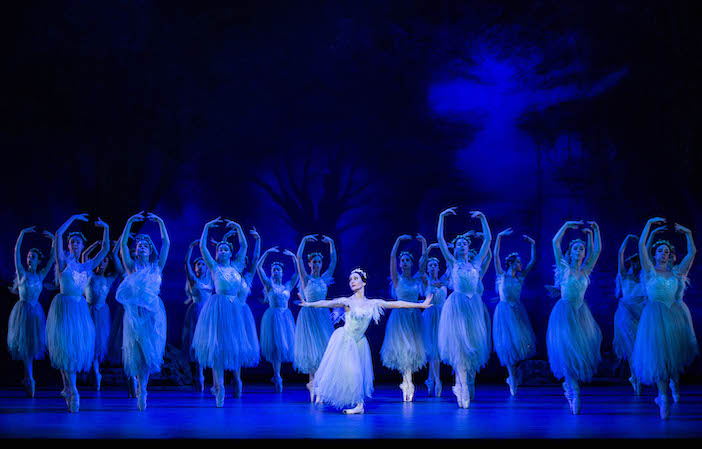 As Giselle, Cojocaru really comes into her own in the second act in terms both of her characterisation and quite dazzling technique. As her Albrecht, Alexander Trusch, moves seamlessly from insouciant deceiver to remorseful prince in the second act. There were some fine soloists, notably Vladyslava Kovalenko as Myrtha, Queen of the Wilis, but the corps looked somewhat under-rehearsed. For the elegant lines of the Act II arabesques to work, you really do need perfect symmetry and timing.
There are four dancers playing the lead role and three Albrechts over the next few days – today (matinee and evening), 16th, 17th (matinee and evening). And, for a company that is only a few months old, this is an undoubted triumph.
The United Ukrainian Ballet's Giselle runs at the London Coliseum until Sept 17th, both matinee and evening performances. For more information and tickets, please visit www.ukrainegiselle.com. 
Photos by Mark Senior