"The bitch is dead now." This is the final line that James Bond utters in Ian Fleming's 1953 novel, Casino Royale, the first of the Bond series. It's a sentence laced with anger and despair. Bond had fallen in love with Vesper Lynd, the only woman to have captured his cold heart, only to discover in a crushing suicide note that she had been a double agent. Vesper had loved him deeply but feared that her superiors would eventually kill them both, and the only way to protect him would be to end her own life. A tragedy to rival the greatest operas, we leave Bond a broken man, bitter and sorrowful, and thirsty for revenge.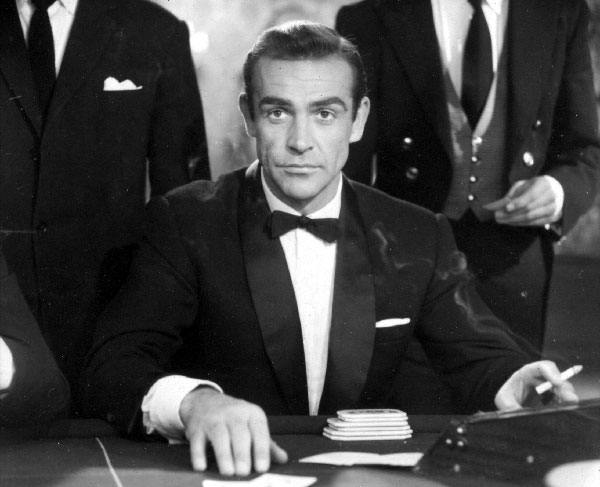 In later novels we learn that Bond never forgets Vesper – he even makes an annual pilgrimage to her grave in France. He is now more determined than ever to exterminate the evil organisation that ruined his life and trapped him in this nihilistic world of death and deception. We understand his destructive impulses, his fearlessness and his torment; this dark romanticism pervades Fleming's novels, but the flawed and vulnerable characterisation wasn't a commercial selling point when it came to producing the films and it was rarely explored onscreen, most notably in the poorly received On Her Majesty's Secret Service (1969), and more recently in the 2006 production of Casino Royale, which attempted to revisit a more sombre Bond in keeping with Fleming's portrayal of the MI6 officer.
Dr. No, Fleming's sixth novel and the very first Bond movie, premiered in 1962 and became an instant success with audiences worldwide, despite a mixed reaction from the critics. With the feline Connery cutting a dashing figure onscreen – perfectly tailored, gritty yet suave – he was a Bond for a new era, capitalising on Cold War paranoia and competing against the cultural adversary of peace, love and tie-dye clothing: here was a man with a Savile Row swagger who didn't listen to the Beatles and cared little about being one of the herd.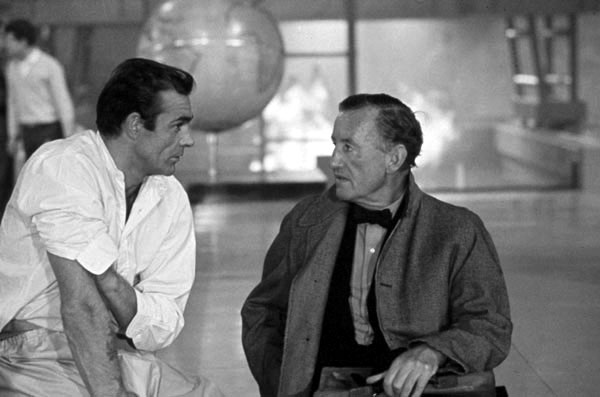 Producers Harry Saltzman and Albert "Cubby" Broccoli had recognised that the success of Fleming's novels was not in his writing – which was overly descriptive and sometimes tedious – nor in the dark romanticism of a multidimensional Bond, but in the narrative formula of the stories themselves, which followed a classic fairytale structure: Bond meets girl, villain captures girl, Bond kills villain and saves girl. It's a tried and tested formulaic structure, and one that Fleming exploited with a deft hand and dazzling imagination. This formula evolved into a production ethic that the producers and crew called the Bondian – a set of rules that governed the success of the film series and which made every Bond film instantly recognisable, from the iconic score by Monty Norman and the Walther PPK – Bond's weapon of choice – to the numerous gadgets, girls and comic book villains hell-bent on world domination.
50 years on, Bond is still saving the world from menacing supervillains – he no longer smokes, he doesn't seem to drink very much, he is slightly less misogynistic and more politically correct. Fleming must be turning in his grave! But Bond has different adversaries now – namely the success of the Bourne series – and the recent glut of superhero films and other big budget action flicks that continually threaten to destabilise this franchise. Yet the well-tailored brute in a suit seems to shake off these pretenders with the same nonchalance that Connery brought to the role back in the 60s, and long may it last.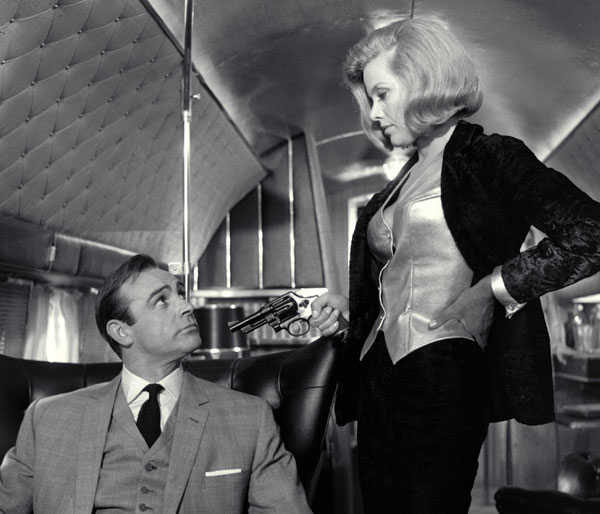 The Barbican is now celebrating the 50th anniversary of the James Bond screen franchise in anticipation of the 23rd Bond film, Skyfall, being released this October, with a unique exhibition showcasing the inside story of the design and style of the world's most influential and iconic movie brand. In collaboration with EON Productions and with unprecedented access to their archives, Designing 007 is a multi-sensory experience, immersing audiences in the creation and development of Bond style during its auspicious onscreen history.
It explores the craft behind the screen icons, the secret service and villains, tailoring and costumes, set and production design, automobiles, gadgets and special effects, graphic design and motion graphics, exotic locations, stunts and props. Highlights include gadgets and weapons made for Bond and his notorious adversaries, such as the golden gun from The Man with the Golden Gun, Oddjob's deadly bowler hat from Goldfinger, Rosa Klebb's painful looking 'dagger shoes' in From Russia with Love, and a set of metal teeth that can only belong to that loveable giant, Jaws.
Along with artwork for sets and storyboards by production designers Sir Ken Adam, Peter Lamont and Syd Cain, you will also find costume designs by Bumble Dawson, Julie Harris and Lindy Hemming, in addition to the lavish screen finery by major fashion names including Giorgio Armani, Brioni, Roberto Cavalli, Tom Ford and most notably, Anthony Sinclair of Savile Row, who tailored Sean Connery's suits for the films. Cubby Broccoli had sent Connery to Sinclair, and the actor was instructed to wear his new suits every day for three weeks before filming began in order to feel comfortable and natural in his attire; a handy tip for anyone taking a newly tailored suit to the island of a criminal mastermind off the coast of Jamaica.
And once you've whet your appetite with all of that, you can stop off at the Martini bar for a Bond-themed cocktail – no prizes for guessing how this should be ordered…
Designing 007: Fifty Years of Bond Style runs until 5th September 2012. For more information and tickets, visit the website.