"Close your eyes and open your mouth", she tells me. She being the waitress, dressed in an outfit that makes her look like a ring master, minus the red tailcoat, top hat and whip (though maybe those came out when I wasn't looking). It equips her with a mix of androgyny and authority, as she straddles the railings with her dessert-serving partner who bears the tray for her as, I obey, and she spoons a taste carefully into my mouth. The flavours so much more palpable by having one of my senses removed. All around the room, guests are obediently doing the same with their servers. This is Queen of the Night, the latest fusion of immersive theatre, dance, magic and dining which results in a Sleep-No-More-come-Cirque-du-Soleil experience in New York.
Hidden two floors below street level, under the Paramount Hotel, in what used to be William 'Billy' Roses's Diamond Horseshoe Nightclub, this 6,000-ft room has undergone a $20-million renovation. Breathing new life and salacious adventure into this speakeasy space is a creative team, spearheaded by Randy Weiner. Knowing that Weiner is the producer of Punchdrunk's award-winning Sleep No More and the owner of Soho's The Box may answer many questions. He, with a talented team and cast, have painted a picture of a magical, marvellous, sexually-charged wonderland and brought it to life.
Waiting in line outside is no fun, and the makeshift coat check we're greeted with when we step inside is a far cry from the sleek and immediate immersive feel of Sleep No More's McKittrick Hotel. But, once past this, and greeted by our hostess who, wearing little more than a white shirt and tights, leads us down the marble spiral staircase, picking up thyme-infused vodka cocktails en route, we soon become lost in their world, as Alice does when she follows the White Rabbit.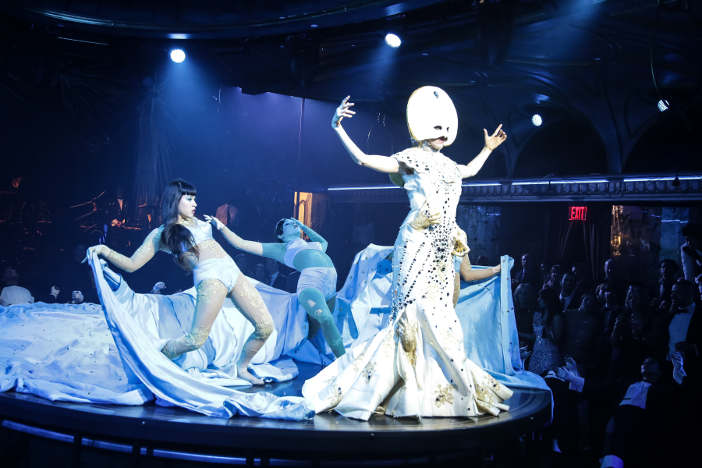 At the foot of the stairs, we open a heavy-set door to the sight of a stuffed big cat, draped in jewels – it wouldn't look out of place in a Stringfellow mansion – and are led to our table, where carafes of wine and a host of hands-on food awaits. All the tables centre around the stage where the Queen – who we've been encouraged to "dress to impress" for – stands, her train giving Princess Diana's a run for her money. We're then told to explore and encouraged to "open doors".
Contortionists and acrobats perform feats defying gravity, in costumes created by Thom Browne, never once breaking the sexual tension that lingers in the air. Curtains open, revealing corridors lined with walls of dripping wax, a marble bath, and a hidden office where you're drawn into magic. Magic is something that never fails to turn me into an overly-excited and enthusiastic participant – a conman's dream.
But, it's when the Queen summons us to sit for dinner – where lobsters are brought out in bird cages, baby suckling pigs are laid down on spit roasts, and slabs of beef are paraded – that the real drama begins. Given the pig, we're encouraged to barter with surrounding tables if we want to trade. The food and wine are a great accompaniment to the visual spectacular that plays out, never taking a break, before us.
Based on Mozart's The Magic Flute, The Queen is preparing her daughter, Pamina, for her coming-out into society, but Pamina finds herself caught in a love triangle. And while this goes on, select diners are weaved into the storyline, with some given a more unique experience than others.
At one point, a man approaches me and asks me to read a note to Pamina's true love, Tamino. After doing so, Tamino leads me back to my table to say goodbye to my boyfriend before being led off into the night. Up and down stairs, round corners and through doors, I'm asked questions about my relationship, and then, upon bumping into Pamina, witness him throwing her to the ceiling with such passion, before dragging her willingly into a room where the door firmly shuts behind them to steal some precious moments together. My heart raced. I felt like an intruder encroaching on their intimacy. All I could hear was the deep breaths of us three. I didn't know what to expect, but I was merely left to observe – while other dinners may have been invited to be more involved.
After three hours, I find myself eagerly queuing up to be spoonfed – a new spoon for every mouthful – a rich chocolate dessert. When I open my eyes again, our waitress looks pleased with herself that I've enjoyed the experience so much. And I truly have. We dance before I'm dragged away, reluctantly, and, once back in the real world, I long to return quickly to this other world. A new world where inhibitions are left at the door, wine flows and people please, while the old world above us has no idea what it's missing out on.
Due to popular demand Queen of the Night is extending its engagement until December 30th, 2014. Performances are at 7:30 p.m. and tiered ticket prices begin at $140. Tickets are available online at their website.