Goodwood's famous Motor Circuit closed for racing in 1966, only to return in 1993 with the Goodwood Festival of Speed and later in 1998 with the now iconic event, Goodwood Revival, situated within the Duke of Richmond's magnificent 12,000 acre Goodwood Estate in Chichester on the South Coast of England. Regarded as one of the greatest motorsport events in the world, the fact that it's the only one where the attendees are dressed entirely in period fashion styles from the 1940s through to the 1960s makes it an utterly unique way to celebrate the heyday of motor racing at this historic circuit and step back in time more convincingly than Dr Who. At 3pm daily, the Revival fashion panel announces the winner of the Best Dressed Competition.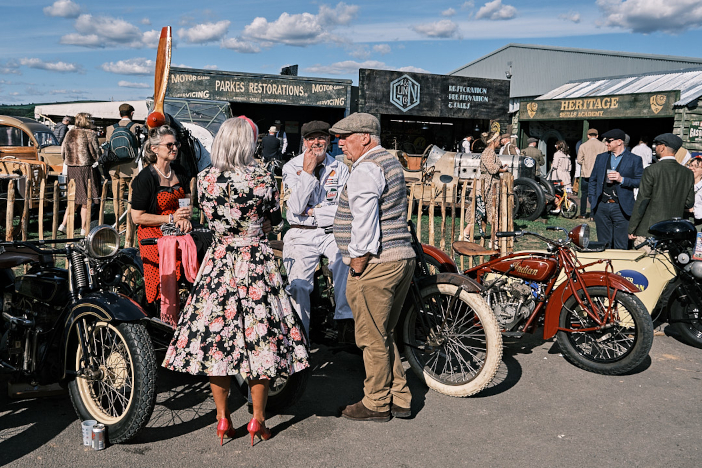 Making this incredibly well organised weekend even more memorable are the Spitfire air displays at the opening and close of each day and this year felt particularly poignant due to the recent passing of Her Majesty Queen Elizabeth II and the period of national mourning with which Goodwood Revival 2022 coincided, with tributes and moments of reflection added to the weekend's programme.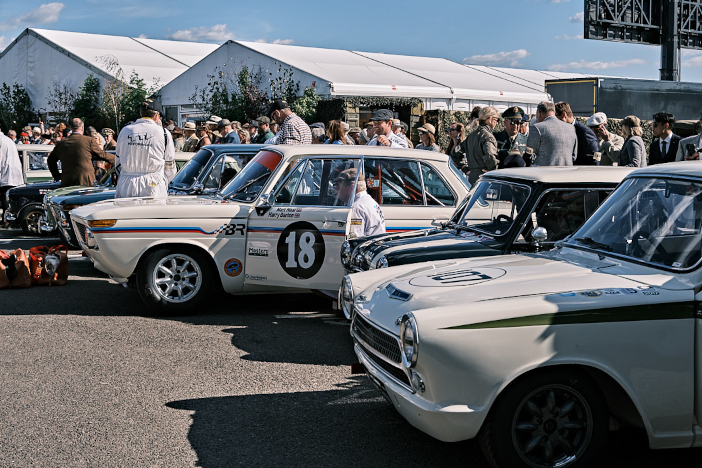 Having wanted to attend Goodwood Revival ever since it launched, my excitement was boundless on parking amidst a sea of British and American classic cars – the sleek bodywork shining in the early autumn sunshine – while almost within reach was the Revival Village in which the joyful helter skelter and ferris wheel stood proud, rotating like a clock reversing time and beckoning new arrivals like us to join the party.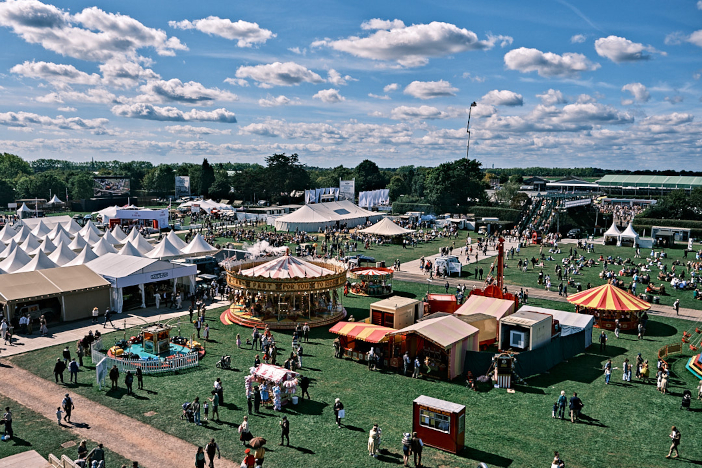 From getting a buzz on the traditional British fairground rides, relaxing in a deckchair at the Revival Cinema whilst munching complimentary popcorn and watching a classic movie like The Italian Job or Grease (there was even a sing-along), shopping at the Revival Village where you might find anything from a vintage fur coat to a woollen picnic blanket, learning a new skill at one of the Revive and Thrive craft workshops, adopting an authentic retro hairstyle at Betty's Salon or the Goodwood Barber or enjoying the full spectacle with a helicopter flight, it is best to go with some kind of a plan! Having finally experienced this 'glorious' event I can fully understand why it's such a fixture with not only motorsport fanatics but lovers of nostalgia and vintage fashion and why, seeing how much there is to experience in the course of a day, many opt to attend the full three days.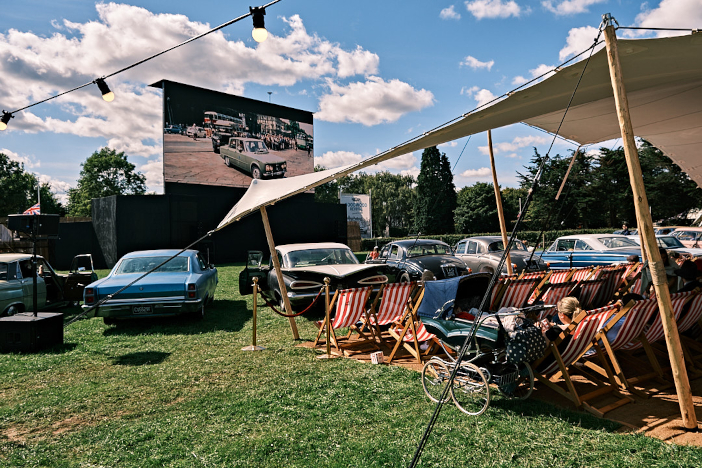 For car and motorsport enthusiasts, you will find everything at Goodwood from charming Austin Sevens to AC Cobras, Formula One cars and vintage Ferraris, and various makes and models of iconic motorbikes. There's even an airfield with a spectacular array of vintage aircraft on show. While there is standing viewing around the entire Goodwood Circuit, the more committed motorsports fans tend to book either a specific grandstand seat for the day or a Roving Grandstand ticket, granting access to the various grandstands around the track. For the ultimate experience, Commanding Officer's tables enable you to mix with fellow enthusiasts and VIPs. That said, you see plenty of action around the paddocks and we were lucky enough to catch a glimpse of Rowan Atkinson making final preparations in the Barracuda he was driving, going on to achieve his first ever podium spot in Saturday's Sopwith Cup, an eclectic race of saloon cars from the 1950s.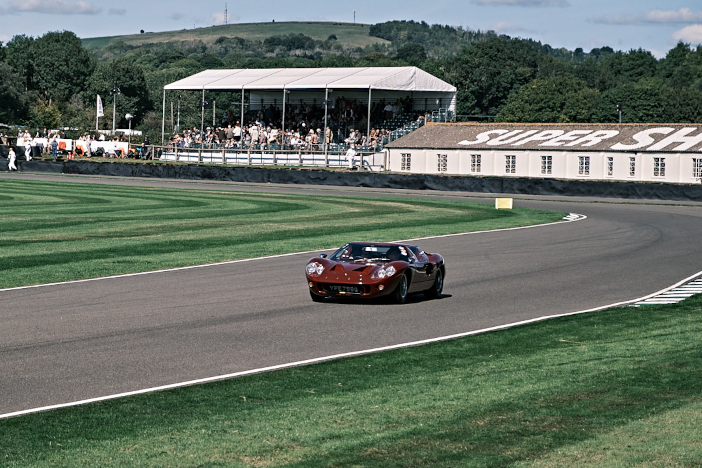 Racing highlights included the Freddie March Memorial Trophy, the first race of the weekend featuring sports cars from the late 1940s to the early 1950s, the Goodwood Trophy with Grand Prix and Voiturette cars produced before and after World War II, the Stirling Moss Memorial Trophy with pre-1963 GT cars, while racing's elite fought it out in the 1960s touring car battle that is the two-leg St. Mary's Trophy, arguably the finest racing spectacle of the entire weekend, with pro-rally driver Craig Breen (M Sport) making his Goodwood Revival debut in a baby blue 1965 Ford Cortina Lotus with teammate Irishman Michael Cullen, holding their own against race leader Romain Dumas (former Porsche/Penske factory driver, Pikes Peak record holder) in a Galaxie, Tom Kristensen (nine-time Le Mans 24 Hours winner), Steve Soper (touring car legend), Jimmie Johnson (seven-time NASCAR champ), and Dindo Capello (three-time Le Mans winner).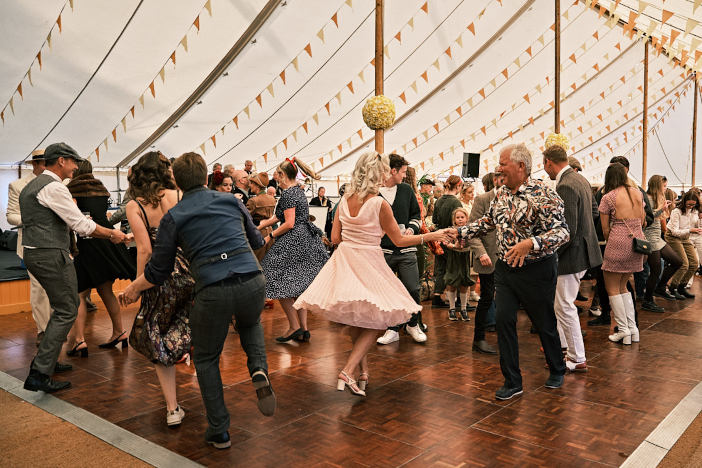 Aside from the famous motor racing names such as ex-Formula One World Champion Damon Hill you might have spotted, other celebrity attendees of this year's Revival included supermodel Jodie Kidd (looking more striking than ever in Victory Rolls and a floral 1940s dress), Hollywood actor Stanley Tucci, celebrity chef James Martin who donned full tweeds and was interviewed by car-obsessive DJ and presenter Chris Evans, who also chatted and posed for photographs with Charles Gordon-Lennox, 11th Duke of Richmond and owner of the Goodwood Estate.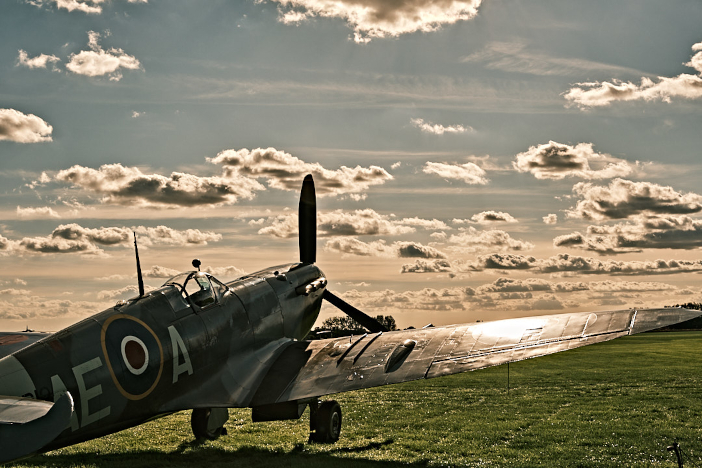 Goodwood Revival 2022 also celebrated a trio of notable motorsport anniversaries including the 75th anniversary of Ferrari and the 100th anniversary of the humbler Austin Seven, with a parade of 100 examples on each day of the event and featuring everything from racing and military Austin Sevens to tractors. This year's event also paid tribute to the 60th anniversary of Graham Hill's first Formula One World Championship title, with an impressive fleet of over forty of the racing cars Hill piloted, namely the 1962 Championship-winning BRM P578, with his son Damon Hill behind the wheel, who claimed his own Formula One Championship title in 1996.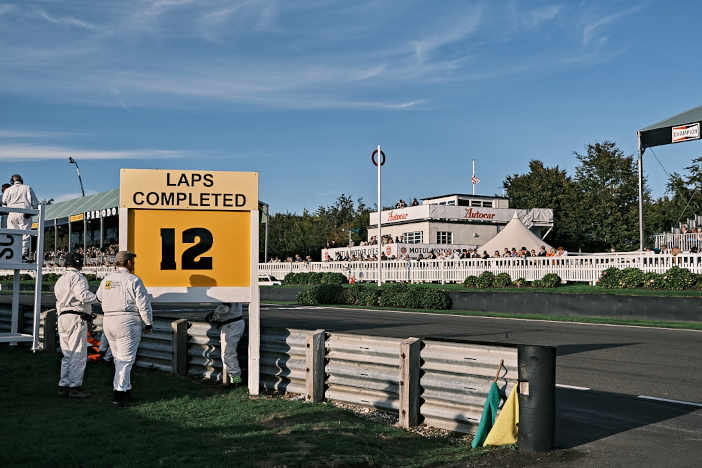 The atmosphere of the Goodwood Revival is so infectious that it's a wonder my husband and I didn't find ourselves driving home in one of the astonishingly beautiful classic cars that were being auctioned by Bonhams. Maybe next time. Accommodation is almost impossible to come by more than a year in advance so the first thing my husband and I did on reaching home after our first foray into this colourful world of speed and tweed was to book one of the last remaining rooms within a half an hour's drive for the 2023 event! I'm already fit to burst with excitement.
Goodwood Revival, Chichester, Sussex. Sign up for a 2023 ticket alert via the website.
Photography (c) Soho Photographic