I'm all for opera for the masses – it used to be, after all – the accessibility, the discounted tickets, the simpler venues – even, at a stretch, attendees wearing jeans at the Royal Opera House (mea culpa). But there's something about donning black tie, dusting off one's dress shoes and slipping on a silk scarf that seems synonymous with the way opera can be appreciated in a manner befitting it as an art form. It creates a sense of occasion, and so it should. And nowhere is this done better than Glyndebourne.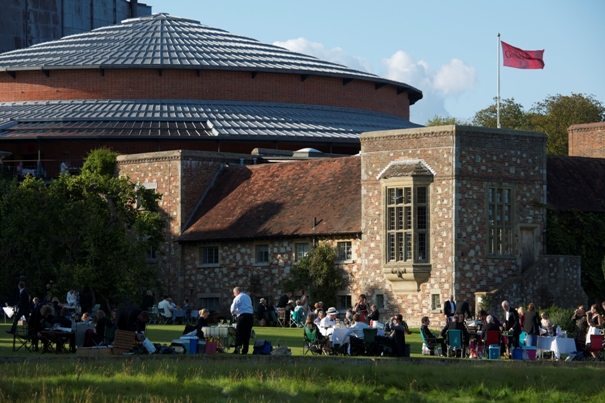 So what more fitting a production in a debate between high brow and hoi polloi than Strauss's Ariadne auf Naxos, a comedy on the clash between high and low art. And what more fitting a venue for such a production, a country house where the landowner wishes to host an evening's theatre for his guests. As is the story of the opera.
Ariadne auf Naxos comprises two parts; in the first, the Prologue, we are backstage at the manor, where the composer of a dramatic opera about Ariadne's loss of Theseus and a vaudeville troupe, led by sprightly dancer Zerbinetta, are preparing to stage their productions that evening. Believing themselves to be vying for position before or after dinner, they are told by the butler that because of the scheduling of fireworks for the guests time is short and both productions will have to be staged simultaneously. The second part, the Opera, is the execution of that eventuality.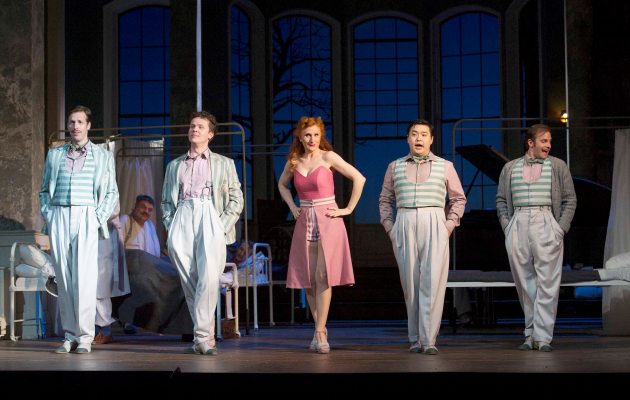 Setting the action in England in 1940, director Katharina Thoma refers to the inevitability of the staging, "because there is probably no more fitting place for Ariadne auf Naxos than Glyndebourne, a place where a landed gentleman started in the 1930s to perform operas in his beautiful house, which is exactly the situation in Part 1 of Ariadne." Though I doubt the irony it's sung in German is lost on Thoma, setting the action in the shadow of war does allow for some inventive interpretations of the score and, particularly, in the transition from 'prologue' to 'opera', comedy to drama. The denouement in the prologue is accentuated by an air raid, complete with flash bombs, fire strips and back-projected planes flying past. Designed, according to Thoma, to accentuate the urgency of the situation the composer finds himself in, "I thought if something major happens between Parts 1 and 2 it could help move the characters more smoothly into the serious tone…"
Unlike for our protagonists, there is no such urgency at Glyndebourne. Not here the 20-minute interval spent shuffling to a crowded bar, bolting down a Sauvignon Blanc and bundling back into the auditorium. Glyndebourne is designed as a long, lazy evening. With a 90-minute interval to accommodate dinner, not to mention time to enjoy the spring sunshine and champagne beforehand, the experience is civilised. Back in the opera, one almost feels as though one's seeing two performances in one evening. And, in fact, Ariadne is just that.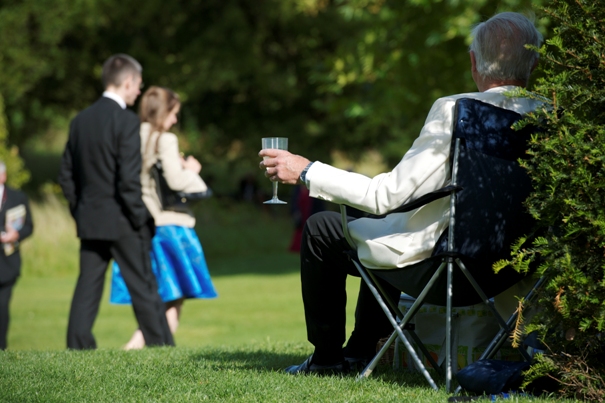 The second act, the 'opera', is the evening played out and it's different in tone entirely. We've taken a leap in time – though not in the play – to convey a more sombre mood. The emphasis is on the romantic tragedy and Thoma exaggerates this, setting the action months later when war has taken its toll. The house is now a convalescent home and while this seems to fit Ariadne's loss and is given serenity by the soprano trio of nurses, it makes the juxtaposition greater when the comedia dell'arte element is played out; the playful bobbing of the boys' quartet, in drag as nurses at one point, and seems particularly incongruous as Zerbinetta is strapped into a straight-jacket during her seductive aria. It's telling, perhaps, that this oil and water blend of comic and tragic themes was born of a fractious partnership between Strauss and his librettist, Hugo von Hoffmannsthal, even generating two versions of the opera in 1912 and 1916, respectively.
The critics haven't been kind so far, but there's always criticism against expectation. If anything Thoma's staging does indeed bind disparate elements, making sense of the two opposites. But the oddities of staging and story aside, there is a harmony between these interpretative set pieces and the composition, compounded by the central performances and kept right on point by Vladimir Jurowski's resolute control in the pit, with this his first fully-staged Strauss opera. Strauss's mastery of soprano voices – he should know, he was married to one after all – is evident throughout with some beautiful coloratura between leads Soile Isokoski as Ariadne and Laura Claycomb as Zerbinetta in the second act, not to mention that he makes the part of the Composer a 'trouser' role for a mezzo-soprano, giving the clarity of Kate Lindsey's tone some beautiful flourishes, all  three of whom making their Glyndebourne debuts in the production.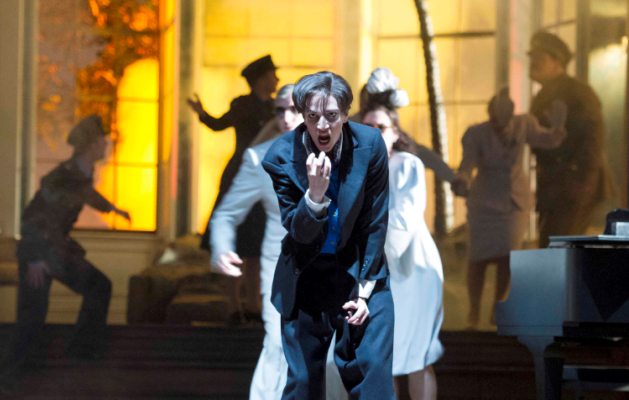 By title, Ariadne auf Naxos sounds like it should be weighty, classical – German Romanticism playing Greek melodrama – and could have been an attempt to prove a point after the comic success of Der Rosenkavalier but, in fact, Strauss goes better, creating something to be enjoyed at both ends of the social spectrum. And who's to say high art can only be appreciated by high society? Certainly, if the gentleman sat next to me had anything to say on the matter, he was proving Strauss's point. He fell asleep in the second act.
Glyndebourne Opera Festival runs until 25th August, with performances of Ariadne auf Naxos running until 11th July. For more information and to book tickets, visit the website.
2013 marks a significant year for Glyndebourne. The repertoire commemorates anniversaries for Britten (with Billy Budd) and Verdi (with Falstaff) and reinforces its reputation as a digital pioneer with all six Festival operas streamed online and in cinemas for the first time. It also concludes Jurowski's 13-year tenure as Music Director.
Ariadne auf Naxos stills by Alistair Muir. Glyndebourne stills by Leigh Simpson.