If Opera has returned to Belcombe Court in Wiltshire, opening with the highly anticipated new production of Umberto Giordano's Fedora, directed by John Wilkie (founding member of Opera Bohemia) and starring multi-award-winning Australian soprano Sky Ingram in the title role, reason enough to purchase a ticket. Belcombe's photogenic 18th century garden, where If Opera's temporary auditorium is erected annually, makes this one of the most magical opera festivals in England and as if in agreement, the sun appeared just as the gates opened on the first night, allowing opera-goers to enjoy a picnic ahead of the performance.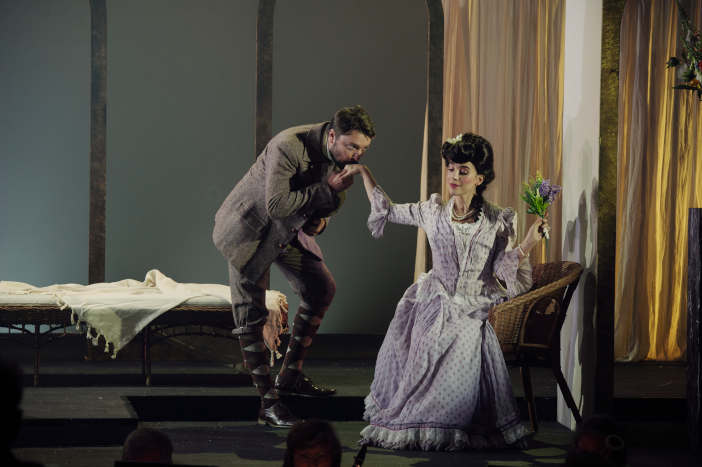 There have been some welcome changes at If Opera this year, including a new Saddle span theatre with improved ventilation and acoustics, along with a more prominent orchestra arrangement to ensure audiences have a fantastic view of the resident Bristol Ensemble conducted by company stalwart Oliver Gooch. With a grand piano on stage, audiences were also treated to a spellbinding performance by Mark Austin in the role of Boleslao Lazinski, the star pianist hailed as the "successor to Chopin," with Giordano's score incorporating Chopin-like melodies and duly setting the tone of aristocratic living. This is reinforced by Alisa Kalyanova's stage and costume designs (think bustles, fur coats and tiaras) which bring Princess Fedora's noble 19th century world to life, opening in an opulent salon in St. Petersburg, moving to fun-loving Paris and closing in a villa in the Swiss Alps.
An opera in three acts with a libretto by Arturo Colautti based on the 1882 play by Victorien Sardou, written for the leading actress of the day, Sarah Bernhardt, Sardou also wrote the play La Tosca on which Puccini's opera is based and was a master of Victorian melodrama. First performed in Milan in 1898, Fedora is a hugely absorbing example thanks to a love affair which develops against a backdrop of murder. Often unkindly declared a 'pot-boiler', Fedora offers high drama aplenty, encompassing everything you want from an opera; assassination and adultery, revenge and suicide, but whilst it would be easy to overact to the point of comedy, this beautifully wrought production, which has been handled with kid gloves by Wilkie, boasts such a class company as never to verge on the hysteric.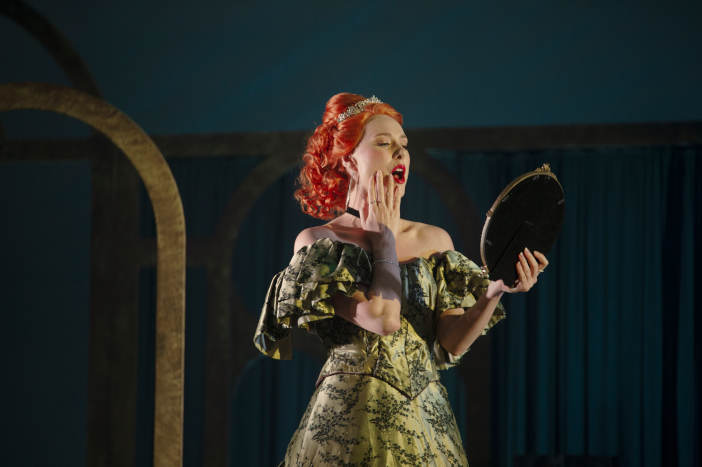 It certainly doesn't waste any time in grabbing your attention and more or less opens with the assassination of Princess Fedora Romazov's fiancé, Count Vladimir Andrejevich (Luke Howe). The princess arrives, eager to see her fiancé on the eve of the wedding, while the gossiping servants inform us that Count Vladimir is deep in debt and only embarking on the marriage in order to repair his fortunes. Suddenly police officer Gretch (Aidan Smith), accompanied by the French diplomat Giovanni De Siriex (Alexey Gusev), bursts in with policemen and porters carrying the count, who has been shot. Doctors rush to the bedroom to try to save the count's life while Gretch, who suspects a political motive, interrogates servant Dimitri (Rebecca Afonwy-Jones) who was dismissed by the count earlier in the evening, coachman Cirillo (Dan D'Souza), the only witness, and the rest of the household. But it is the fiery-haired and majestic Ingram in the title role who makes the biggest impression in Act I, collapsing in despair and swearing vengeance when the doctor informs her that the count has died.
Swiftly drying her tears, she finds consolation in the arms of Count Loris Ipanov (British tenor Charne Rochford) by the time the action has moved to Paris, despite having vowed never to love again and overlooking the fact that Loris is accused of her fiancé's murder. Perhaps it's understandable when you have the charming Rochford as Loris, a role created by Enrico Caruso, the first to establish 'Amor ti vieta' as one of the great tenor arias when he received an encore on the opening night, subsequently performed by everyone from Luciano Pavarottti and Plácido Domingo to Roberto Alagna and Andrea Bocelli. 25 years since their last staging, the Met's 2022 New Year's Eve gala premiere production of Fedora has sparked a resurgence of interest and If Opera are wise to have chosen this all-too-often overlooked work to be included in their impressive repertoire.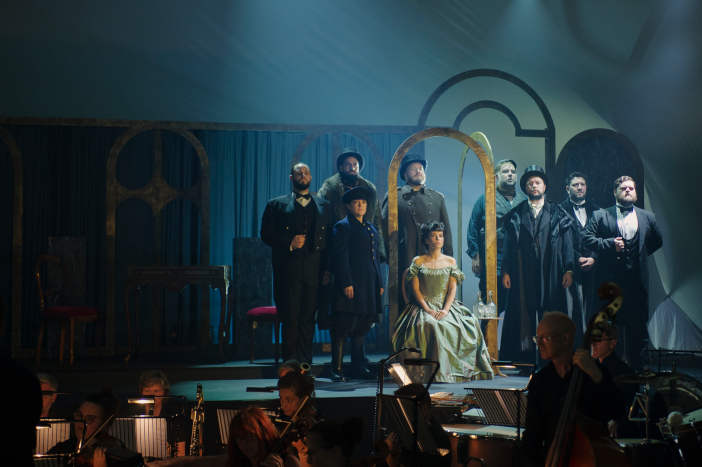 The entire cast deliver flawless performances, both theatrically and vocally, with Spanish soprano Lorena Paz Nieto (a superb Lisette in If Opera's 2022 La rondine) as the outspoken and easily bored Countess Olga Sukarev who accompanies Fedora to Switzerland though soon tires of her surroundings. Nieto is the light in an otherwise dark drama and clearly relishes her comic arias, whether likening Parisian men to Verve Cliquot champagne or paying tribute to the liberating sensation of riding a bicycle. But it is Ingram's vocal prowess and convincing portrayal of a character who swings from a grief-stricken, angry young woman seeking revenge to one pleading for her lover's forgiveness that makes this the most memorable If Opera production I've yet to see, with a moving finale guaranteed to bring a tear to your eye.
Fedora at If Opera, Belcombe Court, Bradford-On-Avon, Wiltshire on 24, 26 31 August and 1 September 2023. For more information and tickets please visit the website.
Production images by Laima Arlauskaite.