We might have had tickets to an opera set in Paris, but this joyously small music festival couldn't have offered a more quintessentially English experience, the audience arriving hours before the performance to take advantage of the glorious setting of Belcombe Court in Bradford-on-Avon, Wiltshire, and enjoy a picnic in the grounds ahead of the opening performance of Puccini's romantic La rondine. Unlike other English opera festivals such as Glyndebourne and Garsington, there is no black tie requirement, making it a far more relaxed occasion.
Just a short drive from the UNESCO World Heritage City of Bath, the serenity of the occasion drew a welcome veil over the many challenges If Opera, formerly known as Iford Arts, have faced in recent years, relocating from their original home of Iford Manor, also in Bradford-on-Avon, before being forced to scale down last year's festival due to the pandemic and just as they were getting into the stride of welcoming patrons to their new venue of Belcombe Court, the private residence of Paul and Caroline Weiland.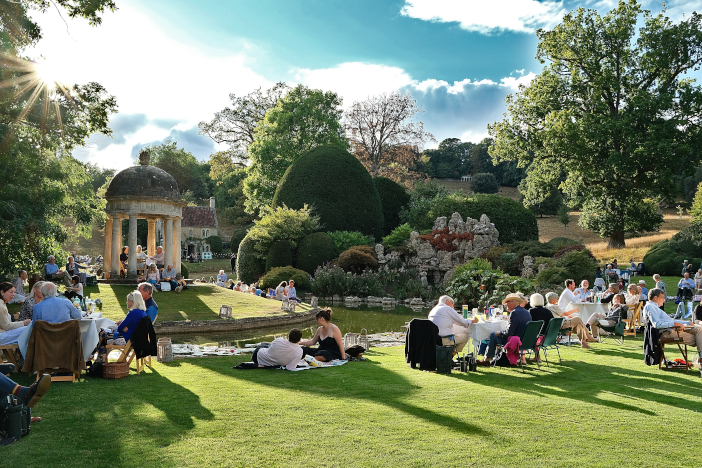 The audience and patrons who have stood by the company through thick and thin were clearly thrilled to be back at Belcombe Court, as was I, and due to this being their inaugural season as If Opera I immersed myself in the atmosphere of anticipation before curtain up, when the company would finally have the opportunity to showcase their latest changes, collaborations and creativity – for above all, creativity is what has kept this brilliant arts enterprise flourishing.
La rondine (meaning The Swallow), one of Puccini's lesser known works first performed in Monte Carlo in 1917, is certainly a strong choice to celebrate the birth of If Opera and the company's determination to become a key cultural institution in the South West of England. This 1960s-set production (the opera was originally set in 19th century Paris) directed by the renowned Bruno Ravello (design by Flavio Graff) offers a fresh take on it, with all the melodic effervescence an opera lover could possibly desire, along with live orchestration from their new partner the Bristol Ensemble conducted by If Opera's Artistic Director Oliver Gooch. If Opera's Executive Director is Michael Volpe OBE, who founded Opera Holland Park and retired in 2020 after thirty one years so there is every chance that this company will become as well known and respected.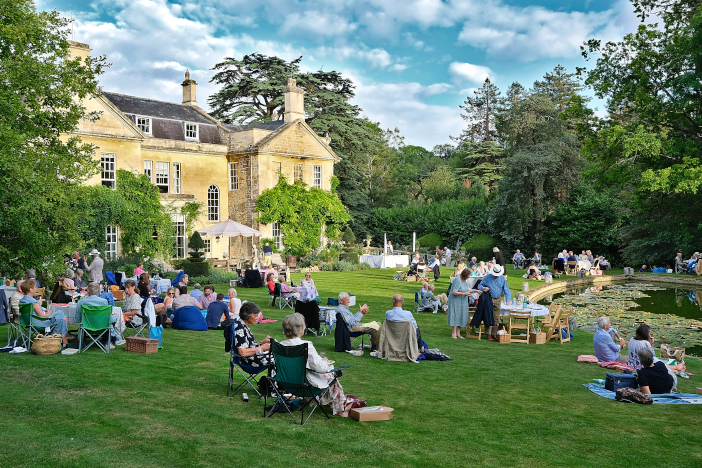 As always when you attend lesser known opera festivals, the fact that they have sourced young, relatively inexperienced (and therefore more affordable) performers grants you the chance to play talent-spotter, and there was plenty of it in this production. Welsh tenor Ryan Vaughan Davies made a confident opening as the swaggering young poet/songwriter Prunier alongside his equally talented countrywoman Meinir Wyn Roberts as the lovable Magda who, a vivacious courtesan and the mistress of the wealthy Rambaldo (Philip Smith), is hosting a cocktail party attended by her friends Yvette (Lara Marie Müller), Bianca (Natasha Page) and Suzy (Shakira Tsindos).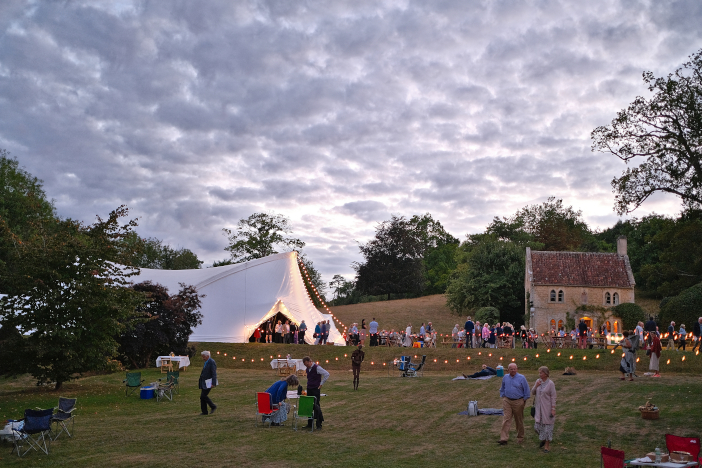 Magda's female friends and her maid Lisette mock Prunier's theories of love, which he insists anyone can succumb to, regardless of the circumstances – the basis of his new song about a heroine named Dorretta who turns down a king in favour of holding out for true love. When he admits his struggle to complete the song, Magda boldly offers to provide the second verse and impresses both her friends and the audience with one of Puccini's most exquisite arias, 'Chi il bel sogno di Doretta' – full of the passion and tenderness we expect from the Italian composer.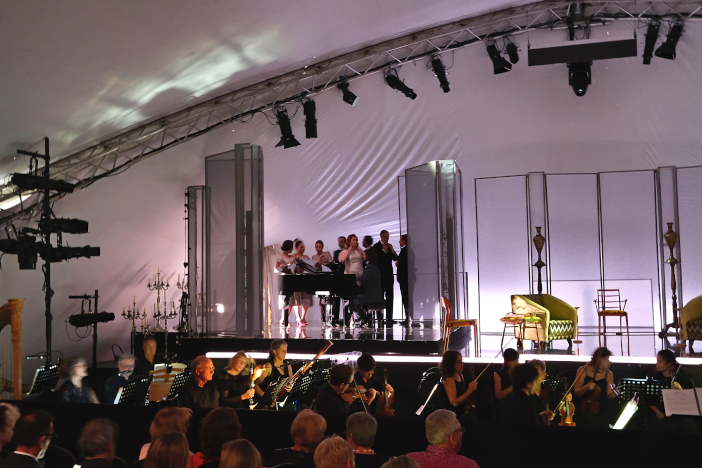 Joseph Buckmaster, who has sung in the choruses of both English National Opera and Royal Opera House, was a convincing Ruggero, a young man newly arrived in Paris who arrives at the party with a letter of introduction to Rambaldo and later falls in love with Magda, unaware that her colourful past weighs so heavily on her mind that it tinges their blossoming romance. The plot of La rondine may be slim – often regarded as a poor man's La traviata which Verdi based on La Dame aux camélias by Alexandre Dumas fils – but this didn't prevent If Opera wooing us with Puccini's sublime gift for melody, while Roberts and Buckmaster's duet delivery was so emotive that I was welling up before the interval.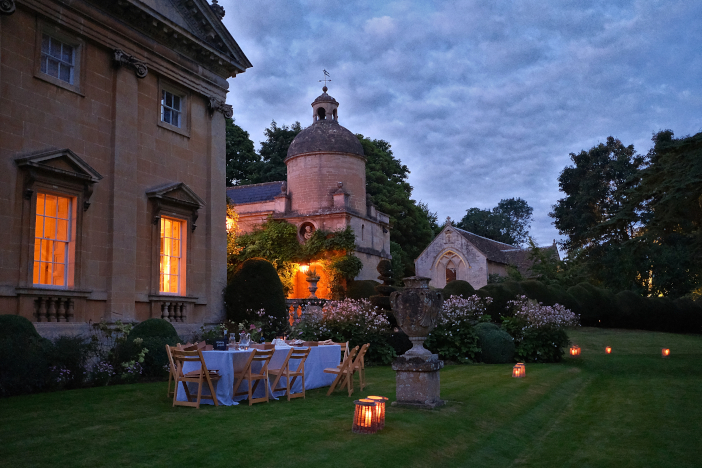 The pair were strongly supported by the rest of the cast, although the absolute stand-out of the evening was Spanish soprano Lorena Paz Nieto who, an alumna of the National Opera Studio, was first recognised as a future star on becoming an Oxford Lieder Young Artist before winning 'Vocalist of the Year' at the prestigious LUKAS awards in 2019. She made much of the supporting role of Lisette, delivering both a highly comic performance as Magda's maid, along with vocals that give you a pleasurable shiver down the spine. It really is a privilege to see opera singers in their first significant roles, obviously keen to be on the opera circuit and shining as brightly as any top-billing performers at La Scala.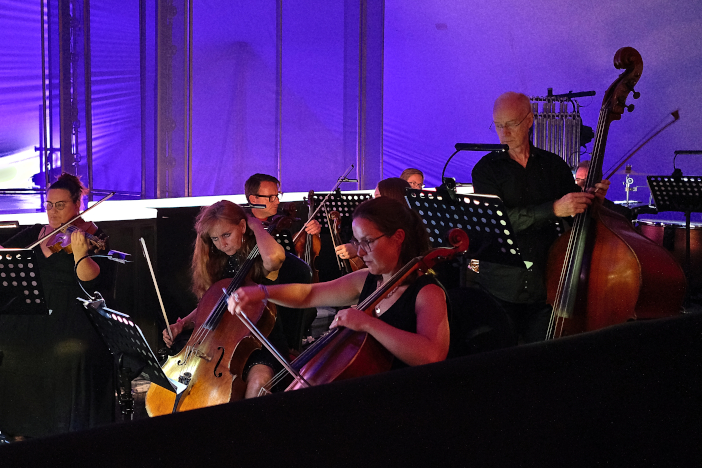 This La rondine is guaranteed to make you smile, laugh and cry, while If Opera's remarkable talent for uniting creativity, no matter what the setbacks, attracts devoted opera lovers who are there for the music and intimacy which the tent and small stage affords rather than the famous names, gilded ceilings and full scale orchestra promised by the likes of ROH. This allows the audience, who have a close-up view regardless of where they're seated, to feel in some way part of the proceedings in a unique and rewarding way. It's as if this is how opera should always be experienced, with a setting that allows the music to speak to you on a personal, life-affirming level that is often absent from larger scale productions in a formal theatre – and this is why If Opera is an unmissable part of my summer. 
If Opera's La rondine runs until 3rd September 2022 at Belcombe Court, Wiltshire. For more information and tickets visit Bath Box Office or the If Opera website.
Photography (c) Soho Photographic