Garsington Opera have not only just signed a lease for a further 50 years at the Getty family's Wormsley Estate in Buckinghamshire, but have reiterated once again during this thirtieth anniversary season their reputation for uniting a second to none creative and musical team, all of whom contribute to opera productions that will live in the memory as surely as the experience of attending the festival itself.
With dining tents overlooking the tranquil lake or famed Wormsley cricket ground and an 85 minute interval encouraging opera goers to enjoy a leisurely repast and much opera discussion, the setting influences and permeates the drama on stage thanks to a magnificent glass opera house, through which the sky can be seen, adding to the unique atmosphere as tweeting birds herald nightfall, albeit posing a challenge to production and lighting designers who have to factor in that the auditorium will be in darkness following the interval, something that couldn't have worked out better for this year's highly anticipated The Turn of the Screw directed by Louisa Muller who is making her Garsington debut.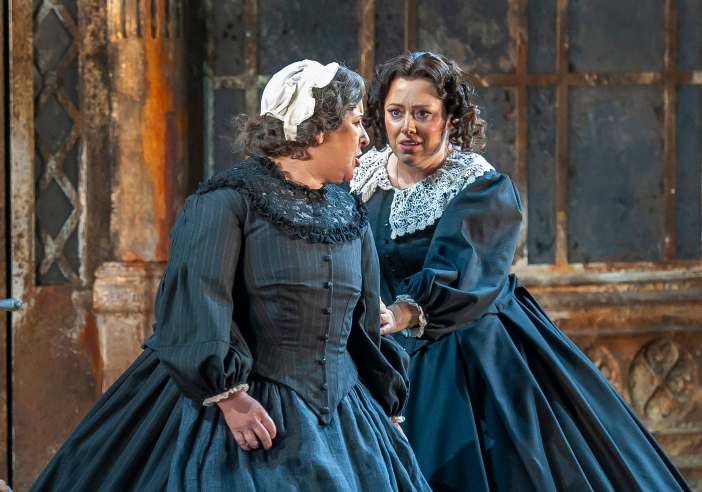 First performed at La Fenice, Venice in 1954 Benjamin Britten's third chamber opera is based on Henry James's ghostly novella of the same name, a work the composer became acquainted with at the age of eighteen on hearing a suitably eerie BBC radio broadcast. Excited when Myfanwy Piper, wife of his friend and collaborator the stage designer John Piper, later suggested the work as being an ideal subject for an opera, with an intrigue and ambiguity perfectly aligned to Britten's musical style, James's thought-provoking tale of lost innocence is fully reflected in Britten's wonderfully textured and suspenseful score. Myfanwy wrote the libretto (the first of three she created for Britten) careful to ensure that the ghosts, who do not speak at all in the book, don't say anything conclusive in the opera, which is largely faithful to James in that the audience remains mystified throughout.
A young governess (soprano Sophie Bevan) is engaged by a wealthy bachelor (Ed Lyon) to take charge of his orphaned niece and nephew, Flora (Adrianna Forbes-Dorant) and Miles (Leo Jemison) at his country house, with one ominous condition – that she must never, under any circumstance, contact or trouble him. Smitten by her dashing employer and flattered at the trust he places in her, despite the seeming grandeur and comfort of Bly house, the friendly welcome she receives from the children and the housekeeper Mrs Grose (mezzo Kathleen Wilkinson), we know from the tension and intensity of Britten's opening, adeptly conveyed by conductor Richard Farmes, that the idyll is doomed.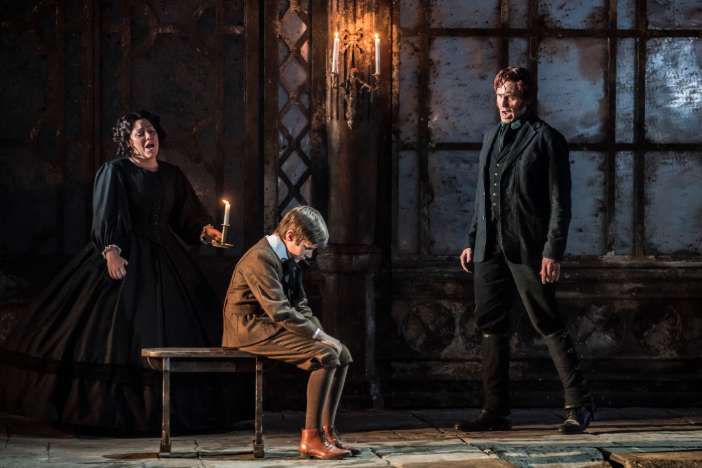 The governess learns that her predecessor Miss Jessel (soprano Katherine Broderick) was seduced by the sinister valet Peter Quint (British tenor Ed Lyon) who apparently also had undue influence over Miles who has recently been expelled from school. Both Jessel and Quint are now dead, but the new governess soon becomes aware of their enduring presence at Bly and the need to protect her charges whom she believes can not only see the ghosts as she can, but are communicating with them covertly and thus in danger of being corrupted. Were the children abused by Jessel and Quint? Are ghosts real? If so why can't Mrs Grose see them? The Turn of the Screw is nothing if not filled with questions – and very little answers.
Christopher Oram's classy design avoids the Hammer horror style haunted house, whilst making the most of the governess's increasing sense of claustrophobia with just one main set with revolving windows and select props to add interest; a variety of toys, a school desk, a piano. The lake meanwhile, where the governess first sees Miss Jessel in Act I, increases in scale for the second half in order to become an integral part of the drama. Is the governess simply hallucinating, for she is the only person who admits to seeing Jessel and Quint? The full eeriness of this production doesn't fully come into play until after the interval when it's dark and Malcolm Rippeth's candlelit scenes illuminate and flicker. It wouldn't be much of a ghost story without a candle being mysteriously extinguished, would it?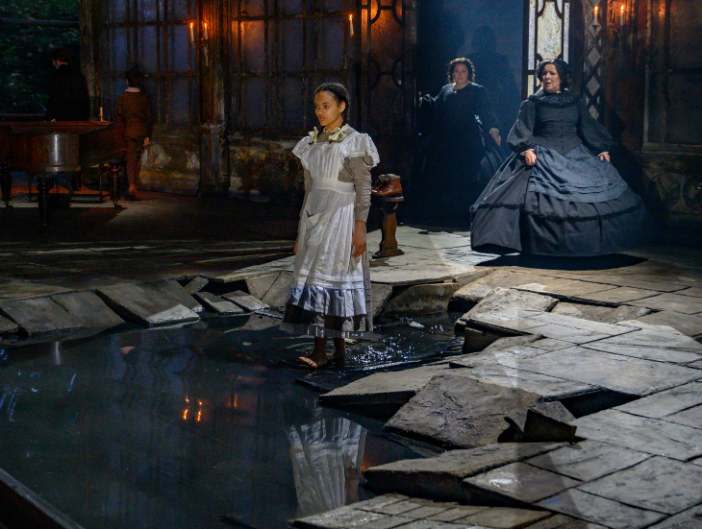 With just six main characters the casting has to be, and is, spot on, nor are the younger performers in any way overshadowed by their more experienced cohorts. On the contrary, their vocal and acting abilities are so impressive as to elevate the overall standard and make us baffled as to whether the governess is correct in supposing the children are veritable saints in need of salvation or simply the instruments of evil. Jemison does full justice to Britten's haunting 'Malo' song, a boy treble being a unique feature of this opera layered with high notes, bells, a harp and a piano sonata. Soprano Forbes-Dorant meanwhile has an exceptional tone for her young years and a natural acting ability – not least when she menacingly drowns her doll in the lake. Dazzling us with a cacophony of sounds – jarring, melancholy, beautiful and desperate – 
The Turn of the Screw
 is r
ightly considered one of Britten's most accomplished works, while Garsington's approach is a revelation. Gripping stuff.
The Turn of the Screw at Garsington Opera, Wormsley, Buckinghamshire on selected dates until 19th July as part of the 2019 festival. Sung in English with English subtitles. For more information and tickets please visit the website.