The newest theatre in Soho chooses an exuberant and colourful revival for its first play. Nick Harman is in the audience…

I'm always a bit wary when a play or a film is labelled 'life affirming' by the critics, I take it to mean I'll be subjected to an hour or so of simplistic box-ticking by a cast of right-on stereotypes going through a range of emotions from A to B.
So, expectations were a bit low going into Soho Place, Soho's first new theatre for fifty years. I hadn't seen the BBC film Marvellous, nor the original stage play, and I hadn't read any reviews apart from the pull quote mentioned above.
The new theatre is wonderful, that's for sure. A glowing glass box where once the old Astoria stood, it's light and airy and modern in a kind of redbrick university library way, and has a very good restaurant. The latter is perfect for removing the 'curtain up soon' anxiety that comes from eating at a restaurant where the waiters are apparently on a go slow.
The performance 'space', as I suppose one must call it, is in the round  – or, more accurately perhaps, on the rectangular, with the audience seated at stage level on all four sides and on balconies that are just one or two rows deep. This means everyone gets an excellent view, but you can also miss some of the dialogue when an actor is facing away.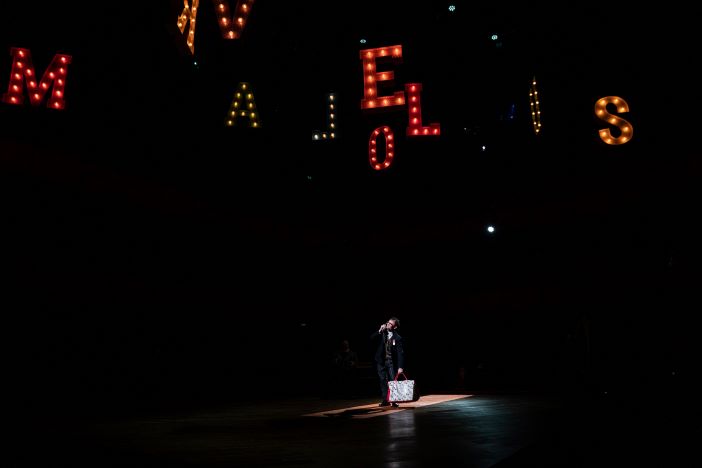 The latter problem is slightly exacerbated here by our hero's accent, as well as by the fact that he has what we now call 'learning difficulties', although back when he was a child much harsher terms were sadly used.
This is a true story you see, that of Neil 'Nello' Baldwin now 76 and, on the night I attended, actually sitting in the audience. Neil has been in turn a circus clown, a kit-man for Stoke City FC, a 'member' of  Keele University, and an avid and determined autograph hunter (he once asked the Archbishop of Canterbury to sign his bible). Today he runs a retirement home for circus budgies – yes, really.
It's very lively; in fact it is a 'life affirming' production, and that Neil helped to write. Fourth walls tumble like Buster Keaton buildings, the play refers to itself in a knowingly clever way, and then cheerfully mocks itself for doing so. All very meta.
Neil is played by various cast members at various stages of his life and 'career', as well brilliantly by Michael Hugo as a constant older 'Real Neil' who wanders on and off stage to make comments, ask the audience if the play needs any work, and to hand out chocolates from his 'Bag for Life' (spot the irony).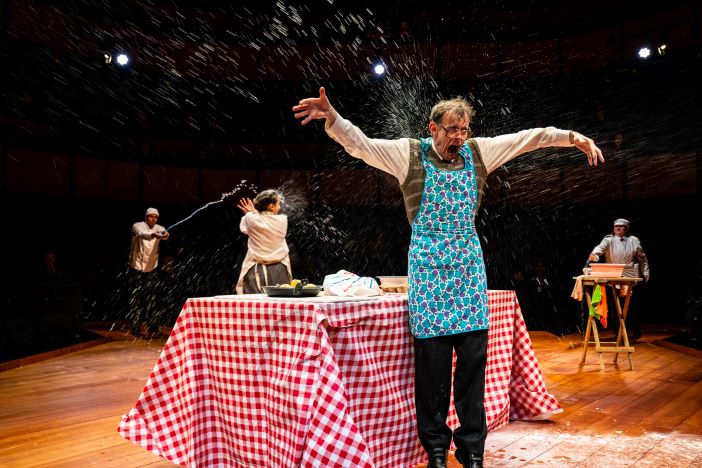 Elements of very funny slapstick sit happily alongside genuinely tear-jerking moments as Neil's remarkable life story is told forwards, backwards, up, down and sideways. Clever stage mechanics and props allow for moments of Tommy Cooper magic, as well as dramatic mood and scene changes, and the stalls audience are often in danger of getting wet or worse.
Exuberant colours flash out all the time, in reference to Neil's extraordinary life that has never been lived in dreary black and white, and indeed which sometimes seems almost unbelievable. It's all very true though, except of course the bits that aren't.
Once asked what the secret is to a good life, Neil said it is to try and be happy and never to be shy of asking people for what you want. He never was made England's football manager, although at least he asked, but 'Big' Lou Macari called Neil 'the best signing I ever made at Stoke'.
Director Theresa Heskins has put together a strong cast, some of them apparently neuro diverse themselves, and they sing, dance, clown and mime with remarkable ability and precision timing. The actors play famous figures, Neil's parents, friends, colleagues and sometimes just themselves and do it with a gusto that could almost be panto.
Throughout the controlled, balletic, chaos one gets an idea of what it must be like to be inside Neil's extraordinary mind, and the answer is quite definitely 'marvellous'.
Marvellous is at Soho Place until November 26th. For more information, and for bookings, please visit sohoplace.org.