Recently transferred to the Harold Pinter Theatre, this praised Chichester Festival production double bill combines Sir David Hare's play South Downs, with one of Rattigan's most well known and acclaimed plays The Browning Version (1948). Specially commissioned by the Terence Rattigan estate, South Downs is a complementary piece commemorating the centenary of the playwright's death in 2011.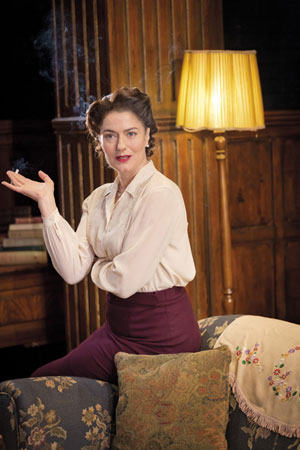 The inspiration behind both plays come from Rattigan's own experiences at Harrow School and in turn David Hare's experience of Lancing College – one told through the eyes of a school boy in 1962 and the other the eyes of a master. South Downs, directed by Jeremy Herrin, explores the school life of 14 year old Blakemore – played by talented newcomer Alex Lawther – an exceptionally bright, yet emotionally detached, often obnoxious, and socially floundering adolescent. Aside from them both having a school backdrop the common thread joining both plays together is isolation, loneliness and repressed emotion.
Although a brave move for one of the most revered living playwrights to take on such a challenge, ultimately Hare's South Downs fails to match up to the quality, drama or poignancy of Rattigan's work, nor does he successfully manage to hold the attention of the audience before The Browning Version wakes us up after the interval. Often criticised for being overly sentimental, The Browning Version affirmed Rattigan's place in British theatre and deserves its place as a modern classic.
The Browning Version is what the audience are primarily there to see and this production is as good and moving a version as you are likely to get. A thought-provoking psychological study of retiring classics teacher Andrew Crocker-Harris at a boy's public school it examines a man's resignation to his destiny, the loss of his academic life, his acceptance of an unhappy marriage and his wife's adultery with young, attractive teacher Frank Hunter, played by Mark Umbers. The head master casts yet more gloom on Crocker-Harris by announcing his decision to withhold his pension. 'From the very beginning I realised that I didn't possess the knack of making myself liked' he declares. Believing himself universally unloved and derided when he discovers his nickname 'Himmler of the Lower Fifth' on the eve of his retirement, it is a simple act of kindness – when a pupil, young Taplow, gives him a Robert Browning translation of the Greek tragedy Agamenmon as a parting gift – that triggers an emotional outpouring.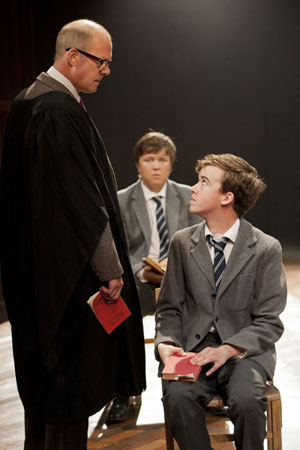 A showcase of British talent – Anna Chancellor's performances of Belinda Duffield – a glamorous actress and mother of the popular prefect who inspires Blakemore by suggesting he alter his behaviour in order to ingratiate himself with the other boys – and her acerbic portrayal of selfish and unfaithful master's wife Millie Crocker-Harris in The Browning Version are masterly, as are Nicholas Farrell's Reverend Eric Dewley in South Downs and resignedly dejected and servile classics master Andrew Crocker-Harris in The Browning Version. A classy evening of theatre and a fitting homage to the splendour of Rattigan.
WIN A PAIR OF TOP PRICE TICKETS! Just email your name and telephone number to competition@arbuturian.com remembering to put 'Browning Version' in the subject heading. Competition closes 7th June 2012. A winner will be selected at random and contacted via email shortly after the closing date.

Terms and Conditions: Prize is a pair of top price tickets to SOUTH DOWNS and THE BROWNING VERSION at The Harold Pinter Theatre, Panton Street, London. Tickets are valid on Monday – Thursday performances until 28th June 2012. The winner will be drawn at random. Prize is subject to availability, is non-transferable and has no cash alternative.
Other Information: Booking until 22 July 2012. Tickets £25-£75. Harold Pinter Theatre, Panton Street, London SW1Y 4DN. Website.