'The everyday world is shrouded. We see it dimly. Only when we love do we see the true person. The truth of a person is only visible through love. Love is not the illusion. Life is.'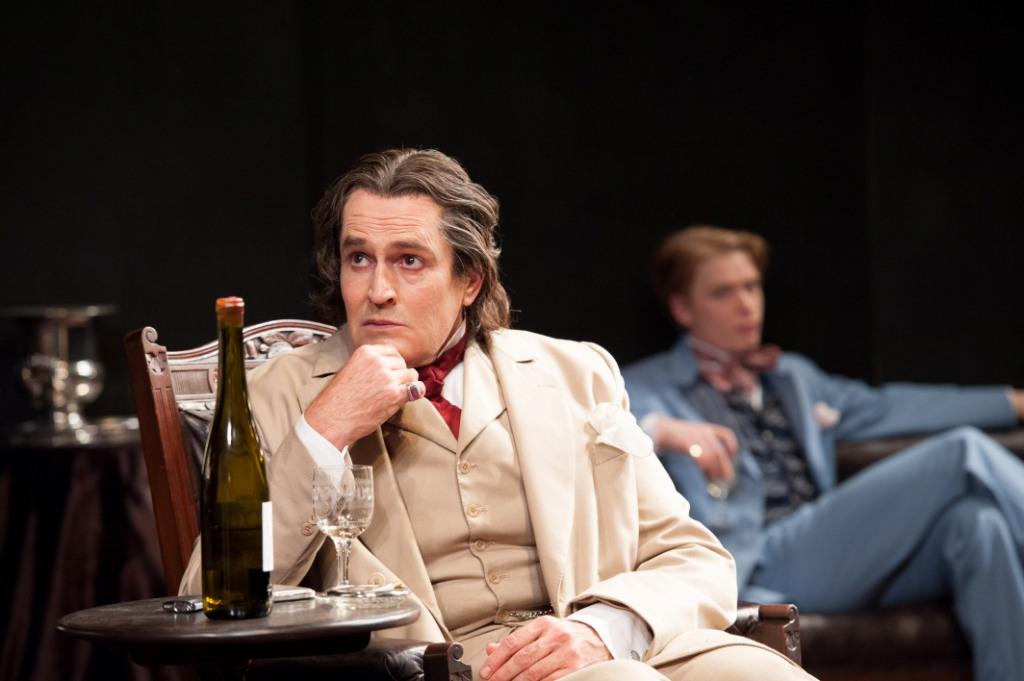 With Judas Kiss, David Hare, recently named by The Sunday Times as one of the fifty most influential Britons of the last fifty years, once again proves his place in history as one of the greatest English playwrights. The author of 28 stage plays, The Judas Kiss first premiered in 1998, not entirely successfully due to the misguided casting, although the quality of the play itself was never in question. This Hampstead Theatre production however, directed by leading Australian theatre and opera director Neil Armfield and starring Rupert Everett as Oscar Wilde (no easy feat with Stephen Fry in the audience) is simply flawless, with Everett doing full justice to Hare's multi-faceted portrait of the Irish playwright during his bleakest hour and rivalling even Fry's own performance of Wilde.
Utterly absorbing, Everett delivers the expected wit with gusto along with the increasing melancholy of a ruined man. At times, it is difficult not to believe the sharp dialogue isn't taken from an Oscar Wilde quotation book – so impeccable is Hare's writing.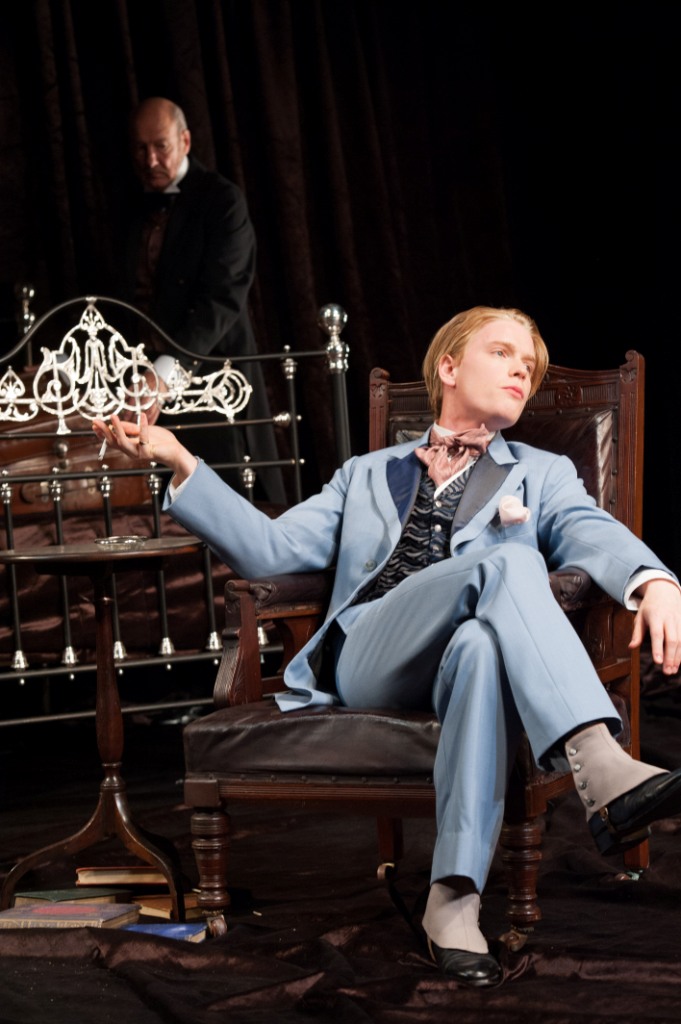 Set in 1895, Wilde has swung between the peak of his career and the destruction of it; premiering The Importance of Being Earnest just weeks before finding his reputation in tatters. The Judas Kiss focuses on two vital moments in Wilde's turbulent and tragic later years; the first act taking place in room 118 of The Cadogan Hotel prior to his arrest and the second act set in Naples during his later self-imposed exile, having spent the previous two years in prison. The ageing Wilde is enamoured by Lord Alfred Douglas 'Bosie' in another tremendous performance by Freddie Fox. Bosie, a spoilt, petulant young aristocrat, manipulates Wilde into bringing a libel suit against his father, the Marquess of Queensbury, in order to satisfy an ongoing family feud – a case which Wilde loses and which results in an escalating and extremely public examination into his own private affairs – namely illegal homosexual activities. Oscar's friend and former lover Robbie Ross, played by Cal Macaninch, enters the room in which Wilde is holed up at The Cadogan with packed suitcases, pleading with him to flea the country before the police arrive, begging him to forsake his ill-judged infatuation with Bosie, and insisting Wilde refrain from generously tipping the servants with the money meant to fund his escape.
In the second half, Everett shows great range with his sensitive and commanding portrayal of a pathetic Wilde, for whom we struggle to have sympathy, living in Naples with Bosie, who flaunts his Italian lover before him, in a scene of unashamed nudity, humour and spite. Almost penniless, Wilde remains self-pitying, yet resigned to his destiny. Despite Robbie Ross pleading with him to give up Bosie – a condition his wife Constance has placed upon him receiving a small monthly allowance (his only income) Wilde refuses – naively trusting Bosie's loyalty in a final act of self-destruction. In turn, the self-centred Bosie, whose mother has written offering him a substantial allowance in exchange for his return to England, unhesitatingly abandons Wilde, attempting to ease his conscience with an elaborate speech declaring his homosexual nature 'just a faze', to which Wilde replies bitterly; referring to Christ's betrayal by Judas.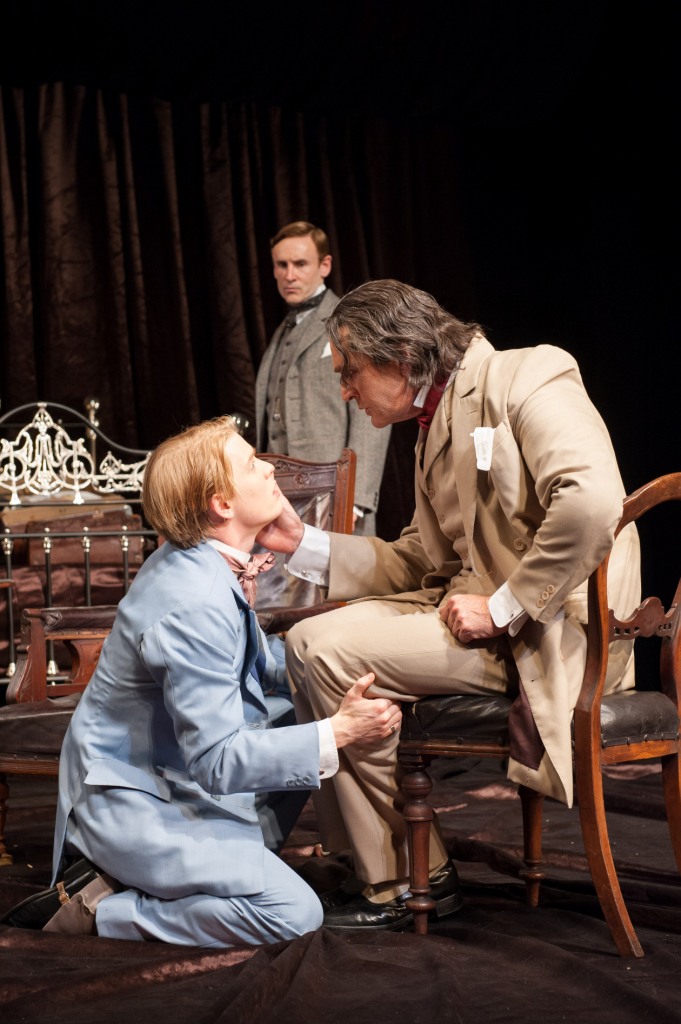 Dale Ferguson puts velvet drapes, bed sheets and props to excellent use in his set design, recreating both a Victorian bedroom and a seedy Italian apartment to perfection. Sue Blane's costumes are memorable, (especially Bosie's effeminate blue suit) and key to the overall look and feel of the production – everything perfectly in-keeping with the image we have already formed, from photographs and the film Wilde, of Oscar wearing a smoking jacket and a linen suit. This production is a triumph due to the creativity and dedication of the entire team – from the cast to the designers. The Judas Kiss is surely destined for West End glory, but above all, stands as a fitting tribute to Hare's work, Wilde, and those who once fought ignorance and bigotry in society.
The Judas Kiss at Hampstead Theatre, Eton Avenue, Swiss Cottage, London NW3 3EU. Booking until Saturday 13th October 2012. Running time: approximately 2 hours 30 minutes including a 20 minute interval. Tickets £15-£29. For more information and tickets visit the website.