Summer's arrival comes with more than the welcome warmth on your arms. Its smells – like rain at the end of a hot day – evoke the season like no other time of year can. I think that's why my culinary July isn't just about foods that taste of summer but also the ones which carry its scent in our memories. So this month I am going crazy for the fruits and flowers of the British summer.
Here's a good fact to start us off. Strawberries – apparently – share a chemical compound with cut grass which means there are similarities in the way both those smells work in our brain. That's not the only reason why it's worth making sure your punnet has a sweet, heady, zingy scent to the berries. That is what will tell you how flavoursome they'll be. Insipid smell and colour will mean insipid taste too. Go for ones which are deeply, glossily red.
A spell in sugar and red or madeira wine enhances the flavour of hulled and halved berries. Pepper, balsamic, mint or roasted hazelnuts each work well too but let's not kid ourselves – cream is really what it's all about. Strawberries left in cream turn it a gorgeous summery pink. Dredge some sugar over and you've got the simplest of treats and one which Dorothy Hartley wanted us to eat "on a green lawn, under shady trees by the river". She was right sixty years ago and she's still right.
That idea of stirring fruits into cream and leaving them for a while is really just a lazy man's fruit fool. Now there's a luxurious and stylish summer dessert. Think Faye Dunaway reclining on a sun-lounger in a big hat and letting one of her high-heels fall lightly to the ground and that's the idea.
Lightness is key to a successful fool. The softened fruit must be folded – not stirred – into the whipped cream and/or custard. Gooseberry fool is the classic, with its distinctive tartness bringing balance to the cream.
Gooseberry Fool (serves 6)
Ingredients
500g gooseberries, washed and with the spiky tops and tails twisted off
3tbsps elderflower cordial
150ml double cream
200ml freshly made custard
Directions:
Heat the gooseberries in a pan with the elderflower cordial just until the berries burst. Don't go further or they'll go to mush and I don't think that is so pleasing. Give the gooseberries a gently press down with a fork and then chill.
Whip the cream until it falls in soft folds.
Carefully fold the gooseberries into the custard and then gently add in the whipped cream.
Chill until you need it and serve in glass dishes.
With sponge fingers alongside if you have the time:
Separate four eggs into two large mixing bowls. Add 125g caster sugar to the four yolks and whisk until thick. Add the zest of half an orange and then – gently – 100g sifted flour. Whisk the four egg whites until stiff and then fold into the flour mixture. Spoon into a piping bag with a 1cm nozzle. Pipe the biscuits approximately 3" long by 1" wide onto trays lined with baking paper. You'll get about 30. Dust the tops with 3tbsps icing sugar in two stages, waiting a few minutes between dustings. This will give the biscuits a nice and crispy top. Bake for 15 minutes at 160C until golden and leave them to cool on their trays.
As a child I loved gooseberries but hated cucumber. I'd do anything to avoid eating it and remember someone asking me why that was the case when cucumber doesn't really taste of anything. How wrong that person was. I would fail hopelessly if I tried to explain what that taste is but I can tell you that – now – I love it. The taste and the smell of a good cucumber is somehow peculiarly refreshing.
So these days I am cucumber a-go-go. I garnish summer martinis with its peel. I dress it with oil, cayenne and a little chilli like Eliza Acton did in the mid-1800s. She also wrote about 'mandram': a diced cucumber mixed with chopped spring onions, the juice of half a lemon, salt, a glass of madeira and 2tsps vinegar. It's a winner as an accompaniment to roasted meats. My favourite cucumber salad (how the 8 year old me would cringe) is to peel the skin off and then carry on with the peeler to achieve thin strips which get mixed with fennel slices and a light dressing. Cucumber and fennel go very well together.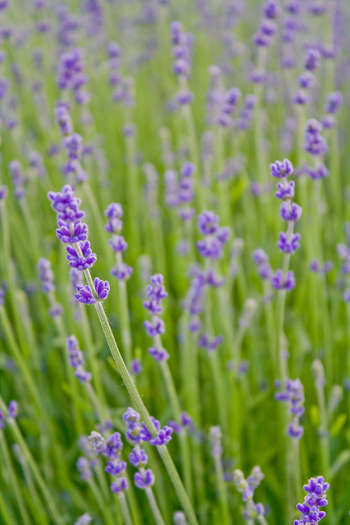 Intense taste and smell are rarely so evident together as in lavender and for that reason you have to go steady with how much of it you use. It's just so darn tempting, though. Especially when there's so much of it about. Even in my little corner of London I can pick a few sprigs not too far from my front door. And given that I know they are pesticide free that is just what I do. Often enough to get the use out of it before the sun dries it out later this month; not so much that the bees get too testy about the competition.
Last summer I was enjoying lavender in sweet dishes like these eclairs made with apricot and lavender curd. This year I'm going savoury. Lavender can be used in most dishes that would otherwise call for rosemary. Roast of lamb with a paste of lavender flowers, lemon and garlic wrapped into it and giving flavour from the inside out is perfect for a summer Sunday.
Lavender and Garlic Roast Lamb
You need the kind of joint that can be rolled up. Supermarkets sometimes sell rolled joints that have their own stuffing in and there are worse things than getting one of those, unrolling it, taking their stuffing out and replacing it with this.
For a joint that will feed four: Pull the flowers off eight lavender heads. Mush those up with the zest of a lemon, two crushed garlic cloves, some pepper, salt and enough olive oil to turn it into a paste. Smear that all over the inside of the meat, pushing it into nooks and crannies. Roll the meat up and wrap string around to hold it together. Roast as you normally would but with the 'open' side of the joint facing upwards. If the join faces down then as it cooks the lavender etc will seep out rather than sending the flavour into the meat. Serve with a lightly dressed beetroot and walnut salad and some green beans.
What all these dishes have in common – and have in common with most of what I cook in July – is that they don't involve much last-minute fiddle-faddle. Summer is the time for simple meals that can be prepared ahead of time and enjoyed when the temperature and the mood is right. Here's hoping for many more weeks of weather to kick our heels off to.