It's all about slow-food in our house. Given a fraction of a chance I can make any meal involve a good few hours of chopping, stirring, and chatting with someone who can help pass the time and the wine. Game season with all its casseroles and sticky braises is ideal for indulging in that kind of laid back, social cooking. But sometimes there is no chance of doing that. Sometimes it's got to be about quick-food – and game season can be pretty handy for that too.
Quick cooking need not mean any compromise on taste, heartiness or pleasure so long as you choose ingredients that are bursting with their flavours rather than needing time to develop them. Young game meat not only fits that bill but actually benefits from the speed. There's simply less time for its tenderness to dry out. It's the older, tougher meats that call for slow immersion in wines and stocks to soften them up.
Duck gets a bad rap for being fatty but that's the skin not the flesh. It's really a very lean meat so again, quick cooking that retains the juicy pinkness of the meat is not only what you can get away with doing because you got home late from work but it's the best way to go. I cook these duck breasts very simply. With, well, nothing at all bar some salt and pepper. That relies on using good quality, flavoursome meat.
Celeriacs – a classic partner to game – are just coming into season now. Simmering in milk rather than water gives a succulence that's helped along by the sweet, softened apple it's mashed with.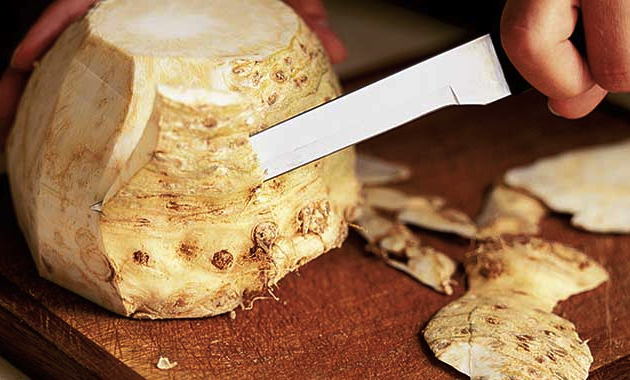 This should all take little more than 30 minutes start to finish but bear in mind that the duck and the mash are on the go at once with precious little downtime. I suggest you delegate wine-opening / table-setting duties.
Duck Breast with Celeriac and Apple Mash – serves 2
2 plump duck breasts with the skin on
approx half a celeriac (250g weight)
500ml semi-skimmed milk
sprig of sage
1-2 decent size eating apples (150g weight)
Preheat the oven to 200C.
1. Peel the celeriac, cut it into chunks, put those into a saucepan and pour overenough milk to cover. Add the sage and simmer for 10 mins.
2. Choose a frying pan that can withstand the heat of the oven. Whilst the celeriac is simmering get that pan good and hot on the stove. No oil, no butter, nothing. Lay the duck breasts into the pan skin-side down and season the underside withsalt and pepper. Give them 2 minutes until the fat starts to run and then turn them over for another two minutes. The pan now goes into the oven for 10 minutes.
3. Next job is to peel, core and quarter the apple. Add it into the celeriac after the initial 10 mins of simmering and then continue gently bubbling until the celeriac and apples are tender – probably another 10 minutes.
4. When the duck's time in the oven is up take the pan out and cover with a lid or foil. Leave it be to let the juices settle whilst you finish the mash: drain the tender apples and celeriac; remove the sage, add some salt and pepper and mash / puree until smooth. You probably won't need to add any butter – the apples give plenty of moistness – but you can if you fancy.
5. Slice the duck breasts when they're on the plates. That way you can't lose any juices that run out. Pour over the juices that are left in the pan and then just help yourselves to the celeriac mash.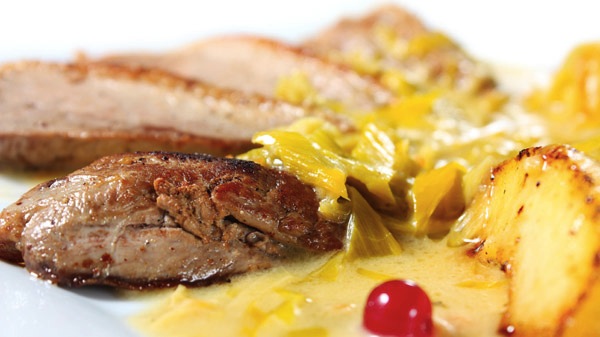 Broccoli, beans or peas would be good served alongside – there should be enough time between steps 3 and 4 to steam them.
A really lovely accompaniment would be red cabbage braised with streaky bacon, star anise and a splosh of red wine – that's going to take a bit longer, though. If you're doing that you might as well go ahead and rub 1/4 tsp crushed juniper berries and the leaves from a couple of sprigs of thyme into the duck breasts anything from 30 mins to a few hours before cooking them.
But I've ambled my way back to slow-food now, haven't I? Damn it.