Since my dinner at La Colombe at Constantia Uitsig, I have been wondering what it was about the experience that made it so special. The food was remarkable, inventive and surprising; the service cheerful, faultless and highly informative; the décor delightfully rustic and contrasting to the complex gastronomy emerging from the kitchen; the setting in South Africa's wine region a mere 40-minute drive from Cape Town was majestic and silencing. But still, there was something else. Something I couldn't quite put my finger on.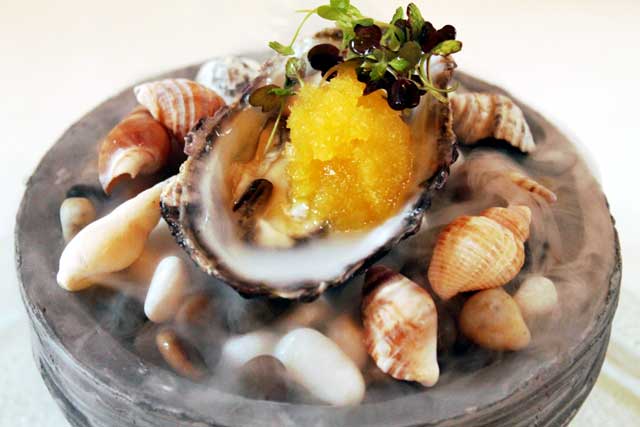 Walking into the French country bistro-inspired dining room, one is taken aback by the relaxed ambience. I had arrived wearing a jacket and tie but immediately felt overdressed; most of my fellow diners looked like they'd just completed a round of golf. The food, however, was certainly dressed to impress. Enter stage right a dish covered in what looked like forest mist, tumbling gently from the plate like a hazy morning on Table Mountain. Enter stage left an explosion of flames that erupted from a central glass showpiece on the table, eliciting oohs and aahs from the surrounding diners.
Executive Chef Scot Kirton took the helm at La Colombe in 2010, the first South African-born chef to hold the position at this coveted restaurant. His blend of classical French cuisine with global accents is a tour de force of gastronomic creativity, demonstrated on the night of our visit through the gourmand tasting menu that followed a theme of elements: water, earth, wind, fire, and incongruously, love. This is no easy task given the esoteric premise. To even attempt such a menu shows confidence and derring-do; to execute it successfully is the mark of a skilled chef at the very top of his game.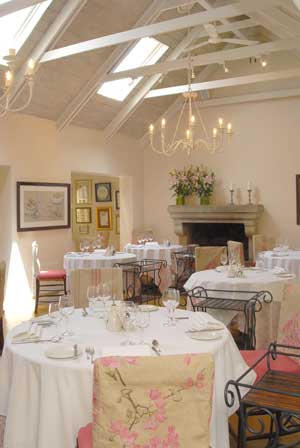 The first dish, 'Water', was presented in a clear bowl on a bed of white pebbles. In the bowl was an 'umami rockpool', featuring a tender miso-cured scallop that one could cut with a spoon, soy caviar that gently popped on the tongue, a plump langoustine bursting with sweetness, pickled shitake, crunchy samphire, fennel and a corn salad; this was paired with a Mullineux Kloof Street Chenin Blanc 2009, a bright palate cleanser of a tipple. Eating this dish transported me to the wild North Pacific coastline of Japan, the Eastern elements forging a delicate harmony with the superb Southern African ingredients. It's the sort of dish you never really want to end.
'Earth' arrived looking like a forest on a plate; a lean pine-smoked springbok tataki, pine moss, a crumbling mushroom soil, asparagus, a vibrant spiced basil puree, pickled daikon, curious mushroom twigs, and 'forest mist'. This outstanding dish was paired with an Idiom Primitivo Zinfandel 2010 providing a sweet contrast to the earthy woodland flavours. Closing my eyes, I could have been strolling through the Tsitsikamma undergrowth, foraging on the moist vegetation in an Eden-like dream.
'Wind' featured sous vide quail breast and an intensely flavoured confit leg, a decadent pan-seared fois gras, pecan crumble, compressed pear, celeriac and quail fricassee, and 'billowing clouds' rolling softly across the plate. These complex cooking techniques are not used for the sake of being showy; there is reason behind this flair and Kirton has given great consideration to how each individual ingredient should be prepared and cooked, not only to enhance its flavour, but to create a marriage of harmony with the other ingredients on the plate; the fundamental theory of haute cuisine.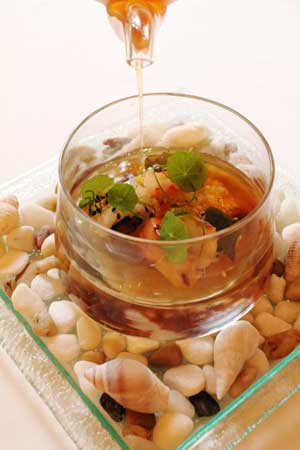 'Fire' was an explosive spectacle of lamb noisette, a tender braised lamb neck, juicy sweetbreads, turnip coal, ash-baked sweet potato, charred aubergine puree, and burning thyme, set alight as it was presented at the table, creating an atmosphere of outdoor dining as if we were sitting around a campfire. There is much scientific evidence that our perception of flavour is directly related to one's emotions, which in turn are triggered by the senses, and surprisingly, taste is not the most important faculty. Colour, texture, appearance, even sound, all play their parts, so one should not dismiss the theatre of fine dining as gimmickry.
'Love', the dessert, was a white chocolate and olive oil tart, a fragrant yoghurt and rose panacotta, rose sorbet, crunchy violet meringues, a zingy lime curd, raspberry and Belle Rose soup; paired with a delicious Constantia Uitsig Red Muscat d'Alexandrie. This elegant, perfumed dish was a concerto of flavours, providing just the right amount of sweetness to satiate the diehard pudding fan without the stodgy excess or overbearing sugar content that many desserts fall foul to.
By the end of the meal, we had laughed and indulged our way through five of the finest courses we'd ever experienced; a detonation of flavours, textures, colours and aromas, complemented by the drama of smoke and fire. Scot Kirton is a serious chef with a strong classical French background, but his food is laced with humour and showmanship and when you combine this with world class ingredients (an amuse bouche of champagne-poached oysters were the finest I've ever slurped) and a very considerate approach to presentation and flavour combinations, you get something quite remarkable: emotive dining, the elusive sixth sense of the culinary world. And even the pouring rain outside upon our departure couldn't dampen our spirits. Our evening at La Colombe delivered something extra and beyond what I had expected; it embodied that je ne sais quoi that makes a great restaurant one of the greatest.
La Colombe at Constantia Uitsig, Spaanschemat River Road, Constantia, Cape Town, South Africa. Tel: + 27 (0) 21 794 6500. Website.
[wzslider]