When one has a room with a view of the Eiffel Tower from every window, an elegant bathroom with Bvlgari products and a bottle of complimentary dessert wine accompanied by two delicious chocolate cupcakes sitting on a table in the corner of the room, one could be forgiven for wondering how on earth the day could possibly get any better. Such were our thoughts after checking in at The Four Seasons George V Hotel in Paris. Fortunately, I had arranged a dinner for us that night at the hotel's restaurant, the acclaimed Le Cinq, a holder of two Michelin stars and rumoured to be one of the most lavish dining experiences in the capital (and in Paris, that's saying a lot); surely that was the only way to round off what had turned out to be a dreamily perfect first day in the City of Love and Lights.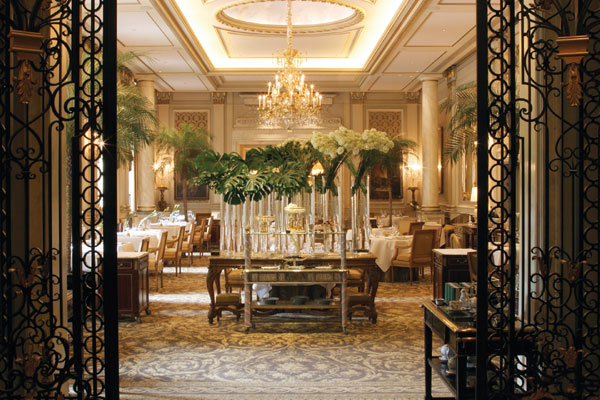 Upon entering the coveted Le Cinq, I was taken by how illustrious and old fashioned it looked. It was rather like dining in a grand French chateau. My lady was eased into her chair like a Queen and given a gilt stool on which to place her clutch bag (I considered requesting a stool for my Berluti wallet, but thought better of it), while the first round of amuse bouche were effortlessly placed before us by the smiling and tactful waiting staff, gliding gracefully around the dining room like ballerinas on a merry-go-round.
One side of the table was covered in yellow rose petals (symbolic of joy), a handful of which I placed in my blazer pocket for posterity (which I promptly forgot about and discovered a week later on our return from Paris, fully pressed and dried). As the sun slowly faded and the dining room took on a romantic glow, the staff buzzed around us, pouring water, offering bread, attending to our every need (if I'd have requested a haircut and shave, I'm pretty sure they'd have obliged), and the important business of studying the menus became our top priority.
The food at Le Cinq is devised by Executive Chef Eric Briffard, who combines classic French haute cuisine with influences from around the world, notably Asia and the Middle East. It's a well constructed affair, designed to please the most discerning of palates. We eventually made our decisions and the sommelier then materialised like a genie from a (wine) bottle to recommend a glass of vin to match each course. With hushed and husky tones, and a coquettish smile, he was something of a male Nigella Lawson – without the dark eyeliner, but undoubtedly with a very fine grasp of all things vinous. His narration was so theatrical that we found it hard to stifle our giggles.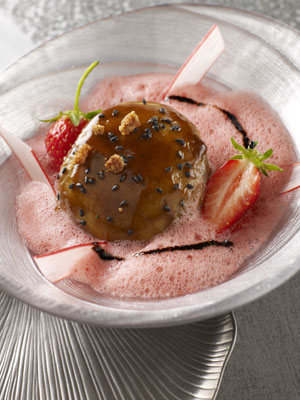 I began this culinary adventure with Britanny spider crab with caviar, fennel blanc manger and a lime crab cake, matched with a glass of delectable chardonnay. The crab was succulent and zingy – somehow more crablike than a crab, and as fresh as a droplet of dew on a cool spring morning in the French Alps; a perfect way to start what would undoubtedly be a rich meal, in every sense of the word (my starter would set you back €95).
Meanwhile, Her Ladyship went straight for the opulent option of a duck foie gras from the Landes region, roasted with Sarawak black pepper, rhubarb, and garden strawberries with elderberry juice. The presentation of this dish wasn't quite as dainty as my crab starter, but it was a classic example of sumptuous French cookery, matched with a glass of fortified wine which delighted my lady, being something of a port enthusiast. It was the sort of dish that Louis XVI would've enjoyed for breakfast.
Continuing the extravagant dining theme, Her Ladyship had plumped for a main course of blue lobster cooked in aromatic salt and lobster juice, with wild fennel ravioli and adorned with orange and Kalamata olives. Being of a more carnivorous nature, I attacked an Allaiton lamb from the Aveyron region, which came as a roasted saddle with sweet peppers, sautéed lamb "Minute" and pepper petals. The lamb arrived pink and once between my snapping jaws, I barely had to chew before the tender flesh dissolved in a pleasing medley of meaty flavours. A good dish for a carnivore who's lost his teeth (thankfully, at the time of writing, I still have all of mine). We swapped forkfuls, as we do at all restaurants – from backstreet cafes to the haughtiest of haute cuisine establishments – and we couldn't decide which of us had the trump dish. They were both excellent and exemplary.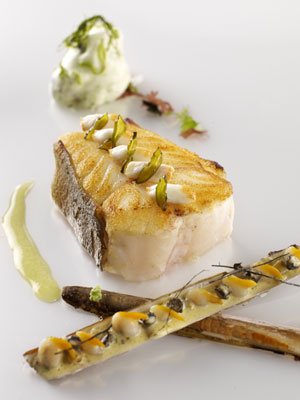 After a palate cleansing citrus fruit sorbet pre-dessert, we shared a small plate of cheese from the hefty trolley that would rival even my favourite cheese counter back in London, accompanied by a very fine port, and we were then eased effortlessly into sweet desserts – the George V-style fraisier "Minute Made" with violet granite and fresh strawberry sorbet for moi. This dish was essentially a harvest of finely chopped strawberries arranged like an architectural marvel on a biscuit base. It was a punch in the face of strawberries if ever I've had one. Ma chérie meanwhile tucked into a delectable chocolate and Earl Grey tea fondant with a pear and ginger sorbet, oozing sweet goodness like a chocolate volcano.
By the time it came to considering coffee and petit fours, we were ready to pass out from overconsumption. I thought I might have to carry Her Ladyship over my shoulder and back to our room, an act I would've secretly enjoyed, being something of a closet Neanderthal with a pocket square, but one which probably would've been uncouth given the elegant venue.
We returned to our delightful 8th floor suite, replete and joyful after such a grand meal, and promptly fell asleep in the darkness, the room lit only by the Eiffel Tower, framed like a painting in the French windows. What a meal. What a way to end the night. It really couldn't get any better…but then it did.
I opened my eyes just before midnight, and excitedly woke my dozing lady – for there before us the Tower had suddenly come alive in a display of sparkling white lights, a nightly occurrence for five minutes every hour. We gazed in awe at the romantic spectacle; to say it had been a memorable evening is an understatement. It had been parfait.
Le Cinq at The Four Seasons Hotel George V, 31 Avenue George V, 75008 Paris, France. Tel: +33 (0) 1 49 52 70 00. Website.