Celebrity chefs are somewhat rare in France, a country that takes its food very seriously. Culinary masters should be slogging it out in the kitchen rather than gracing television screens, many would agree. But if there's one man who manages to combine both with great aplomb, it's Cyril Lignac. Known for his down-to-earth personality and generous, accessible cooking style, Lignac is neither a foul-mouthed Gordon Ramsay nor a suave Jean-Christophe Novelli, rather a Gallic Jamie Oliver. With an affable disposition, Lignac has endeared himself to the French public, popping up regularly on national TV; from the French version of 'Come Dine With Me,' to 'Top Chef' and even 'Vive la Cantine!' a programme that saw Lignac attempt to improve the quality of school dinners (what did I tell you, French Jamie Oliver…).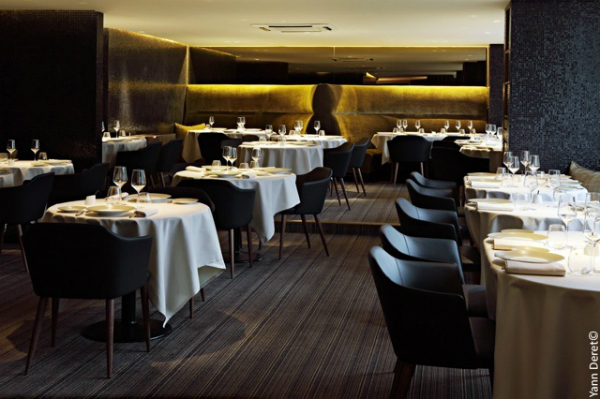 But I digress. Don't be fooled, Lignac's haute gastronomic table, Le Quinzième, is not the hipster hangout du jour or a glitzy over-the-top affair. The restaurant offers classic yet contemporary French cuisine and was awarded a coveted Michelin star in 2012. Tucked away down a quiet street in Paris's residential 15th district, Le Quinzième is off-the-beaten-path and neighbour to a slew of media companies and advertising agencies, which perhaps explains why it is the site of many a business power lunch (and a favourite of the glossy television presenters who work nearby). Few tourists make the trek here, but those who do shall be rewarded.
Beyond Le Quinzième's doors lies an elegant dining room, which on this particular day provides an escape from the dreary Parisian weather. Sleek, modern interiors awash in a palette of muted shades evoke a warm, intimate ambiance. Dim lighting and soft music (from soul warblings to a jazz-lounge version of "Tainted Love") provide the finishing touches, while mosaic wall tiles in pearly noir add a discreet dose of glamour. Slightly elevated curved booths at the far end of the room offer more privacy than the regular tables (although they are well-spaced too), creating an ideal cocoon for a romantic rendezvous.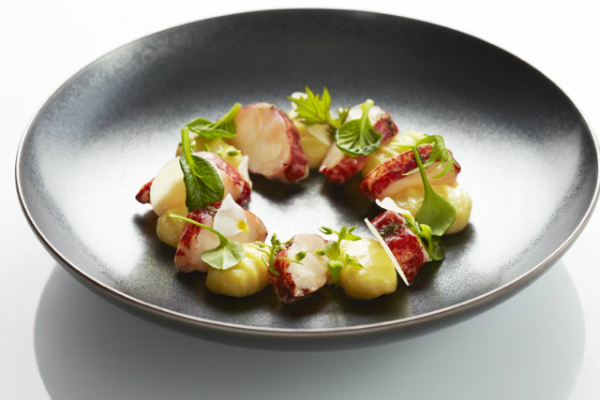 Monsieur and I settle into our booth, which overlooks the entire restaurant and as far as the open kitchen. An aperitif of Veuve Cliquot accompanies a colourful medley of amuse-bouche, laying the foundation for our six-course tasting menu with wine pairing. Among the mini morsels are a parmesan shortbread tuile, clam gratin with Madras curry and Granny Smith cube, Norwegian salmon à la plancha with coconut oil and lime zest, goat cheese mousse and basil coulis, and foie gras "royale" with pea emulsion… Where to begin? Our waiter points to the custom-made, handcrafted Forge de Laguiole knives, inscribed with Lignac's initials. We are to keep the same knife throughout the entire meal – a tradition in Aveyron, the French department from which the star chef hails.
We help ourselves to the bread basket, which is overflowing with wholegrain, olive fougasse and lemon and thyme varieties. Their fresh-out-of the-oven warmth calls for a dollop of homemade butter, smoked with Saint Malo salt flower. The entrée, a generous serving of foie gras, is presented with toasted brioche that is at once fluffy and crisp, and fig jam lightly perfumed with Jamaican pepper. Our waiter doesn't even blink an eye when a case of brioche ration failure forces me to quietly ask for a second slice, despite scoffing and teasing from Monsieur. The next course, sole de Petit Bateau, perfectly cooked in a herb viennoise, is garnished with finely sliced courgette, drizzled in yellow wine sauce and served with a delicious vanilla mash, prompting rapturous sighs. We wash it all down with a fruity and fragrant Viré Clessé Domaine de la Bongran from 2004, a top tipple from the Mâconnais district.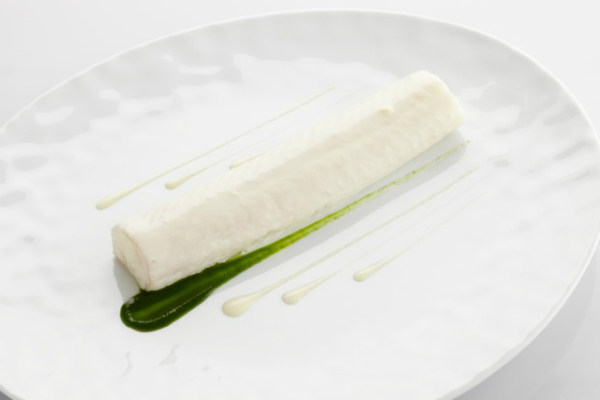 A contender for menu highlight is without a doubt the homard breton; hazelnut butter-roasted lobster with Szechuan green peppercorns, flanked by soft, melt-in-your-mouth potato gnocchi in a decadent lobster cream sauce. A Château du Hureau Saumur Foudre from 2010 rounds out the flavours with its crisp, clean finish. Then comes a palette cleanser of lemon verbena sorbet, just what we need before we tackle the next course, the veau de lait de Corrèze, a Lignac signature. The tender veal, both delicate and bursting with robust flavour, is cooked in salted butter and accompanied by a duo of chanterelle mushrooms and peas in hyssop juice.
There's a saying in French: "avoir les yeux plus grand que le ventre," literally, to have eyes bigger than your stomach, or, roughly translated; "to bite off more than you can chew." Perhaps an appropriate expression after I agree to the (optional) cheese course. The waiters fail to explain (and I fail to ask) that a regular and not a (smaller) tasting menu portion of fromage will be served. Faced with a hunk of Roquefort, figs and grapefruit jam, we struggle to finish, painfully aware that two dessert courses remain.
Yet we soldier on. Our waiter pours us a drop of Tokaji Szamorodni Samuel Tinon from 2004, a spicy, toasty dessert wine that gleams with a magnificent golden hue. It's a worthy companion to the sweet and velvety Fraise Mara des Bois, a strawberry tartare with Bourbon vanilla cream and crispy praline. The second dessert, the Carrément Chocolat with its Tainori chocolate mousse, chocolate cream and cocoa biscuit, is rich but never ventures into sickly sweet territory. Crackling sensations give way to delightful, salty bursts, taking our taste buds by surprise. Which could be a metaphor for Lignac's approach to food; simple, classic dishes given unexpected twists and new dimensions, highlighting a real savoir faire. 
Le Quinzième, 14 rue de Cauchy, 75015 Paris. Tel: 01 45 54 43 43. Website.