There's that moment after dessert when the restaurant owner wheels out a flaming pan of liquor coffee in order to stop anyone dying from a medieval curse. Not familiar with this particular facet of after-dinner entertainment? Well, Locanda dell'Isola Comacina is not your typical restaurant. To begin with, it is on an island in the middle of Lake Como. It serves a single six-course set menu. The menu has not changed since 1947. One of the courses is a bizarre but ingenious carvery whereby a waiter bearing an enormous half wheel of Parmigiano Reggiano staggers over to your table and gouges out a wedge of fantastically piquant, grainy hard cheese for each diner.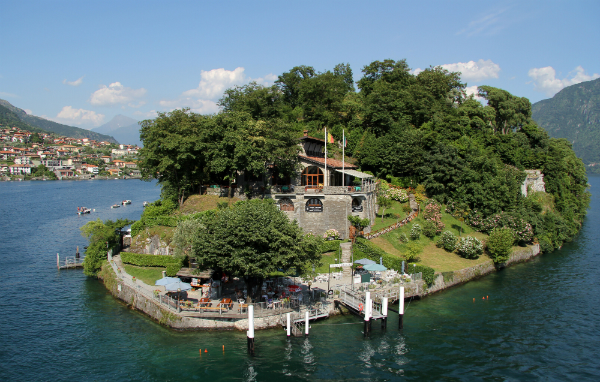 It's a five-minute speedboat ride from the lake's western shore to the tiny, tree-covered island (the return trip costs seven Euros per person, just show up at the harbour in Sala Comacina village). There we were welcomed by Benvenuto, restaurant manager and chief showman. A cheerful, warm, wiry man now in his sixties, one wall of the restaurant is covered in photos of him with various celebrities who've come ashore for supper over the years – there he is beaming next to a pouting, sunglasses-clad Stella McCartney, in another Billy Crystal has his arm flung round him. And then, beaming out from one shot, holding Benvenuto in a head-lock-esque embrace, is the unmistakable, mahogany face of David Hasselhoff. Yes, the Hoff was here. That's the last person you expect to see over your grilled trout on a relaxing sojourn in Lombardy.
Because the process of deliberating over the menu is eradicated, the food starts appearing just minutes after you've taken your seat. For the hopelessly indecisive like me, it's a welcome feature: just eat what you're given. Half a tomato with a slice of lemon on top touched down first. This sounds like it's pushing the rustic simplicity concept a tad too far, but the fat, juicy, deep red Italian tomato is a different beast to the anaemic varieties that end up in our supermarkets, and thus this citrus saturated, oregano sprinkled specimen had ample flavour to make a delicious opening act. Then about a dozen little plates of antipasti – including tracing-paper thin prosciutto (my boyfriend declared it to be one of the best he'd ever eaten and got really quite upset when I refused to break my vegetarianism to try it), and melt-in-the-mouth, balsamic-laced baked onions.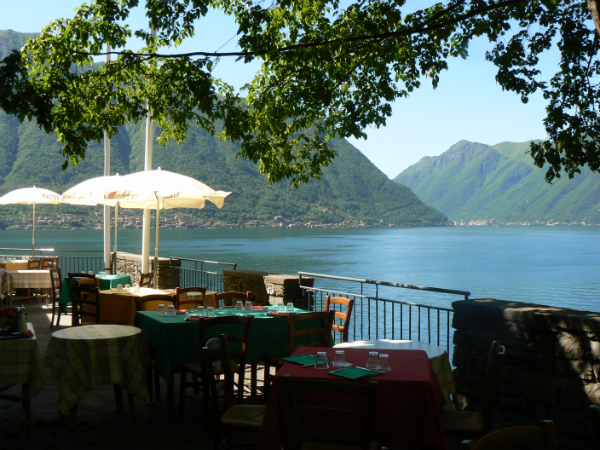 Next a fresh, grilled lake trout is presented on a silver platter, filleted with a hither-to unseen speed and skill, divided between our two plates and dressed in seconds with olive oil, lemon and salt. It comes with and needs no accompaniments; the flavoursome, flaky pink flesh needs no culinary bells and whistles. Everything is washed down with bottles of good, chilled white wine (a second was seamlessly produced when we polished off the first one).
The fish is followed by fried free-range chicken (Benvenuto whips up a spaghetti pomodoro for me) and crisp dressed lettuce. At this point I am very, very full, so much so, I decide it warrants slyly undoing the top button of my jeans. To make room for the cheese 'carvery', you see. I get my chunk of parmesan and tuck in, wishing I'd paced myself a little more with those antipasti. I count off how many courses we've devoured now – one, two, three, four, five – just one to go. I can handle his; I'm not going to fail! Pudding is, thankfully, light and refreshing: fresh sliced peaches with homemade vanilla ice-cream. With characteristic showmanship, the fluffy gelato is scooped straight out of an ice-cream maker at the table and some banana syrup sluiced over the top.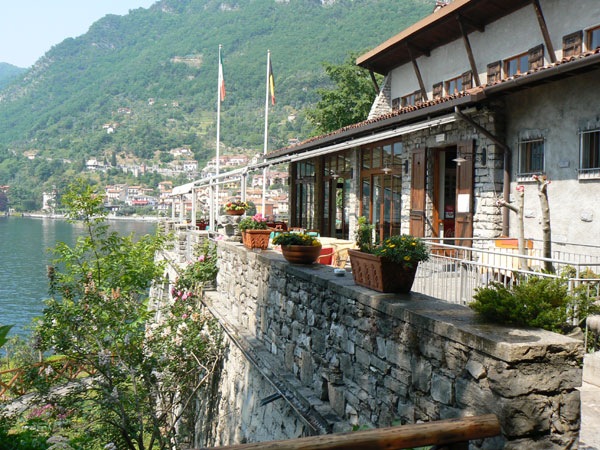 Finally, the lights dim, a bell rings and Benvenuto dons a colourful knitted bobble hat to do his nightly performance. Part history lecture, part magic show, he rattles off the story of the island, while setting fire to lots of brandy. Apparently this is all necessary to offset the pesky curse of an anonymous 12th century poet and, if done each night, any deaths or 'serious accidents' can be averted. How the hat comes into it, however, I'm still not sure.
Heading back to the mainland two hours later and roughly two stone heavier, I feel I've had an unforgettable experience as well as a great feast. The food at Locanda dell'Isola Comacina is simple but beautifully, passionately executed. As is the case with most of the best Italian cooking, it's about fresh, straight-up ingredients that require nothing more than a drizzle of extra virgin olive oil and a few turns of the pepper mill to make everyone collapse in gastronomic ecstasy. Of course, they've also had more than 60 years to get it down to a fine art, which means these are dishes that stand the test of time and will delight everyone – from the Italian family with half a dozen moon-faced bambini to the smartly dressed American couple who had no doubt consumed their fair share of powders and foams in the Michelin cosmos. But this was no frills soul food. Straight up with a wedge of lemon and a lot of charisma. Like mamma used to make. Basta. Finito.
Locanda dell'Isola Comacina, Ossuccio, Lago di Como, Italy. Tel. +39 0344 55 083. Website.