Coupled to the Hospes hotel in Alicante, across an atrium courtyard that doubles up as its outdoor dining area is Monastrell, the signature restaurant of one Maria Jose San Roman, Alicante's greatest culinary export and the world's biggest single proponent of saffron. She calls it the third seasoning, a secret ingredient that "announces the other flavours" – come to think of it, she may have said "enhances" but I may have lost it in translation. Besides, I like the idea of a seasoning 'announcing' other flavours. Outspoken and unabashed, with half a dozen eateries from a burger bar to the table we were sat at, she has monopolised dining in this town.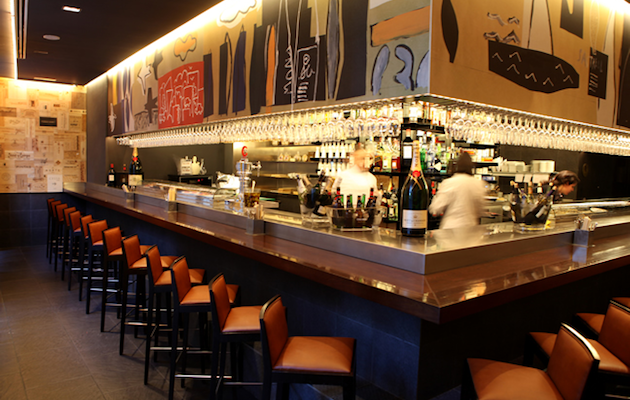 I'd come across the restaurant by chance, noting it as we checked in to its neighbour, the hotel. I enquired after a table with the concierge and, in spite of there being a function there that evening, we were accommodated in the courtyard, grateful for the intermittent breeze it offered against the still, warm evening and more grateful still for the aperitifs we were presented with, as heavy on condensation as they were comforting on the palate.
As we browsed the menu I was unsure why a saucer of green golf balls had been placed on the table until I skewered one with a cocktail stick and it turned out to be an olive. Clearly some tongue-in-cheek twist on the extremes of hors d'oevres, the olive oil that then accompanied the bread was served in a delicate, tiny pipette. I reclined in my chair, took a 9-iron to another olive and was just soaking up the next breeze that fanned its way to us when I was jolted by a voice it carried; a bold, brassy, metaphorical meat cleaver that arrived ahead of its owner, a woman in chef whites who suddenly loomed over us.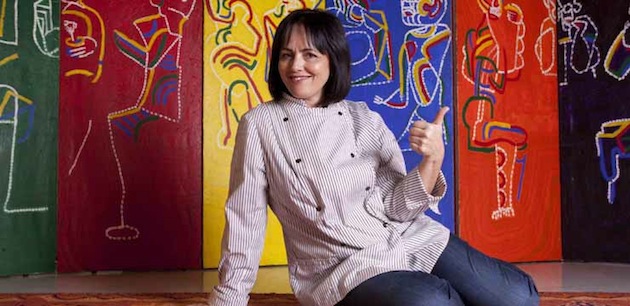 This was Maria Jose herself, who in response to my indecision over what to choose, snatched away the menus and told us we shall have her tasting menu. I didn't want to challenge her on that for the potential consequences, and I'm glad I didn't.
It began with lobster; chunks of claw and tail on a bed of guacamole and dressed with an infusion from its head. If you think guacamole is anything but a Mexican condiment, then you haven't sampled it in this manner. Chilled throughout, its texture and subtlety of spice complimented the lobster perfectly. I sensed a level of perfectionism demanded of Maria Jose evident in the dish as much as the razor sharp lines of her haircut.
As we awaited the second course, inquisitive passers-by beyond the 20′ gates would occasionally stare into the courtyard from the street beyond, doubtless cursing their choice of 'formula' menus in under-rated tapas bars. Our next course were the restaurant's signature 'citrus' sardines.
Though what defined these as citrus, I couldn't tell. They were from the mean streets of the sea, given a tough life and a work out beyond measure. They were sharp, strident with flavour and saltier than a Swedish seaman's sallopettes. But, as befits a fine dining establishment, the yang to their yin was a soft almond milk, and beneath, a bed of diced watermelon and strawberries. An odd combination, you may think, but it worked. These sea dishes were aided ably by an appley Verdejo from the Rueda, a Menganito 2009. This was Spanish dining par excellence.
Next up, an earthy risotto, only it wasn't billed as such, it was listed as 'creamy' rice. It wasn't that either. It was, however, a rice dish given a pepperiness, announced by saffron, and dressed with mushrooms, although capped unnecessarily by two naked prawns. Here now, we were given a Tempranillo from the Duero, working alongside the pepper. It carried us through to the final dish, pork loin dressed with an asparagus cream. Unattractive and seemingly discordant at first but, like Stravinsky's Rite of Spring, it found a harmony I hadn't thought possible. A smattering of 'inflated' lentils – think rice krispies but lentils – didn't work (a token gesture it would seem) but this was pork that was one of the finest I've had.
Unlike traditional multiple-course tasting menus, with single mouthfuls of many offerings, often leaving one wanting more of a single dish, Monastrell's five courses hit just the right balance between variety and bounty of a given dish. While just clipping the edge of capacity, we concluded this tasting session with a meringue – infused with saffron, naturally – only this didn't have the consistency of meringue. Billed as an 'Alaska soufflé' it had the consistency of melted marshmallow, and was even lightly toasted as if briefly blasted by campfire before serving; it capped a bed of orange marmalade ice cream and here the saffron really did announce the orange, they're wonderfully complimentary flavours.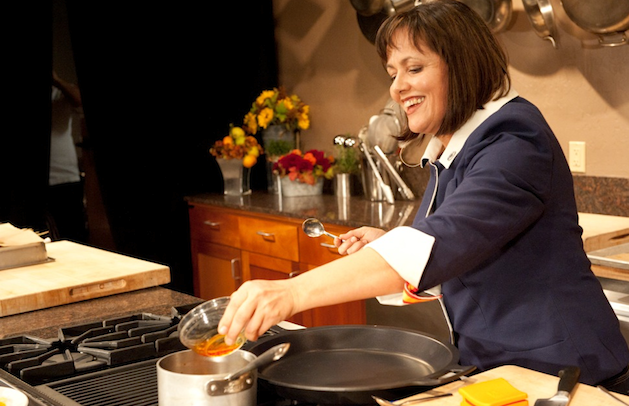 As we closed, capitulating to a surfeit of flavours and food and now misty-eyed from fine wine, any hope to slip away to our suite unnoticed proved foolhardy. We were once again corralled by Maria as she quizzed us at the end, agreeing enthusiastically with our compliments on her flavour combinations – "They do work, don't they!" – in no small part to her mastery of what in the UK could quite easily be termed 'scary spice', such is the caution and trepidation with which we apply it to our own cuisine. And such is her  enthusiasm for this under-used culinary enigma that she has been dubbed "The Saffron Queen". To achieve such nomenclature in a town that can call itself the Saffron capital of the world – sixty companies trade in saffron in Alicante alone, from sorting to packing to distribution – is no mean feat and, as if to qualify this monicker, she raised her sleeve and showed me a tattoo on her forearm, of a saffron flower.
Monastrell, Rafael Altamira 7, Alicante. For more information visit the website.
Saffron San Roman is available to buy in Harrods and Spanish food specialists such as Edeli.