Choosing a dining partner is (almost) as important as choosing where to dine. Atmosphere, setting, location – of course, food – are all considered, but how often do we take into account who we eat with when we come to decide where to eat? I've had meals in fine establishments, long looked-forward to, burnt asunder by an argument or an indifferent companion, dinner becoming mere window-dressing to an evening of diminishment.
Fortunately, on this occasion, I had chosen well. My companion, Lucy, as learned as she is sybaritic, was as much in tune with London's dining scene as I was a keen understudy. It fired my enthusiasm. Fifty minutes before the appointed hour, my phone pinged with a WhatsApp message. 'Evening chap, have you seen the menu at this place? It's bonkers. I can't wait!'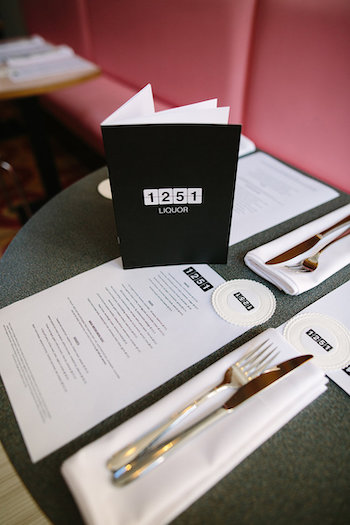 And so, we headed for 12:51.
Along the long trawl that is Upper Street in Islington, beyond the bawdy bars and themed eateries, 12:51 sits almost imperceptibly, a narrow strip tucked into a spare chink along the shopfronts.
Inside, it's as narrow as it looks from the road. A handful of tables, just two abreast, before a bar wedged against the wall halfway down leads to a marginally larger dining area at the back, wrapped up in walls of vinyl covers. Favourites of chef James Cochran, I'm guessing. It's reassuring that that's about all there is by way of decor. The simple table settings, and simple mis-en-scene, suggests efforts are focused on the food.
There's a recommended cocktail of a Bitter Valentine on arrival, but I'm not in the mood for rum (although the rosemary would add an interesting touch) and instead I'm immediately drawn to the 'matured' negroni. Matured how, I wonder? It's premixed, I'm told, and barrel-aged to allow it to infuse. If this is indicative of Cochran's attention to detail, we're in for a treat. Like any dish left for flavours to take hold, it does, curiously, taste like it's been aged, and it goes down far more quickly than it should as we give this 'bonkers' menu due consideration.
It seems vogue these days to break a menu into sources, rather than courses, but there's a reason. As is similarly fashionable, it's a menu that's designed for sharing, and we're offered dishes from the 'garden', 'sea' and 'land' accordingly. Before we dive into these, however, our tastebuds are set to standby with 'snacks'.
Every chef has a signature, and in Cochran's case he's bottled it. As in, put it in bottles. Jars of his Scotch Bonnet Jam stand stacked on a shelf near our table, and it's integral to the first thing that passes our lips as the plates are delivered. True to his Caribbean roots, we have buttermilk jerk spiced chicken, dressed with corn nuts and said jam. Crispy, crunchy, punchy, at once sweet and fiery, Lucy declares it's already her favourite.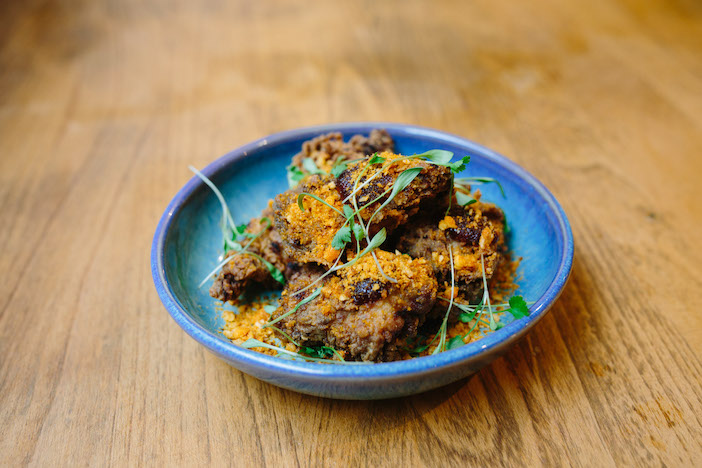 By contrast, the Bombay swede, with a strength of flavour from curry leaves and coriander, feels like we're hopping from one continent to another before we've even started. And even with a choice of just three snacks, we couldn't decide, and had to pass on the pheasant sausage in a – what the hell? – chicken gravy mayonnaise (an oxymoron, surely), so it already warrants another visit.
In the garden section, we must, must elect Cochran's other signature, the mushroom mousse. It's the dish with which he won the Great British Menu in 2018. And what's the joy about this, is that when watching food porn on TV, we can but sit there salivating while John Torode et al have the sensorial pleasure of diving into the triumphant dishes.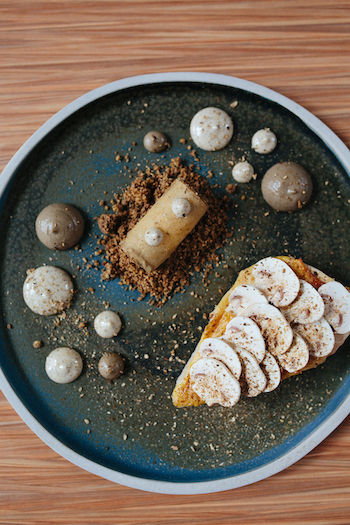 This feels like we've now got our chance, and it's a slap to the tastebuds. Encased in a 'feuille de brick' and propped on a soil with a king oyster marmalade, there are flavours here that should not, in centuries of culinary trial and error, work. But they do. Oh, boy, do they work. Mushrooms and marmalade will be sweeping the nation soon.
We continue with yet more curious but delectable concoctions. Pickled crab with peanuts, pork belly with pickled leek and apple powder, and beef short rib with celeriac and charcoal oil. Dishes which all redefine dining. To compliment such derring-do, we needed something equally matched from the wine list. And while it is a little less adventurous – the whites are light and the reds quite safe – they do the dishes a favour by not upstaging them. A Slovenian Chardonnay gives a bit of weight to the earlier dishes while a subtler Malbec than most dresses the meats nicely.
We eat, we talk, we laugh, we reminisce. And, as we conclude, Lucy asks again for my favourite. "I can't decide," I reply. All of them stand out. Ironically, for all the madness throughout the meal, hers is still the jerk chicken. "You just can't beat the classics," she says, "and I love the jam."
And then, for me, came the magic. My favourite. Having been taken on a culinary kaleidoscope through land and sea, I was curious as to what he'd do with dessert. Blue cheese mousse with walnut bread and celery chutney proved a surprising take on a cheese course, but it was with the rhubarb marshmallow with yogurt sorbet that all my wishes came at once. Tangy, sweet, acidic, piercing, sour, refreshing, moreish, it was agonisingly too small. I was taking tiny morsels at a time to prolong the pleasure. But then one should always leave one's audience wanting more.
Bonkers the menu may be, and my gushing enthusiasm for this culinary inventiveness was certainly aided by my companion's insight, not to mention our putting the world to rights. In three hours of prandial pleasure we talked the measure of everything, not least the menu.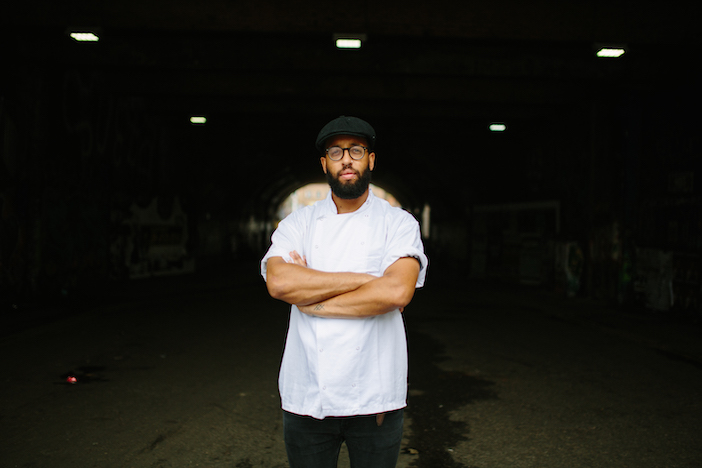 And the name 12:51? No, it's not the address, as I wondered. It's The Strokes' song, from the team's favourite playlist. And there's a lyric that goes, "12:51 is the time my voice found the words I sought. Is it this stage I want?"
It certainly is. I salute you, James Cochran.
12:51, 107 Upper Street, London N1 1QN. For more information and menus, and to back James' Kickstarter plan to introduce Scotch Bonnet Jam to the nation, visit www.1251.co.uk.
Photography by Jessica Jill.