It's a familiar sight as you round Hyde Park Corner; The Lanesborough, an imposing counterpoint to the Duke of Wellington's old pad opposite. As the guests drift in and out, what they're less familiar with is a slightly windswept chap pitching up on his bicycle asking for a parking space. Ushered inside, wheeling the bike through to an empty ballroom, I'm perhaps more surprised than they are, save the hotel cat giving me a look of consternation. At The Lanesborough, evidently, nothing is a problem.
I'm unfashionably early and while the staff are ironing the last of the starch into the tablecloths in the Grill, I content myself in the bar, torn between their 'port' negroni and the martini that appears to come with everything. Mickael, the bar manager, an immaculately groomed and garrulous Frenchman with an astounding knowledge of the history of the building, takes me deftly in his charge and brings over the negroni as my companion, Sophie, sashays in with a wave.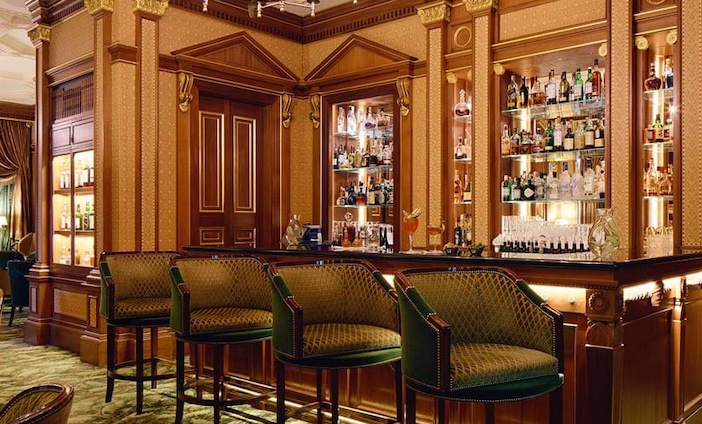 I suggest the martini, "so I can try it", and Mickael gives me a look my mother used to condemn bare-faced cheek, "Do you want to get arrested?!" he barks, but Sophie knows what she wants and orders a whisky sour. I surreptitiously sneak in a sip when Mickael's not looking and it confirms my view that this bar, in all its wood-panelled, portrait-adorning splendour, is one of the capital's finest. The cocktails are as exemplary as the service. Ten minutes later, with perfect timing, Mickael brings over a martini, with everything on the side, be it dirty, Gibson, vesper and a gherkin for good measure. "For the undecided," he quips.
We run far too long over our aperitif, but this is not a problem, naturally, and we're led into the restaurant which, on a fine summer evening, opens up like a Victorian glass house. It wouldn't look out of place in Downton Abbey; it's Palm Court in duck egg blue, crowned by a glass atrium and a pair of imposing chandeliers, bordered by stucco sculptures and a striking range of contemporary art on the walls.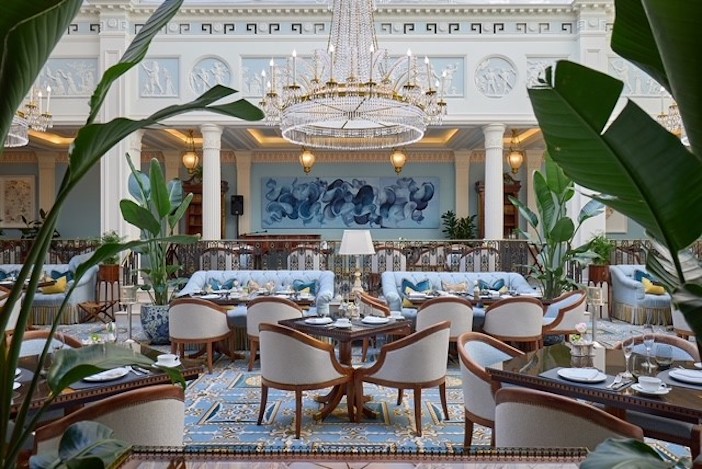 It's the sort of place where waiters replace your napkin with serving utensils, where the atmosphere is but a gentle murmur of conversation, where you can sit adjacent to one another on a sofa. The sommelier, Alex, presents us with a glass of Gusbourne, and we exchange words on English sparkling wine. I even deign to make a recommendation for his cellar, and he politely humours me. We consider the menu.
Shay Cooper may not be a name that rings a bell, but it won't be long. Gaining three AA rosettes at the Endsleigh, he chalked up his first Michelin star at that delightful riverside enclave, the Bingham Riverhouse in Richmond, then brought another to The Goring – which is no mean feat. If you're getting a sense of his repertoire, you won't be disappointed here. This is British fare, done with exceptional flair.
To open the batting, a coronation crab salad with curry sabayon seems the way to go. The curry is delicate, almost undetectable, kissing the crab with a hint of spice. With Mickael out of the room, we trade dishes; the asparagus, too, my second choice, is equally delightful, dressed with a confit egg yolk.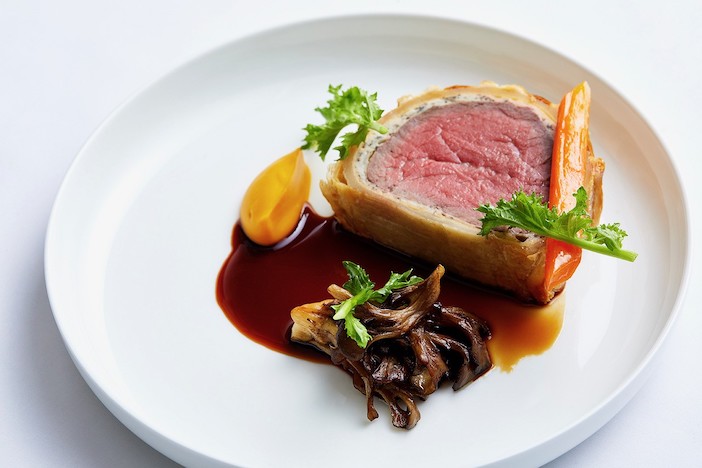 This being a Grill, there was sirloin, halibut and dover sole but, in unison, Sophie and I agree on the shared beef wellington. We were less than a dash from the Duke's old house, after all. It's wheeled in on the trolley and presented on a platter – a dome of burnished golden-brown pastry – before the ends are shorn off and the perfect slice is offered on the plate. It's a dish that, if you know it, can be irksome to get right, but this was faultless. As I admired every mouthful, having agreed we'd be at Alex's behest, he didn't disappoint, popping open a silky, peppery Syrah, keeping the dish centre stage.
The delights kept coming. Dessert maintained Cooper's principles, evoking memories of childhood with a pain perdu of brioche and orange, with which Alex brings a South African muscat, the 2017 Vin de Constance. "It has the memory of fairgrounds," he says, pouring with a flourish, "it's toffee apples and popcorn." He's not wrong. Between the two, I'm practically transported to my 8-year-old self.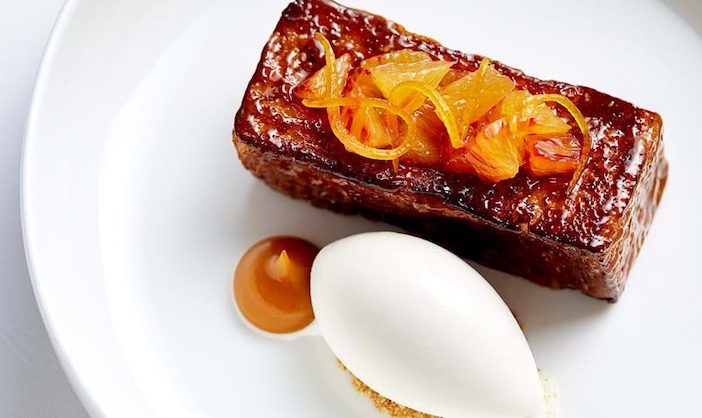 As we conclude, I'd been itching to tour the art on the walls. Part of the hotel's art programme, it's a six-monthly changing exhibition curated by specialists Art Acumen. This, their inaugural run, being based on a botanical theme. As we tour, we catch the eye of our waiter, whose own enthusiasm for the show keeps us in conversation. We'd intended an early supper, but having been enlightened, entertained and enriched, I asked after the time. 'Good heavens, we've been here four hours!' I exclaimed. This was not admonishment, but praise.
Of everything, it's the service at The Lanesborough. A doorman with a cheery smile, a bartender raconteur to rival Peter Ustinov, a chef in Shay Cooper that can express childhood in a simple dessert, a sommelier with a passion for perfection, a waiter like an exhibition curator – and an insouciant cat. Dinner isn't just a meal at the Lanesborough Grill, it's a memory to dine out on for years to come.
The Lanesborough Grill, Hyde Park Corner, London, SW1X 7TA. For more information, bookings, and details of the Art programme and other events, please visit www.oetkercollection.com.