With all the attention currently on the England Ladies' World Cup team going into the semi-finals, you'd be forgiven for not being aware of another significant milestone in the world sporting calendar this weekend.
For the first time in history, London is playing host to a Major League baseball fixture. And not, simply, a friendly to humour us Brits, but a genuine league game, between two of the world's most iconic teams – and longtime divisional rivals – the Boston Red Sox and the New York Yankees.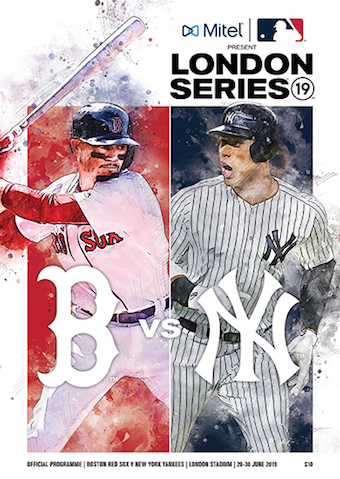 To celebrate this landmark event, the Colony Grill at The Beaumont, in the spirit of friendly rivalry, has turned its traditionally New York-leaning menu towards Boston and is serving up some New England classics.
This being The Beaumont, with its exacting standards, it wasn't simply a case of knocking up some clam chowder – no, sir. In consultation with US-based food and travel writer, Larry Olmsted, the chef and his team travelled to Boston for inspiration, seeking out those venues to research the finest New England had to offer.
Many of Boston's iconic dishes are the subject of their own fierce rivalry and frequent arguments when it comes to recipes, presentation and ingredients, and this menu is the result of exhaustive research.
The menu's signature starter, clam chowder, brings influences from two of Boston's best; Union Oyster House (established in 1836) and Legal Sea Foods. Rich, creamy, with noticeable chunks of potato, it's unctuous and moreish, and with a serving of oyster crackers, transports one instantly from a Mayfair dining room to a Massachusetts marina.
For mains, opinions vary regarding how best to serve a genuine Lobster Roll. Grilled with butter? Do you add chopped celery? And how do you dress it? Here, with so many divisive opinions, The Colony has opted for a lightly toasted brioche and a light touch of mayo. Arriving with little more flourish than a hot dog placed on a plate, I can couch for it being princely among its peers across the pond; it needed no other frills and was the highlight of the meal.
Other dishes include 'scrod', essentially the white fish of the day, originating from Parker's restaurant, one of Boston's oldest. Another old favourite for two centuries, Durgin's, gives us beans on toast. Beans on toast, you cry? In a restaurant in Mayfair? But you'd order these; served stirred in molasses and crispy streaky bacon on toasted sourdough, these are a perfect side. And no self-respecting table in New England would be complete without fried clams. Found all over the region, those served in the Colony are attributed to Woodman's, the original, to a recipe invented by Lawrence 'Chubby' Woodman in 1914.
Wrapping up the meal, the desserts couldn't be more iconic. The official dessert of Massachusetts, Boston Cream Pie, is not, in fact, a pie at all, but a cake – with the texture of madeira cake, sandwiching a creamy filling. And in honour of Boston's Italian immigrant heritage, their second largest ancestry group, and harking from almost every bakery in the city, is the ubiquitous cannoli.
It's testament to the authenticity of the menu, not to mention the attraction of the games this weekend, that there were a lot of American accents in the restaurant last night. Whatever your loyalties, whether to restaurants, dishes or baseball teams, The Colony's menu celebrating this historic event certainly makes for a celebratory evening out. And if you miss this one, the MLB recently announced that the Chicago Cubs and St Louis Cardinals, another pair of long-standing rivals, will be playing a two-game series in London in June 2020.
Perhaps we'll see a menu of Chicago classics in The Colony Grill next year.
The Colony's Grills Boston menu is available through the weekend of 29thand 30thJune. For more information about The Colony Grill, visit www.thebeaumont.com.
For more information about the MLB London series at the London Stadium, visit www.mlb.com.