It has always been my opinion, formed through long experience, that a culture can be judged, and yes I do mean judged, by the quality of its food and the quality of its philosophy. Moreover, that there is a direct and clear link between the two expressions. When it comes to the continent, this theory is well borne out.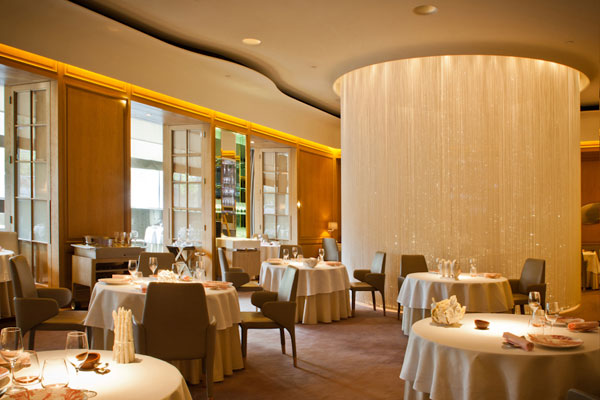 Take Germany, for example. Famous for producing some of the most important philosophers in the world, such as Immanuel Kant. Writing in the 18th century, Kant was primarily concerned with avoiding immoral behaviour. He felt that behaving in an immoral way violated rationality. Morals, Kant argued, were essential to a civilised society, and moreover, because he understood humans as autonomous, and with the ability to choose the moral laws we bind ourselves to, the choice and upholding of these freely-chosen moral laws, made us free. This is all very solid, logical and straightforward talk. Kantian moral philosophy is something most people can grasp – it's not particularly fun, it sure as hell ain't sexy, but it does the job and makes one feel wholesome, 'good' and brings satisfaction.
Much, I would argue, like German food. Pork. Potatoes. Cabbage. Sure, much like Kant's Categorical Imperative, the name he used for his standard of rationality, you can make them into something (sort of) exciting. We all have free will after all. But really? German food is not what you first think of when imagining a sexy, sophisticated evening out. It just isn't. And Kant is not exactly the poster-boy for having a fun time.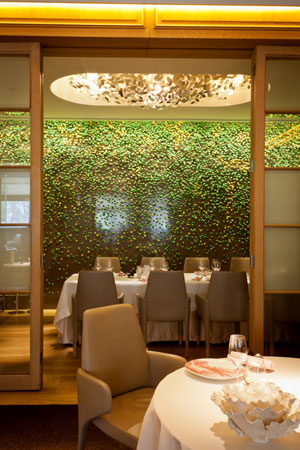 French food, however, well that's a different punnet of berries entirely. Like French philosophy: romantic, exciting, less concerned with 'right action' and much more concerned with right feeling, right expression, passion, obsession…
So it was with no little amount of enthusiasm that I got myself ready to dine at Alain Ducasse at The Dorchester. A long-time fan of French men, um, I mean philosophy and food, my expectations of Ducasse were high. As a philosopher in the French tradition myself, and with my firm belief in the connection between food and philosophy, to say I was excited would be an understatement. As Le Doeuff, arguably one of the most important living philosophers would say, I was living in the 'philosophical imaginary' of an amazing meal. I was 'thinking in images' and these images were bordering on the obscene.
Alain Ducasse at The Dorchester holds 3 Michelin stars. Having eaten in a few 3-star establishments across the world in my time, I knew what to expect. Or at least I thought I did. For a restaurant to achieve 3 stars, everything – and I mean everything – has to be exceptional. The food. The décor. The service.
Perhaps most important to a restaurant being considered successful, a place one would wish to return to, is the service. There is of course no point in a kitchen providing world-class food if the front of house does not match it, and when I am fortunate enough to visit highly celebrated restaurants, it is the quality of service that I notice more than anything.
As soon as we arrived in the beautifully lit and meticulously designed dining room, it felt as if we were the visiting royalty. Pale sliding wooden panels opening out onto a breathtaking view of Hyde Park invited the last of the soft evening light to bathe the contemporary yet elegant interior. Each well-spaced table felt as if it were the very best table in the house. The atmosphere was one of refined opulence. Every single detail had been considered.
My dining companion and I were shown to our seats by the smiling and charming Restaurant Director, Nicolas Defremont, who offered us an aperitif. I sat back in the plushly upholstered chair and surveyed the dining room, our champagne arrived, poured from a Jeroboam (always a novelty) and we were handed the menus.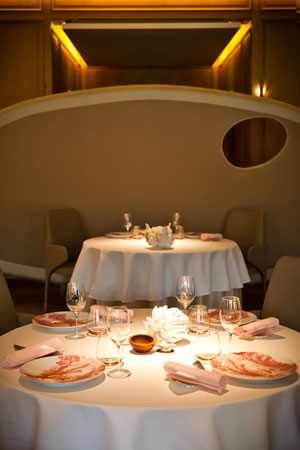 Menus, much like the contents page of continental philosophy books, excite me. I pour over them, eager to see what I have in store. The menus of fine restaurants are especially interesting, and the first place my eyes rush to is the tasting menu. And Alain Ducasse at the Dorchester did not disappoint. I wanted everything on it. And that is rare. As we sipped our champagne and explored the menus, it became clear that we both desired, no, deserved the tasting menu. "Well, it seems a shame not to, frankly. I mean, I think we really ought to give the kitchen an opportunity to display itself fully," my dining companion remarked, eyes still stuck on the menu.
Just as we made the tough choice to experience the work of head chef Jocelyn Herland fully, Nicolas returned, almost imperceptibly, and handed us another menu. "Perhaps you would like to see the special menu we are offering currently. As it is the height of truffle season in France, the head chef has created a menu degustation based upon truffles." Oh dear. I love truffles. And just as we had finally decided upon the tasting menu.
It struck me that French chefs, or at least chefs trained in the French tradition, approach food much like French philosophers approach their work. The ethos is upon the very foundational building blocks – the ingredients. This truffle menu for example: you would never find an eight course menu devoted to truffles in any other type of restaurant. French philosophers can, and have, spent entire books dissecting, describing and exalting one single word. It is the passion, bordering on the obsessive, with foundational concepts that characterises French food and philosophy.
In the end, after discussions with Nicolas, we settled on the tasting menu once again. Primarily as I was keen to try the Ducasse signature dish of 'Saute gourmand' of lobster and truffled chicken quenelles. And this way, I get my truffle fix. To accompany our tasting menu, the sommelier chose for us a flight of wine to match each course.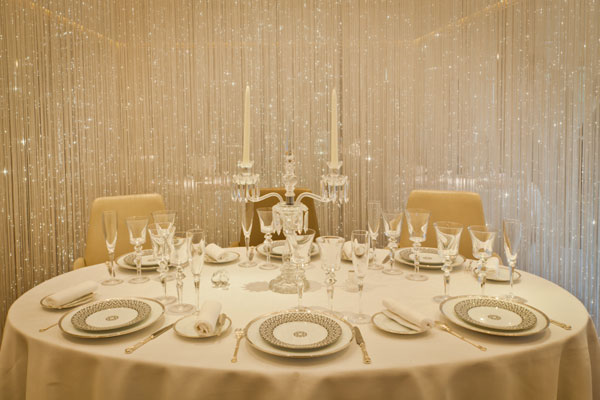 It is no exaggeration to say that every single one of the seven dishes were expertly and faultlessly executed. Of course they were. The simmered halibut, celeriac, shellfish and squid was one of the most aesthetically beautiful dishes I have had the pleasure of enjoying, in every sense, for a very long time. A constellation of tiny seven-pointed stars of squid lay in a rich shellfish bisque. How does one even begin to think about creating tiny seven-pointed stars from squid, let alone execute so many of them, so perfectly? Something so beautiful and so flavoursome could only be found in a restaurant like Alain Ducasse at The Dorchester.
The main course, a saddle of venison, pumpkin, beetroot and quince tasted of the transition from autumn to winter. Earthy yet delicate, substantial yet refined. It was superb. As each course arrived, our wine arrived also; each explained to us in great detail – the grape, the vintage, why it was chosen to pair with the particular course we were enjoying. The combination of food and wine expertise and quality made this a truly incredible experience.
Cheeses arrived, each with an individual accompanying condiment. By this time of course, finishing the food presented to us was almost entirely impossible, but we battled through. The signature dessert, described somewhat cryptically as 'Chocolate and hazelnut biscuit' was so much more than such a title indicated. Paper-thin milk chocolate discs of the finest quality held together a hazelnut mousse, crowned with gold leaf. But the true star of the show and the dish that will bring me back again to Alain Ducasse at The Dorchester was the rum baba. Yes, I know. A rum baba. But this was no ordinary baba. For a start, this rum baba was huge. And arrived, much like a visiting dignitary, on a silver baba dish. I must admit, I did not know there was such a thing as a rum baba dish. Round, and on four perfectly turned silver legs, the rum baba dish's lid opened to reveal its precious contents. Five different rums were presented on a matching silver tray, and the sommelier carefully explained the origin, characteristics and tasting notes of each, handing us the cork to smell before we made our choice.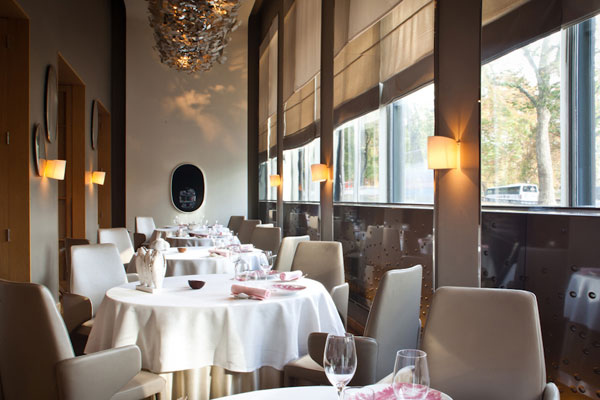 The chosen rum was carefully warmed then poured from another piece of shining silver, over the baba. We sat back, transfixed by the theatre, the grace and the skill with which our dessert was presented. And then somehow, impossibly, we found space to eat. And it was a thing of great delicacy and beauty. Of course.
Finally, now so satiated as to consider the possibility that we may never need to eat ever again, we were offered tisane and coffee. Suddenly, from nowhere, a trolley of silverware and plant-life glided into view. Six silver pots of herbs, their leaves green, glossy and proud swayed before us. I chose the lemongrass and the waiter, wearing white cotton gloves and using shears, carefully snipped some leaves from the lemongrass plant into a silver bowl where he bathed them in spring water from a silver jug.
These leaves were then placed in a silver tea pot where hot water covered them and they were allowed to infuse. The whole experience of 'taking a tisane' was beautiful, and it is these touches that turns an exceptional meal into something truly memorable.
After enquiring about the beautiful crockery used, Nicolas explained how Alain Ducasse at The Dorchester have a wide selection of the most beautiful crockery, glassware and cutlery that guests having private functions can chose from. If I ever marry again (third time lucky, so they say), I know where I shall be holding my reception, and I've already chosen the champagne flutes. Of course it goes without saying, husband number three will need to be French. And not a Kantian.
[cgview id=116 num=8 size=150×150 showtitle=always lightbox=0]