The reputation of French-born (now Monégasque) Alain Ducasse is second only to God if you're French, or The Pope if you're not. With 34 international restaurants boasting a constellation of 20 Michelin stars, Ducasse is the most awarded chef-patron in the world.
Alain Ducasse at The Dorchester and the iconic Le Louis XV at Hôtel de Paris in Monte Carlo are the only two of his establishments to hold three Michelin stars, the highest ranking an individual premises can be given, so it always feels very special to be dining here. Alain Ducasse at The Dorchester was granted the accolade in 2010, three years after opening, and while current executive chef, Jean-Philippe Blondet, has been responsible for upholding their unsurpassed Michelin ranking since 2016, the fact that it is just one of only eight restaurants to be regarded worthy of this distinction in the UK naturally leads diners to have expectations rivalling the most fastidious and demanding Michelin inspector.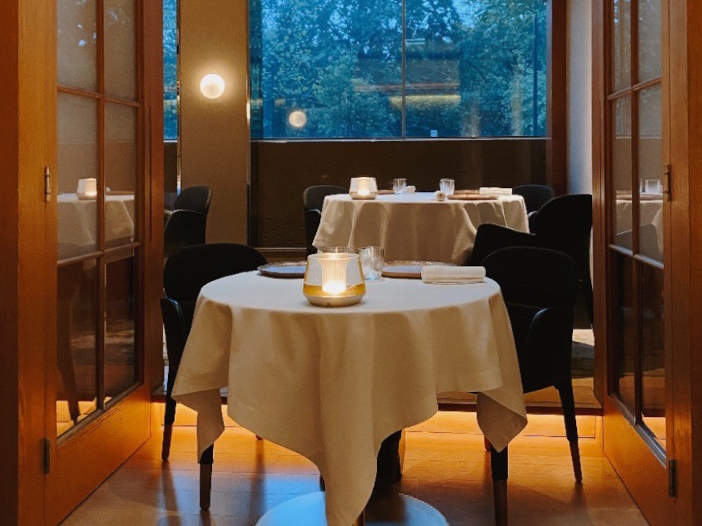 Blondet, who hails from Nice, has worked with Ducasse for almost two decades, having landed his first role as chef de partie at Spoon at Sanderson in London, then getting his first taste of the exacting standards of a three Michelin-starred restaurant when he moved, a couple of years later, to the prestigious Louis XV in Monte Carlo. Ever refining his craft, Blondet progressed to sous chef on transferring to Spoon in Hong Kong where the arduously long working hours were beginning to pay off. How many young chefs would boil their own grandmother in a pot to be called the protégé of Alain Ducasse, I can only imagine. The culinary world certainly began to take note of him when, in 2013, he was offered the enviable opportunity to work at Alain Ducasse at The Dorchester where, in just three years, he was appointed the restaurant's executive chef, a title he has held ever since.
And it's not just a title that means creating Ducasse's own dishes day in, day out; Blondet is permitted a free reign creatively, whilst being respectful of Ducasse's gargantuan culinary legacy and taking enormous pride in upholding his mentor's vision. It's refreshing that Ducasse has, far from resting on his laurels, always looked to the future and trusts his executive chefs to bring something new to the table, to use the word on everyone's lips in the year 2022, 'literally'. Blondet's current seven course tasting menu was far more innovative than I had expected, with a focus on seasonality and bold flavours which borrowed inspiration from a diverse spectrum of cuisines and techniques, whilst surprising and delighting diners in equal measure.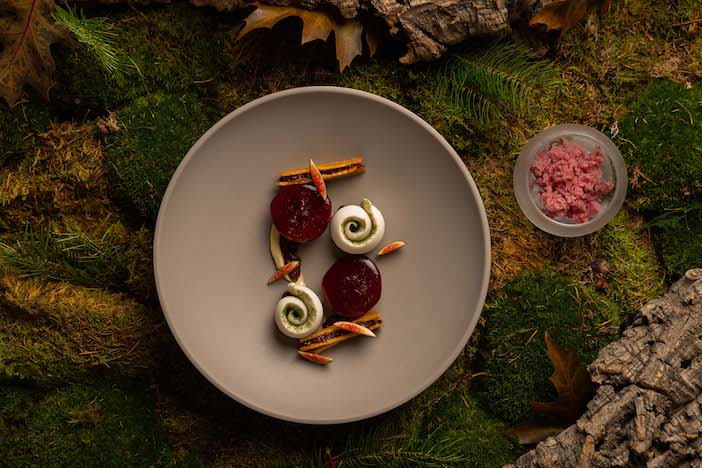 You expect, from an establishment of this level, an array of premium delights to go with the most rarefied wines, but it's admirable that even the simplest ingredients are paraded with as much devotion as the priciest. Blondet's true genius is never more apparent than when he showcases the humbler picks from the kitchen garden, such as the star of the vibrant second course, beetroot, sexily draped over barbecued mackerel, crispy skin and a hint of fresh wasabi and accompanied by a luminously pink beetroot broth with harmonious notes of ginger which celebrates the potent earthiness of organic produce and Ducasse and Blondet's appreciation of all the wonders of the world, whether from soil, field, tree, ocean, river or sky.
That said, the stand-out dishes on the current tasting menu are undeniably decadent, a key component of the first course being Kristal caviar, a lavish spoonful of which is added to the citrus beurre blanc with due pomp and circumstance tableside before being elegantly spooned over the plumpest of hand-dived Scottish scallops, served in the shell and surrounded by a dramatic 'sea mist' of dry ice. The Marie-Antoinette-esque extravagance of Alain Ducasse at The Dorchester continues with the divine third course of the sweetest, most tender lobster medallion and claw with chicken quenelles, Périgord truffle and wonderfully al dente homemade semolina pasta.
It might surprise carnivores to know that Blondet composes every dish around the vegetable rather than the protein, which is why his food so effortlessly translates to vegetarian and vegan menus, ensuring that all diners experience the core components and flavours that make up the tools of this master craftsman's culinary genius. Sustainable and local suppliers have become paramount to the restaurant in an era when Michelin is increasingly mindful of a kitchen's conscientious approach to cookery and the impact on the environment. The restaurant has made a huge leap in moving away from imports since I last dined here, with the majority of the ingredients on the menu sourced from UK producers and Blondet is passionately in synergy with Ducasse's philosophy about creating inventive, zero waste dishes that are, above all, sublime.
With an extensive wine list of over 1,000 bottles, the fact that my husband and I are both non-drinkers offered head sommelier Vicenzo Arnese an unusual pairing challenge. I was disappointed to find that the restaurant doesn't currently offer any non-alcoholic wines or the premium sparkling wine 'Champagne' alternatives now available. Instead, they offer the full range of London-based Jukes, whose range of apple cider vinegar cordials are designed to pair well with food and emulate the complexities of wine. Alas, they are not to my personal taste, so it would be good to see the restaurant offering a wider alcohol-free choice if they are to be aligned with other Michelin-starred restaurants in the capital. In the meantime, the Seedlip-based Virgin Margarita, brought across from the Dorchester's exceptional bar was a thing of beauty which somewhat distracted me from stealing all the miniature deep fried spinach and ricotta ravioli, a signature canapé which proved to be just the first extraordinary bite of many.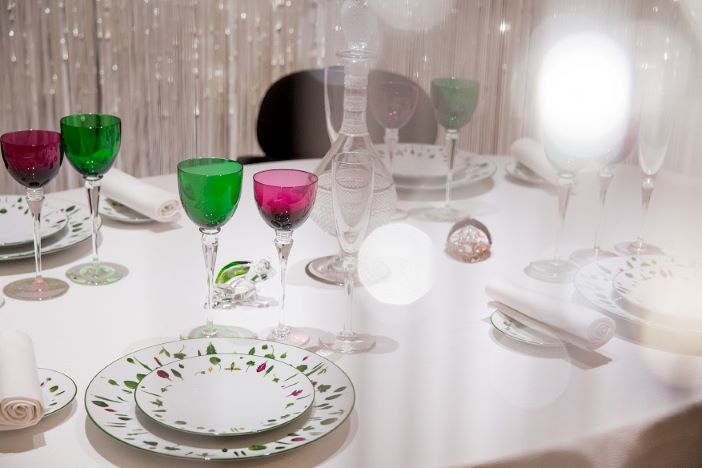 The neutral interiors are the epitome of elegance, with the famous 'Table Lumière', a round table screened by a shimmering curtain of 4,500 shimmering fibre optics, remains the centrepiece of the restaurant and offers a semi-private dining experience for up to seven diners. Starting from £300 for room hire, La Table Lumière is one of the city's most exclusive dining experiences, allowing guests to choose from a stunning collection of Hermès china, Puiforcat silverware and Saint-Louis crystal. This experience can even be purchased as a gift, as a delightful alternative to a luxury Christmas hamper perhaps, and without any washing up. Amusingly, the family party fortunate enough to be enshrouded within the curtain when we dined appeared to forget that, whilst they could not be seen, they could most definitely be heard, with a child loudly asking his parents, 'WHAT is turbot?' I can safely say, he is never likely to forget it after sampling the tasting menu's Cornish turbot dish with swiss chard, girolles, blackcurrant and torrefied hazelnuts, with the vegetable clearly intended as an equal to the fish on this highly original and autumnal dish that married the sea and woodland.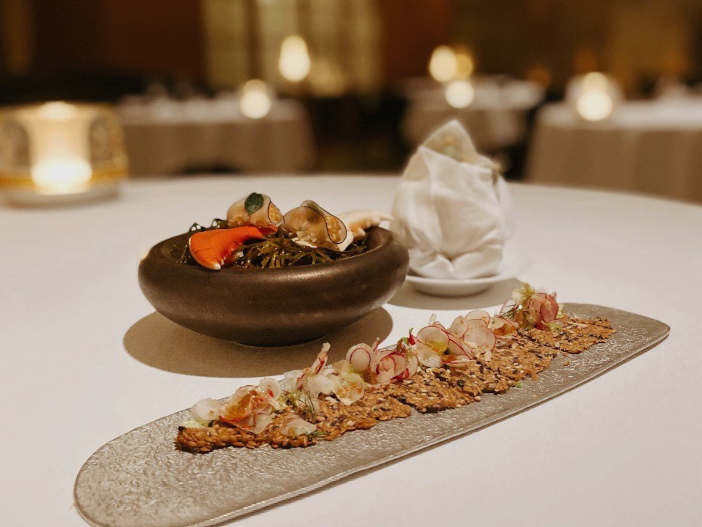 As you would expect from a restaurant of this renown, you know from the moment the front-of-house take your coat to when they present you with a farewell gift of Le Chocolat Alain Ducasse created by pastry chef Douglas Oberson, that every member of staff is exceptionally well-trained and working in perfect lockstep with the kitchen. Far from the stuffy formal service of yesteryear grand dining rooms, every guest, thanks to general manager Christopher Charraudeau (formerly of Gleneagles) is made to feel entirely at ease in the sophisticated surroundings. Much like flying in a first-class airline cabin, it's reassuring to know that those taking care of you are completely in control – a sense visually enhanced by the sleek, flight-attendant-style uniforms of the female colleagues whose silk scarf neckties draw attention to their impeccable poise.
London might offer many fine dining venues, but Alain Ducasse at The Dorchester remains in a league of its own, a stalwart of the city's food scene that for some diners will be a once in a lifetime experience well worth saving for. With the restaurant fully patronised on a Thursday evening, it certainly didn't seem like many customers, coolly selecting their preferred brand from the ever-circulating champagne trolley, have been affected by any financial squeeze, and it was all too easy to momentarily forget the woes of the world. What cost of living crisis?
Alain Ducasse at The Dorchester, Park Lane, London W1K 1QA. The Tasting Menu is priced £210 per head. Closed for lunch. Dinner is served from Tuesday to Saturday 6-9.30pm. For more information and reservations please visit the website.