Thousands of spice-filled test tubes hang precariously above my head like some frantic experiment to preserve the sands of time. Running the gamut from gold to brown, the tubes combine to form an aurelian wave akin to a wind-whipped Sahara. Hammering home the restaurant's experimental theme are its ambitious owners, who happen to be the culinary world's finest father and daughter duo: Juan Mari and Elena Arzak.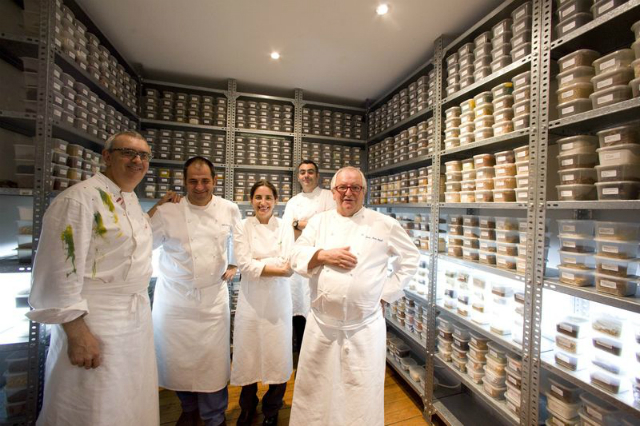 This April, the pair opened their first franchise outside of Spain – Ametsa with Arzak Instruction – a sister site to their eponymous, three Michelin-starred San Sebastián original, Arzak, which has remained in the top 10 of the World's 50 Best Restaurants list for the past seven years, having held onto its three Michelin stars every year since 1989. Third generation Juan Mari is even credited with having inspired Ferran Adrià of El Bulli's signature style.
Housed within The Halkin hotel in Belgravia, Ametsa, which means "dream" in Basque, replaced Nahm; the first Thai restaurant outside of Thailand to gain a Michelin star. As both Juan Mari and Elena are based at Arzak, they have cherry picked Mikel Sorazu, Igor Zalakain and Xabier Gutierrez from the San Sebastian mothership to steer their fledgling venture, where half of the Spanish-dominant workforce are Arzak alumni. Rooted in the traditions of "New Basque" cuisine, Ametsa prides itself on working with locally sourced ingredients, and, in homage to Arzak, dishes are modern in execution offering diners painterly plates brightened by the use of edible flowers.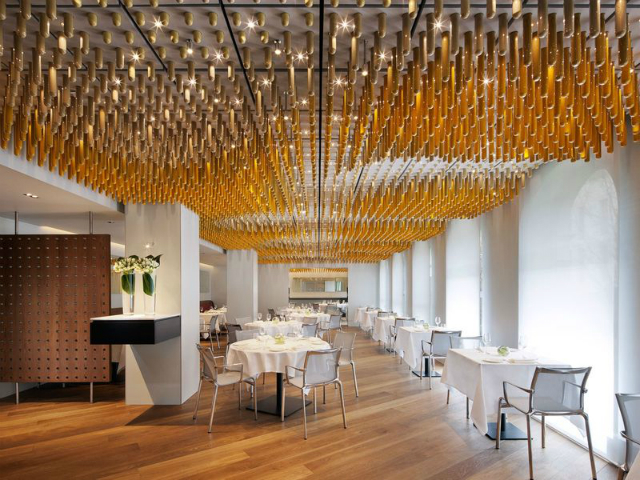 While Ametsa's white walled room is somewhat sterile and austere, I arrived hoping the food would be anything but. Having nursed a whisky sour for an hour while waiting for my first course to arrive, a quintet of bite-sized dishes were eventually brought to the table. Discs of apple dolloped with foie gras charmed my taste buds into submission, while crispy rice cakes cradled a rather flaccid and disappointing fish mousse.
Much more successful were "scorpion fishcakes" encased in an intricately-weaved pastry nest that recalled self-styled "demon chef" Alvin Leung's triumphant Bed & Breakfast dish at Bo London. A miniature steak tartare meanwhile delivered a pleasingly posh version of surf 'n' turf with the addition of a gleaming green oyster leaf on top, which imbued the meat with an iodine freshness further enhanced by the wine pairing – a glass of tangy Tio Pepe En Rama 2012 that sang of Jerez' salty shores.
Having opted for the £145 tasting menu with accompanying wine pairings, my Hispanophile dining companion and I were told by our sommelier, José González Godoy, that all the wines in the line up were Spanish. While some may balk at such blatant nationalism, I liked the idea of a liquid journey through Spain taking in saline Sherries from the south and steely whites from the rain-soaked north. We were in safe hands with Godoy, who I'd last encountered at the opening of Hotel Viura in Rioja, a crazy cube-shaped structure that seems to surge out of the ground, its box-shaped rooms nonchalantly piled on top of each other like building blocks.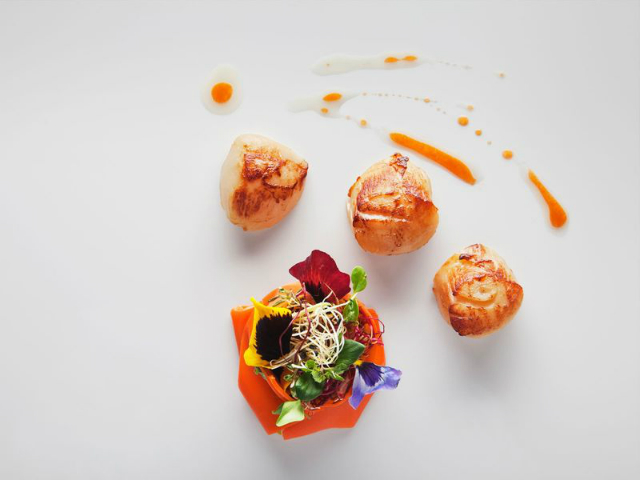 Next up on the food front came a duo of perfectly timed scallops served with the enigmatic sounding "betacarotene", which turned out to be paper-thin folds of carrot artfully encasing a mixed leaf salad like a contortionist goldfish, which Godoy cleverly paired with a zippy, apricot-laced Albariño from Rías Baixas. With too many dishes on the tasting menu to each merit a mention, the creation that lingers longest in the memory was formed of king prawns and sweet corn nestled beneath a mad mass of fried noodles that looked like Juan Mari's overactive brain on a plate. The succulent prawns paired beautifully with the sunshine-yellow corn in an intense union of flavour and texture.
The apogee of the meal was swiftly followed by its nadir in the form of the quixotically titled "From Egg to Chicken". Taking centre stage was a slow cooked hen's egg resting on a bed of chicken skin crumbs. The addition of a clear bouillon made the chicken skin taste like chicken feed in an unpleasant marriage of birth and death, as if we were the chickens with our beaks in a grain trough being force-fed our own eggs.
Restoring my faith both in humanity and Arzak senior and junior's cooking ability was a plate of meaty monkfish served with red onion crafted into gossamer-thin burnt orange folds that dissolved on the tongue like LSD. Tripping on red onion, the meal reached a crescendo with a tiny portion of pink pigeon placed on the plate in two triangular chunks that looked like skinned shark fins. While the pigeon was poetic in its perfection, more exiting were silver stones that exploded in the mouth, coating it with balsamic vinegar. Godoy's decision to pair the pigeon with rich, nutty and lifted Lustau Almacenista Palo Cortado was inspired, and proved the food and wine match of the night, if not the year.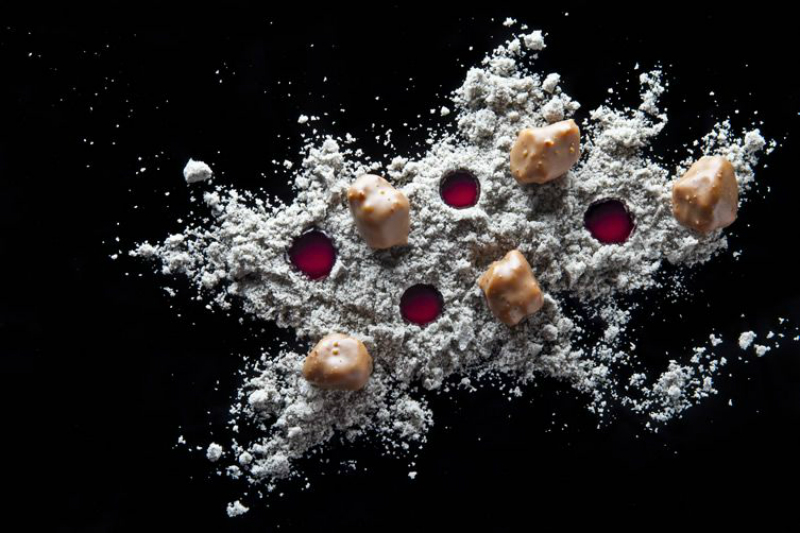 Having been taken to another flavour dimension, the feast fittingly concluded with "Moon Rocks" made from chocolate-coated pebbles of freeze-dried Cointreau flung on a lunar landscape formed of powdered sesame seeds. Echoing the aforementioned balsamic explosion, the rocks' molten orange centres surprised and delighted on biting in – Juan Mari and Elena's final trompe l'oeil trick.
Since opening in April, Ametsa has not been without its critics, who have laid into everything from its sterile surroundings and lofty prices to its overwrought dishes. There is no denying that a night in Ametsa's clutches will leave your wallet weeping, but the majority of the dishes offer a sense of fun and excitement while at the same time delivering on the flavour front. Having only been open a matter of months, the restaurant is still trying to find its feet and establish its own identity independently of Arzak. Whether a butterfly will emerge from the chrysalis remains to be seen.