"Fillet is the French caviar," crisply alliterates Thierry Thomasin, the author of Angelus restaurant. Brightened by big, chopped caper berries, and refined and updated with a diamond topping of foie gras, the hand-cut, rosy tartare indeed benefits from an agile, roe-like feel. Thomasin's house blend Blanc de Pinot Noir Champagne, 'Angelium', brings more intriguing texture to the dish: tiny, tactile, snowy bubbles encapsulating, understatedly, the flavours of soft, pink fleshy fruits. Sitting on mature Claret-coloured Chesterfield banquettes in the cosy, couth dining room, a France-England entente ('Britisserie', if you like), I struggle to recall a lovelier mouthful. That is until I try what Ash has ordered: Thomasin's signature foie gras crème brûlée, adorned with poppy seeds.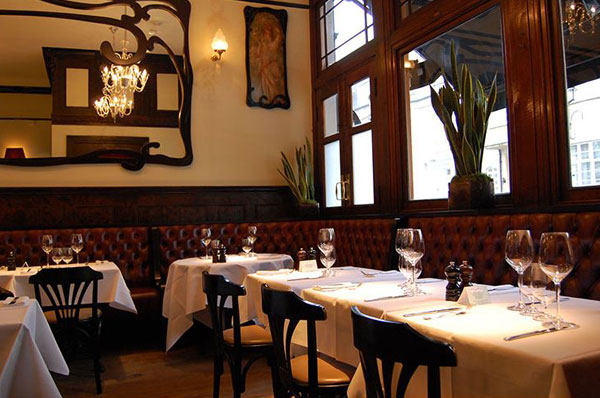 The muscles of the former professional rugby player with Fabien Galthié ripple under his tailored suit (Thomasin's handshake is also iron). He appears omnipresent, bringing joie de vivre to the private party in his flagstone-floored cellar, which overlooks wooden crates of the St. Emilion, directly imported from the château, which inspires the restaurant's name; checking on regular long lunchers ("Ça va?") fitted around the kitchen table in Head Chef Martin Nisbet's domain, which is deliberately not dislocated from stove action, and lined with a small selection of his 700-strong cookery book collection; and maintaining humour in the art deco-meets-Elizabethan dining room: Mucha prints, oak beams and velvet drapes. "I wanted something crazy, like me," says Thomasin of the scheme. "A bit boudoir, a bit Belle Époque where you can imagine men watching women smoking long cigarettes. But I also wanted to keep the building's nature."
Through the corner of my eye, I note Thomasin now serves coffee in concentrically-circled china to a customer in their car. Caffeinated wisps leave the window. Normally the client sips this on Angelus's terrace, but today is too cold. Nonetheless, the routine won't be broken…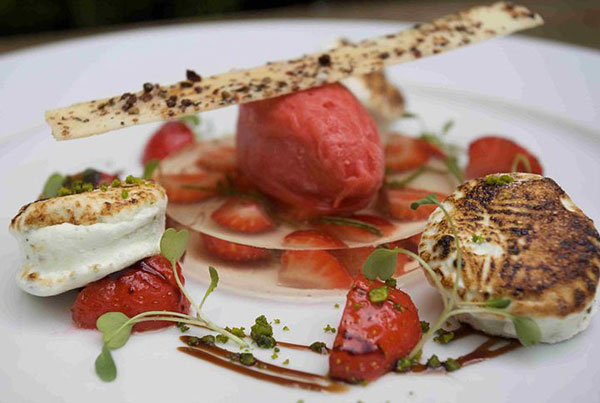 "Voila, deer my dear!" announces Thomasin, now back inside, as he lands, in front of the editor, his nostrils inhaling and eyes wide, highland roe venison, tenderly cooked by touch, with properly hearty, creamy, garlicky mille-feuille of dauphinoise. Meanwhile, my shoulder of lamb, fed from the Welsh salt marshes, sticky, tender and big on flavour, has been patiently cooked for seven hours. Its fibres part at the slightest pat. Perhaps, considering Thomasin's origins, the flecks of mint are a humorous touch? Both dishes are the antithesis of what Thomasin describes as haute cuisine's "bling-bling" vanity over sanity approach to dish design. "If you order lamb, I want you to taste lamb."
A bottle of Minervois (Château Cabezac) is vital and sprightly – a reviving choice from Thomasin, who worked for a decade at Le Gavroche before managing Aubergine for five years after that.
When I ask if the ice cream I am about to order is homemade, Thomasin barks. "No, Monsieur!" He raises a hand to mouth to confer a secret. "We 'ave to be careful. Because M&S closes after 8pm!" Like the simple but effective bread, even delicious on a damp day, they are of course made in the kitchens below, which seem a happy place, being naturally lit, and overlooking the city's last working mews.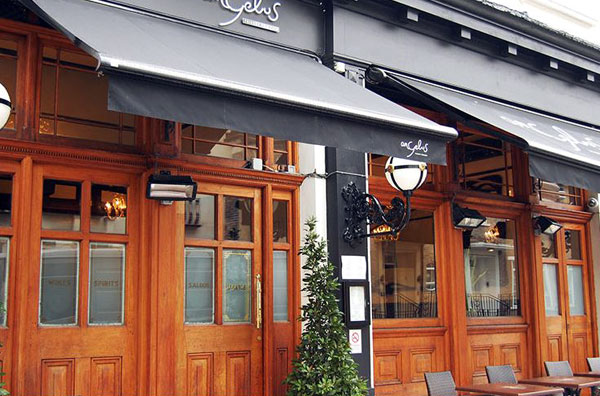 Witty, incisive, with a fine memory for customers' faces, their proclivities, and with nous for psychology, Thomasin has played a typically entertainingly "salesman of pleasure" at another fine lunch. On account of his welcome, Nisbet's sublime cooking, and the welcoming and even slightly stately interior, Angelus remains one of my top London recommendations. But if you're pressed for time, note, Thomasin might allow a takeaway if he likes you…
Angelus, 4 Bathurst Steet, London W2 2SD. Tel. 020 7402 0083. Website.