It was a sad day when Baltic, the fab Eastern European restaurant on Blackfriars Road, closed its doors. In fact, its doors had been closed for quite a while before the announcement was made that this would be permanent. Like so many businesses in the hospitality industry, lockdown had triggered a rethink. It had been a favourite of mine. Not only did I enjoy their main lunch/dinner menu, it was a place you could drop into for blinis and a glass of fizz. A pretty unique kind of a place really.
So could the new restaurant that replaced Baltic find its way into my heart, too? After my first visit there I would say there was a very good chance. For a start, they have kept the same layout. This, if you haven't been there, might sound a bit odd – surely you have a major revamp when you open a new restaurant? But Baltic – and now Antillean – have one of the most unusual restaurant premises in London. You enter off a major thoroughfare into a long, moodily lit bar. So far, so unexceptional. Then the ground falls away from you and the ceiling soars and you find yourself in a vast barn with high wooden beams below the pitched roof. It is filled with light and it always comes as a surprise.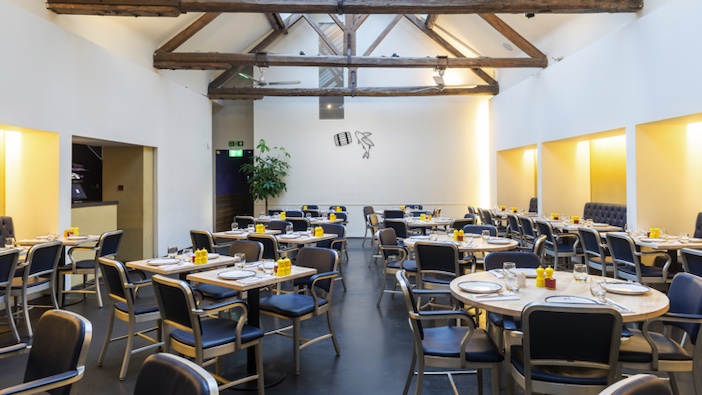 The surprises don't end there. West Indian restaurants in London are, let's be blunt here, generally pretty down market. To say that Antillean is a cut above is to put it very mildly. The food is as stylish as the setting and Chef Patron, Michael Hanbury, has drawn on the many different influences on Caribbean cooking – French, African, Spanish, Indian, Dutch, Chinese – to create a really colourful, innovative menu. There is, in fact, a whole range of menus from the "Express" and pre-theatre (you're practically next door to the Young Vic) which come as prix fixes, as well as the main a la carte menu.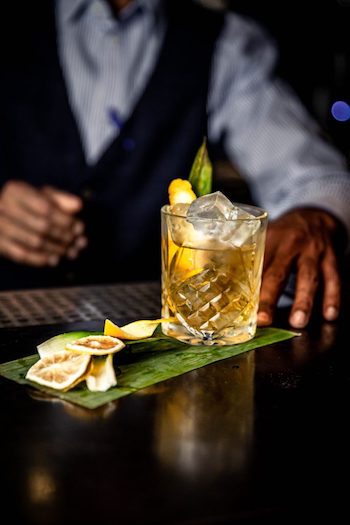 They also have their signature menu – in essence a tasting menu – where instead of the usual flight of wines you can have a rum pairing, a different shot with each course. Given there are five courses, I chickened out of that but, to start with, the Major did have a brilliant Windward Old Fashioned (Plantation pineapple rum, coconut liqueur) while I had Big Bird Delivery (Bulleit rye whisky, Cynar, the Bitter Truth Pimento Dram, lemon, Orgeat & Rooibos Tea Syrup) – somehow floral without being sweet. Next time I must try the irresistibly named "Water is for Fish, Man".
The signature menu, though, was a must. Hanbury's approach (on all the menus) is to go for tapas-style sharing. While you're thinking about what's on the menu, a glass of Champagne arrives. This is not, though, to give you time to choose your dishes – you just get everything. So, to start with, there's an amuse bouche of sardines on hard-dough toasted bread with a chilly mayo and herb-lime vinaigrette and this is a big taste – full of all kinds of flavours to make the palate dance and a suitable preparation for what is to come.
Next up is the Ceviche, Mojito-cured grouper with mint, lime and rum (that rum gets in everywhere) that is a perfumed delight. Then three small plates: mackerel escovitch; chicken skewers with tomato and mango salsita; and a grilled octopus dish that was succulent and full of flavour – as far as you can possibly get from rubbery calamari.
After a palate cleansing sorbet, you get the large plates. However, this is not one of those tasting menus where you start to lose the will to live as you struggle to get through it. Even the large plates are tasting size, delicious bites of (in this case) flying fish, cou-cou, plantain; Roast Achiote tamarind chicken (with rice and peas – they finally made their appearance); and braised oxtail with sweet potato puree.
Finally, the desserts: plantain tarte tatin; chocolate torte with passionfruit and mango; a truly wonderful and very gingery carrot cake with pineapple; and Guinness punch ice cream. It all came at just the right pace with plenty of explanation (did I mention that the staff are absolutely charming)?
So, yes, I think I can safely say Antillean is going to be a favourite. Next time, I think I'll try that laid-back weekend brunch (with DJ and Caribbean jazz saxophonist). Can this place possibly get more chilled?
Antillean, 74 Blackfriars Road, London SE1 8HA. For more information, and bookings, please visit www.antillean.co.uk.