It's been a tough year – you don't need me to tell you that – and now the autumn chill is here, my friend Melanie and I were looking forward to a great big helping of Scandi hygge (you probably don't need me to tell you this either but for those of you who don't know, hygge is the Danish word for a general feeling of warmth, cosiness and safety). Having reported on sustainable food in Sweden and experienced a Finnish foodie foray for this very publication, I was expecting quality ingredients (tick), bold and unusual flavour combinations (tick) and hygge-style cosiness (half a tick).
This is Scandinavia by way of Manhattan. While no expense has been spared on the acres of warm wood, the huge windows add grandeur and the oversized chandeliers lend glamour, no attempt has been made to create cosiness or intimacy. Instead, it's a place to see and be seen. Aquavit London is the more casual offspring of New York-based Aquavit, which opened in 1987 and where chef Marcus Samuelsson made his name. The mothership garnered two Michelin stars and its London child gained one within a year of opening in 2017.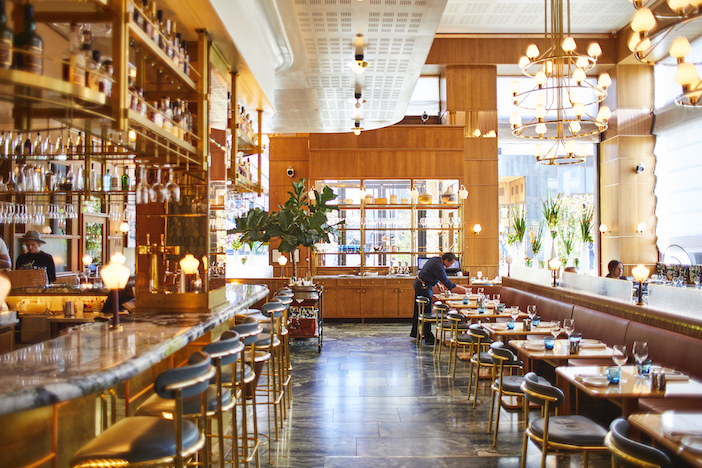 Service, from staff in Filippa K uniforms, is friendly, efficient and unobtrusive. These being Covid times, they wear masks and the woman on reception lent me her iPad to view the menu because I couldn't get the app on my phone (no paper menus here). The sommelier, Zio, was excellent. We presented him with quite a conundrum: could he recommend a wine that would work with both cod and beef? From an extensive list, he selected Albillo Real, Las Moradas de San Martín, 2017, from the slopes outside Madrid. Wait for it to warm up slightly, he advised, and the peach and vanilla notes will be more pronounced. He was right, and it was a spot-on match for our main dishes.
As we perused the menu (Melanie on her phone, me on the iPad) and played with the Georg Jensen cutlery, three kinds of beautiful homemade bread and butter arrived, the latter as light as air and churned with flecks of seaweed. There's a smorgasbord (small dishes), with choices including herring with mustard, dill and lingonberry, and gravlax with mustard and dill sauce.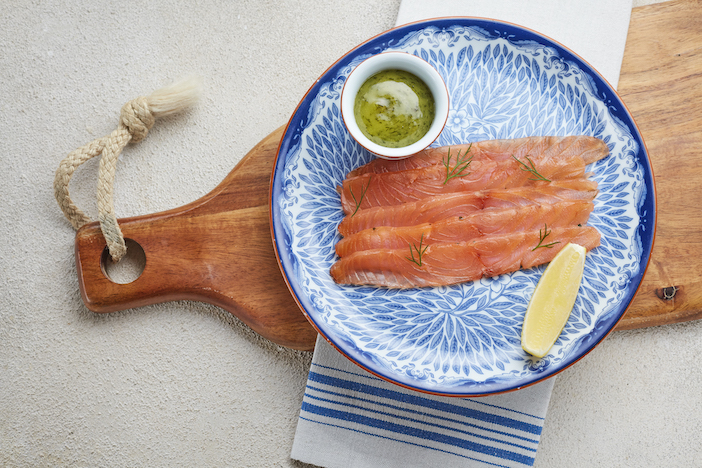 Instead, we went for starters. Melanie ordered the langoustine bao bun, with seaweed, pickles and coleslaw. Excellent choice – if you go to Aquavit London, this is the starter to choose, with its sweet and sour flavours and powder-soft bun. I chose the generous Nordic salad with hot smoked salmon, shrimps, pickles, lettuce and rye.
The main courses, I'm afraid, were less impressive. Melanie's beef Rydberg with caramelised onion, horseradish cream and confit egg yolk was possibly not the best way to cook a piece of fillet steak, cut into smaller pieces and although flavoursome just the palatable side of tough. It arrived with cubed, fried potatoes that were a tad too oily. Comfort food that didn't quite comfort. My Icelandic cod with hayselden potato, sea herbs, roe and smoked beurre blanc was good, but the charred hispi cabbage with seeds recommended by the waiter was near impossible to cut so we could share and a bit school dinnerish. The Jansson's temptation, another potato dish (we were carbing up for winter), this one with cream and anchovies, for some reason came with breadcrumbs but the texture and flavour, although more oniony than usual, was moreish. The most hygge part of the meal so far.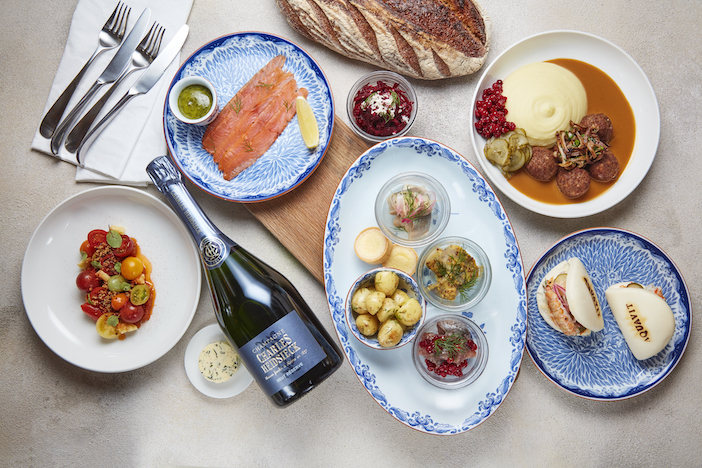 Along with the starters, the desserts were a triumph. The strawberry and aquavit pavlova was sweet, creamy and refreshing, and the apple and lingonberry tart with caramelised Cornish clotted cream and ice cream was perfectly formed and flavoured, too.
The moral here, we decided, is to listen to the sommelier, enjoy the starters and desserts, but choose your main dishes carefully, perhaps sticking to the fish. We noted that other diners ordered less expensive main courses, such as the salmon burger and classic meatballs from the set lunch menu (we chose à la carte), which certainly looked good.
Before we knew it, we'd spent almost three hours here, and thought we'd linger a little longer with a good coffee. Perhaps, despite the Manhattan take on Swedish cuisine and the big, open setting, we felt the hygge after all. Or was it the results of the sommelier's excellent recommendation?
Aquavit London, St James's Market, 1 Carlton Street, London SW1Y 4QQ. For more information and reservations please visit www.aquavitrestaurants.com.