"It's your birthday?" Pachry decried. "Then we shall go to Twickenham!"
I was touched by his thoughtfulness, our erstwhile Sanskrit scribe was not known for his sentimentality.
"Rahnam," I replied, nearly welling, "you're taking me to a rugby game? How kind."
"I have no idea what you mean" he said with indignation, "I am taking you for a curry, at one of my new favourites."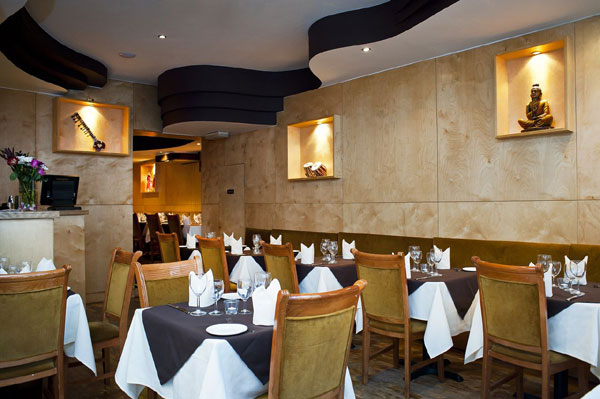 Later that evening, having given my excuses about pressing deadlines to Mrs L and insisting any real celebration would take place that weekend, we were in a taxi humming our way through West London. Pachry was silent for most of the journey, his hands folded over the loop of his umbrella, his eyes fixed out of the window. In spite of the lack of conversation, I resisted temptation to scroll through my phone for want of appearing rude. Alighting from the cab, the air was crisp in the last of the light following the day's deluge.
"Here we are!" he proclaimed in triumph.
I looked up, across the road, where a gaudy red and gold eatery spoke of overstated and unfounded ostentation.
"Gurkha Kitchen," I read the sign, "I had no idea you were Nepalese."
"Not there," he scoffed, and pointed his brolly to the smaller establishment next door, "there!"
By contrast, Atithi looked far more inviting. A cream-coloured facade surrounded an almost floor to ceiling window through which a further indiscernible enclave inside hinted at hidden pleasures. Pachry visibly brightened, and quickened his step across the street, the traffic bleating in protest as he interrupted them.
Once inside, Atithi looked even smaller, with room for barely half a dozen tables. It was cosy, certainly. A man in a suit sprung into life on Pachry's entrance and bundled over, they clasped each other at the shoulders and gunned enthusiastic greetings before we were ushered over to a small table.
"He's the owner," Pachry explained, as we sat down.
"Have you been friends long?" I enquired.
"No, I've never met him," he said, and picked up the menu.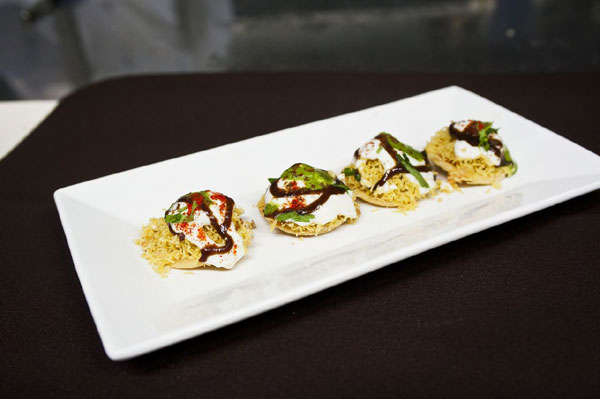 I looked about me to get a measure of the place. Popular it certainly was; we were early for dinner and nearly every table was full, some even looked as if they were finishing already. A couple opposite – he with a handlebar moustache, she with hair like a pineapple – were getting their bill, beside them a lone diner ate without taking his eyes off his laptop. Evidently people didn't stand on ceremony here. The scuffed stripped-wood flooring gave the place a lived-in feel, the ceiling had been enhanced with moulded plywood contours so that it looked like an upside down Ordnance Survey map…and there was something about the decor I couldn't put my finger on. Then I realised I was leaning against the wall and it, too, was made out of veneered birchwood panels. The entire interior had been encased in plywood, cocooning us within.
The owner joined us again, pouring chilled Viognier into our glasses and, once more, engaged Pachry in their home tongue, peppering each other with questions as they worked through the menu. He beckoned a waiter over, gave him further instruction and the two then moved off.
"I've taken the liberty of ordering for us," Pachry told me.
"Fine," I replied, "I could eat anything, I'm famished."
"We shall start with Sev Puri and Aloo Tikki Chaat, move on to Prawn Molee and Murgh Methiwala and conclude with some Kulfi."
"It sounds delightful, Rahnam," I said earnestly.
He dismissed my platitudes and continued, his native intonation adding a certain weighty authenticity to his explanation, "The chef, Krishnapal Negi, is ex-BIB Gourmand Michelin-awarded. He's one of the finest and most highly-trained Indian chefs working in the UK today, with over 25 years of experience, including significant instruction with the prestigious Oberoi hotel group…" Credentials indeed, I thought. "He also owns Swagat," Pachry continued, "in Richmond, which is another borough not far from here."
"Thanks, Rahnam, I'm aware of where Richmond is."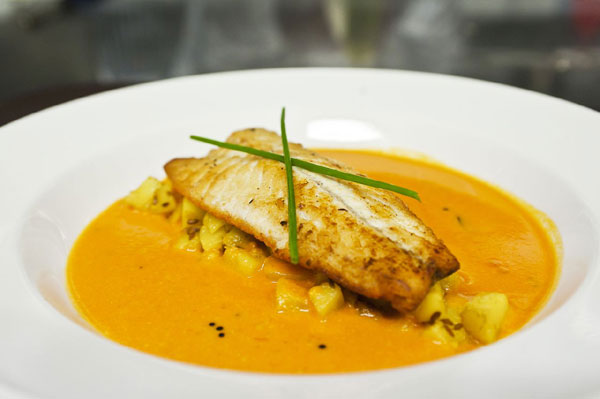 Soon after, the waiter returned and placed two dishes in front of us. "Sev Puri," Rahnam explained, "are small biscuits with potatoes, sweet yoghurt and chutneys, and topped with crumbled baked gramflour straws…and this is the Aloo Tikki Chaat."
I recognised the word 'aloo'; "Potato-something or other, isn't it?"
"That something or other is chickpeas and tamarind chutney, " Pachry chided back at me."
"Looks like a bakewell tart," I joked.
"The appearance," Pachry rebuked, "is Negi's signature. He takes traditional dishes and gives them a contemporary twist."
I was surprised to find it cold. It was intentional, I'm sure, but still slightly at odds with the delicate spiciness of the dish.
I recharged our glasses. "Good wine this, don't you think, old bean?"
"The Viognier is, indeed, excellent," Pachry replied, "a fine accompaniment to your birthday celebrations."
"Indeed," I smirked. I did enjoy his company.
"Ah, the main courses!" Pachry declared as the waiter wheeled over a small trolley. The owner, once again on hand to host, assisted in placing the dishes on the table.
"Gentlemen," he said, "Chef Negi would like you to try one of our house specialities, the Gilafi Handi, lamb marinated in garlic, chilli and mint and cooked using the 'dum' method…enjoy!" he said with a flourish and parted company.
The dish had what looked like a pastry crust covering the tandoor pot.
"So it's essentially a lamb pie," I suggested.
"For the love of Shiva," Pachry intoned, "your ignorance astounds me. Dum is a word I would have thought even you to be familiar with but, in this case, it is a traditional Northern Indian method of cookery, the pastry seal steams the meat and traps the flavours. It is unlike any pie you will ever taste," he gruffed, and speared the pastry with his spoon.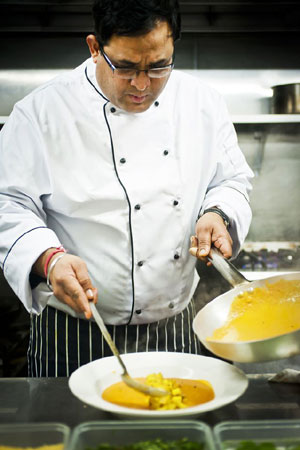 The bank of dishes on offer represented a splendid repast. As well as the lamb pie, there were prawns in a curried coconut sauce – a little thin, admittedly, but delightful, touched as it was with mustard seeds, and a classic chicken tikka but given a spin with fenugreek and cumin. Accompanied with naans, various rices and vegetables, we tucked in. As diminutive as Gandhi that Pachry may appear, his appetite certainly belies his stature. He tackled this spread with an industrial vigour that would have put a rugby team through its paces.
"Now, dessert," he proclaimed, dabbing the creases of his mouth, as a phalanx of waiters cleared the debris.
"You're still hungry?" I couldn't believe what I was hearing, and I noticed a firm bulge below his sternum like a predatory bird's distended crop.
"It's not a matter of being hungry, my friend," he said, "it's about the pleasure of the meal. We shall have some delicate pistachio kulfi, as a digestatory offering…and some ras malai, a Delhi speciality."
I looked at him with a vacant smile, feigning understanding.
Pachry sighed, "It is condensed milk curds, in cream."
"Sounds delightful," I replied, unable to hide my sarcasm. Presently a small bowl of something that looked not unlike cottage cheese swimming in milk was placed in front of me. "I'm not sure about this, old bean…"
"Try it," Pachry urged me. It was a lesson in never trusting what something looks like, never mind how it's described. I wouldn't go so far as to call it delicious but its creamy sweetness was certainly moreish. Pachry sat back, fixing me with a flat smile as I cleaned the bowl. "My Great Uncle Bo-pal would be proud," he said with satisfaction, "that dish was favourite of his."
As the waiter dressed us with our coats we said our goodbyes. "I'm curious, Rahnam, is Atithi a word? Does it mean anything?" I enquired as we stepped into the breezy evening air.
"Indeed it does," he replied sagely, "it is Hindi, for 'guest'. And tonight, young Lawrence, you have been mine."
And with that, he clapped me on the back and waved for a passing taxi.
Atithi, 27 York Street, Twickenham TW1 3JZ is open Monday-Saturday, serving ill-educated editors and refined Indian wordsmiths alike. For more information, visit the website.
[cgview id=116 num=8 size=150×150 showtitle=always lightbox=0]