When is a restaurant not a restaurant?
When it's a nightclub, too, silly.
Who knows when this concept first reared its glitter ball head but in London, Sketch on Conduit Street might have taken the (disco) biscuit in the early 2000s. Crazy Pizza in Marylebone and Knightsbridge might have done it more recently with more, err, dough but the newest pretender to the throne of this curious concept has to be Bagatelle. Located at the North end of Dover Street, this location is a relatively recent addition to the Bagatelle empire which already boasts 12 other outposts in such blingcredible locations as St Tropez, Dubai, and Mykonos.
Thursday's Rock 'n' Baga night is a step back in time to the 80/90s and encourages if not demands diners to have an unashamed wave-your-hands-in-the-air, dance on the table kinda crazy night. Two neon skulls more suitable to a tattoo parlour cut through Mayfair's austere atmosphere, glow outside in electric blue and dangerous red. A fit bouncer in a black suit stands behind a cordoned off red rope. Everything convinces that this may well be more night club than upmarket restaurant.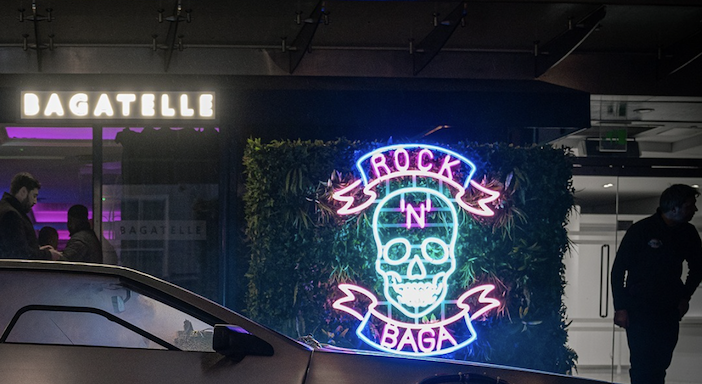 Inside, a traditional bar slinks along the left side of the restaurant which is decked out in Frieze type art; joined up writing in frames could be Tracey Emin but most probably isn't. Different coloured lights glow at different times from alcoves in the ceiling. It could be a bunch of James Turrells but definitely isn't. Waiters sport ripped jeans as opposed to their more customary suits. They also wear rock t-shirts, more than a couple championing Nirvana, but grunge doesn't get a look in; the music is exclusively crowd-pleasing cheese, with Tina Turner, UB40 and Culture Club's Karma Chameleon about as up tempo as it gets.
Our table starts the night with a Vodka Kamikaze shot and a selection of cocktails. I choose a London Calling which has very little to do with London or, slightly disappointingly, The Clash. It is delicious however, the caramel syrup over-riding the other ingredients except maybe the kernels of popcorn which make the cocktail uncannily moreish.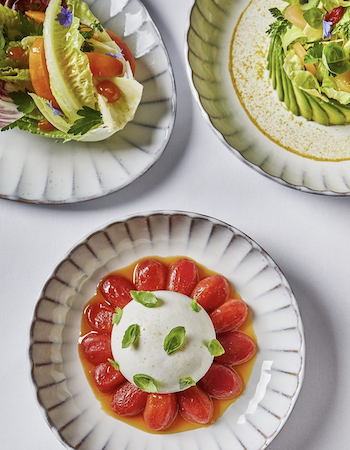 One could be forgiven for assuming Bagatelle's food might be little more than a fly in the ointment, an after thought to the night's revelries but this couldn't be further from the truth. Corporate Chef of the Bagatelle Group Chef Rocco Seminara, a slight, unassuming man who trained under the legendary Alain Ducasse and who has given the wide ranging menu a great deal of dedication, love and attention. The proof, as they say, is very much in the pudding, more of which later. 
The red gamberoni carpaccio, for example, from the Mediterranean comes with lemon from Oman. But the lemon is actually black, dried, desiccated to the size of a walnut and grated as if it was a truffle or a nutmeg. It's a luxurious touch and not isolated. The amberjack comes with basil pesto and a delicate olive powder. A Mesclun salad surrounded by delicately sliced avocado is enhanced by a splash of watermelon jus which gives the dish a  pleasant liveliness. At some point, a handful of shrimp heads, just shrimp heads, are served. They're dry and crispy and coated in a delicate powder, all to dip in mayonnaise.
They're exactly as you'd imagine; fishy and crunchy but strangely subtle, a surreal but playful and daring (too daring for some) surprise. The food keeps coming, the quality is constant, the intrigue non-stop. What looks like a large loaf of bread is delivered with leaves embedded in its sides. The waiter plays with the bread, cuts it, tugs it, pulls it, makes appear, as if by magic, a whole chicken; another fantastic and unexpected surprise. The lamb is perfectly tender, the duck breast is lacquered with honey, the octopus textural, swiped in a citrus verge sauce.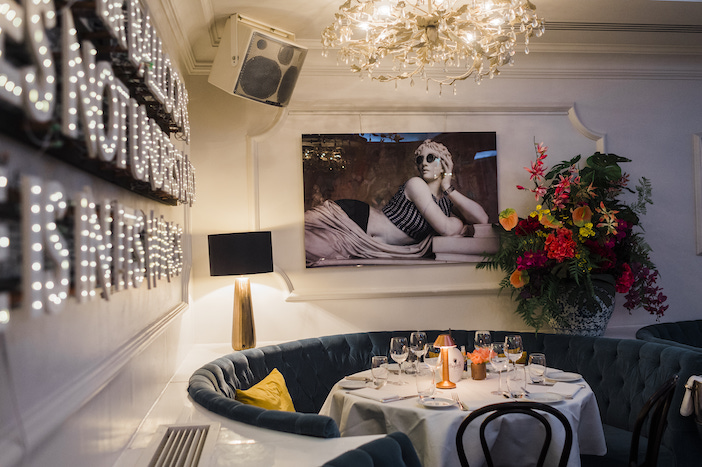 Between 9 and 9.30 the restaurant completely fills up and there's not one spare table. The DJ's volume turns up from a just about manageable 10 to a less manageable, very shouty 11. Most guests hover between being excited and excitable though some are slightly bemused, a few intractable, even less trying to concentrate on their food. Volume aside, this is not easy as at any random moment, a fellow diner might leap out of his or her seat and engage in various non-mutually exclusive combinations of gyrating, gesticulating, swaying, singing, gurning, gurgling or sweating to his/her favourite tune.  
At one point, the lights dim and a NASA spaceman, a spaceman in orange, and an alien in green (all staff, it turns out) dance through the restaurant carrying a bottle of champagne. Cue energetic cheering from all corners and phone recording. The space party stops at a table where a man's already dancing skilfully on his chair. He loves the space men and the alien. The space men and the alien love him. Everyone starts kissing and hugging and back-slapping and its hard not to watch with a gleeful, devil-may-care admiration.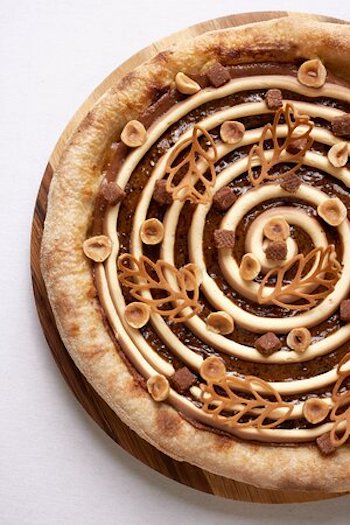 The lights dim for a second time and Whitney Houston starts bellowing out 'I Will Always Love You.' All staff members (about 15 in total) immediately stop what they're doing, grab an electronic lamp from the nearest table and climb onto the nearest free space and wave the lamps slowly, happily, romantically. Guests' phones also light up the space, more hands wave in the air and in the end, the whole restaurant joins in the chorus. It's another strangely compelling moment; infectious and unashamedly feel good and, you know, it might not have been exactly what Dolly or Whitney were thinking when they recorded it but it is a pretty good song, so why not, really!?
Just when you thought you'd heard, seen, tasted it all, out pops desert, following in the same spectacular vein as the rest of the meal; light brioche cake filled with Madagascar vanilla cream, lace crepes with amber rum, strawberries sculpted on a bed of white chocolate ice cream.  And the night's show-stopper, a Jivara chocolate pizza. Yes, that's right; chocolate pizza. White and milk chocolate concentric rings form the base, its topping caramelised Piedmont hazelnuts and intricate chocolate leaves.
For any self respecting chocoholic, this is a rare opportunity to taste the forbidden, to indulge in indulgence. It's a must taste order and perfectly finishes off an evening full of sensory overload. Luckily, you won't have to worry about burning off the calories because you can just stand up on your chair, or better still, your table, and start dancing with the rest of the restaurant!   
Bagatelle London, 34 Dover St London W1S 4NG. For more information, including details of forthcoming events, and for bookings, please visit www.bagatelle.com. You can follow them on Instagram: @bagatellelondon.